Weight loss, weight gain, the latest diet -- anything revolving around how many pounds one carries makes for huge headlines on tabloids and celebrity magazines. But the actual numbers on the scale are rarely given out.
The June issue of Allure breaks that taboo, and readers are reacting. Zoe Saldana appears on the upcoming cover, and the headline under her name reads, "115 pounds of grit and heartache."
She didn't mind, though, telling Savannah Guthrie on TODAY Thursday, "It would have been wrong if they were lying (about the weight).... I've always been a very thin frame.... They wanted to do that, I don't think it was to make an issue of my weight. I think it was to talk about that for a lightweight person, I seem to be really strong-minded."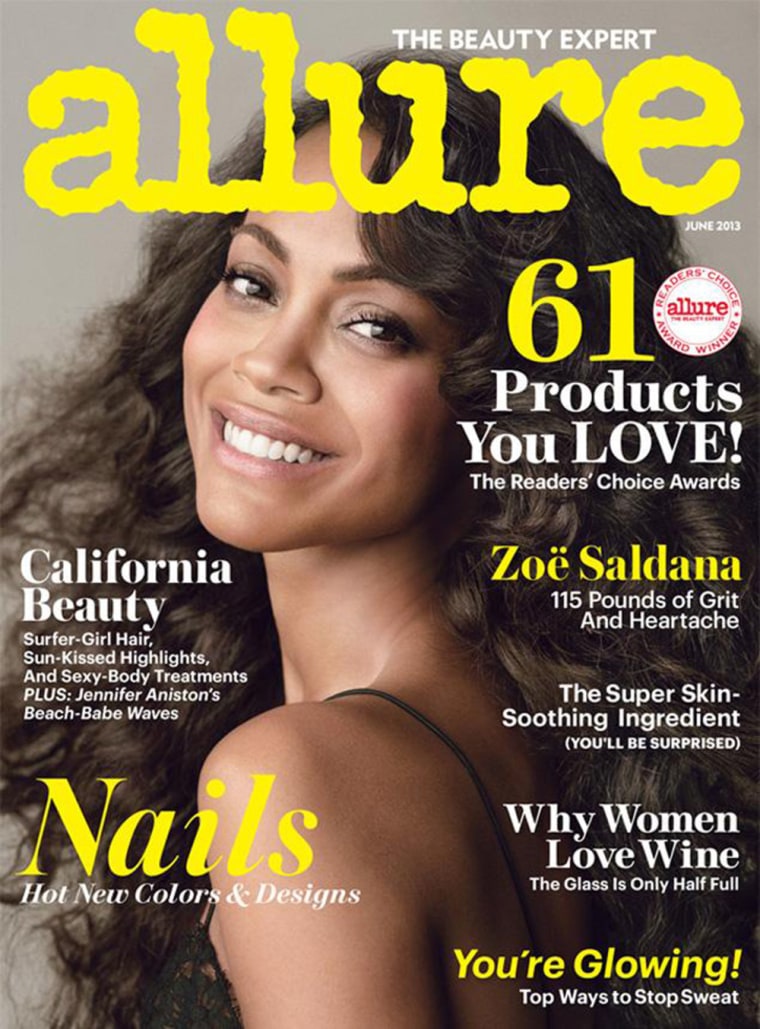 In the slideshow on Allure's website, the 5-foot-7-inch Saldana is photographed naked (but posed so nothing is revealed). She discusses her sexuality in a coy way, saying she might "end up with a woman raising my children." When asked if she has had a same-sex relationship, she instructs the writer to "just put three dots as my response."
"I think it's important to get out that whatever I decide to do with my sexual preference will be my prerogative and my right, and as of right now I've been attracted to the male species," she told Guthrie. "I don't know if that will continue."
Saldana's sexuality might seem to be the most interesting revelation from her Allure coverage, but for many, it was the cover editor's decision to print her weight that caused controversy.
"Every time we seem to be making progress in the way women are portrayed in magazines, somehow we take a step back," wrote Raechal Leone Shewfelt at Yahoo! "Whomever is responsible, the decision to showcase Saldana's digits seems so … unnecessary." Yahoo! was told that Allure would have no comment on the decision.
"Did we really need to know how much she weighs?" wrote Cheryl Phillips at Examiner.com. "Would the popular women's magazine put a plus-size model on their cover and headline it "250 pounds and rocking the world"?
Saldana plays Uhura in the new movie "Star Trek Into Darkness," which opens Thursday.