We all know Zac Efron is a man of wide and varied talents. In "High School Musical" he sang and danced, and more recently while shooting "Baywatch" he rolled over monster truck tires.
Now, it turns out the 29-year-old actor has yet another skill: he can totally get horizontal on a pole!
As he revealed on "The Graham Norton Show" last week, Efron may not officially be attached to any further "Magic Mike" films, but he is prepared should the call come. Host Norton showed a picture of the actor doing his impersonation of a human flag while holding on to the side of a parking meter, then challenged the actor to replicate the move on a handy dancer's pole nearby.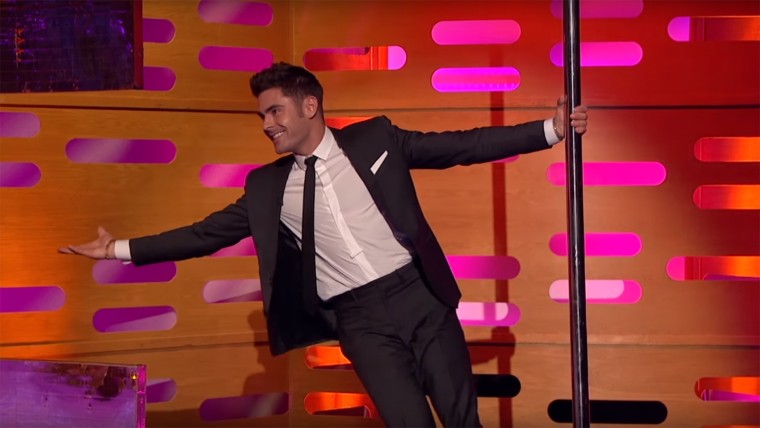 While "The Mummy" co-stars Tom Cruise and Annabelle Wallis watched, Efron strode over to the pole and asked about its sturdiness. Norton assured him it had been tested: "We're not sure of her name, but ..."
Then, to the beat of Flo Rida's "Apple Bottom Jeans," Efron gripped the pole — and effortlessly lifted himself off the ground.
Well, color us impressed! Just how could anyone have the upper body strength —
Oh, OK. Nevermind.
"I'm so happy I could still do that," he said after returning to the couch and shaking everyone's hands.
"So are we," said Norton. "We hired a pole!"
RELATED
Follow Randee Dawn on Twitter.