Fourteen-year-old Naomi Sacks is a (sort of) veteran entertainment reporter who has previously interviewed the likes of Steven Spielberg, Ava DuVernay and Lin-Manuel Miranda.
After "Moana" left movie theaters, Auli'i Cravalho wasn't sure how far she'd go as an actress.
The Hawaiian teenager had no prior acting experience other than her role as the title character in the Disney movie, and she didn't expect to get another role. So when she received an offer to work on NBC's upcoming drama series "Rise," she felt pressure to prove she was not a one-hit wonder.
"It was crazy because coming from 'Moana,' when I got cast when I was 14, and ending it when I was 16, I got to grow up with that cool strong heroine and I felt like I was important," Cravalho, now 17, told TODAY. "Then transitioning into the rest of my teen years … what was I going to do? Was I going to go back to high school and finish that up? I would be proud of myself for that, but I just tasted this industry that I really love …"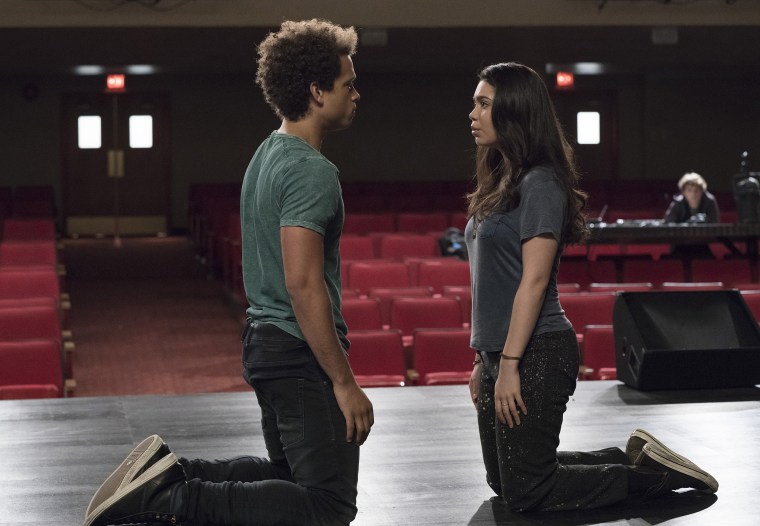 Cravalho, still adjusting to the culture shock of moving from the small town of Kohala, Hawaii, to New York City, is enjoying the challenge. As she begins the next part of her career, she remembers advice she got from Justin Timberlake at an Oscars pre-party last year.
"He (said), 'I know what it's like to grow up in this and not feel like you belong, but you do need to believe it," she recalled, "Because whether the universe kind of just gave it your way or you worked and fought tooth and nail for it, you were meant to be here — whatever strange way the universe puts it in your hands.'"
Cravalho's co-star in "Rise," Damon J. Gillespie, also joined with something to prove. Already a young Broadway veteran, Gillespie wanted to sing his heart out for a national audience. Passionate about performing, he still lights up talking about the first time he stepped in front of a Broadway audience three years ago in "Newsies."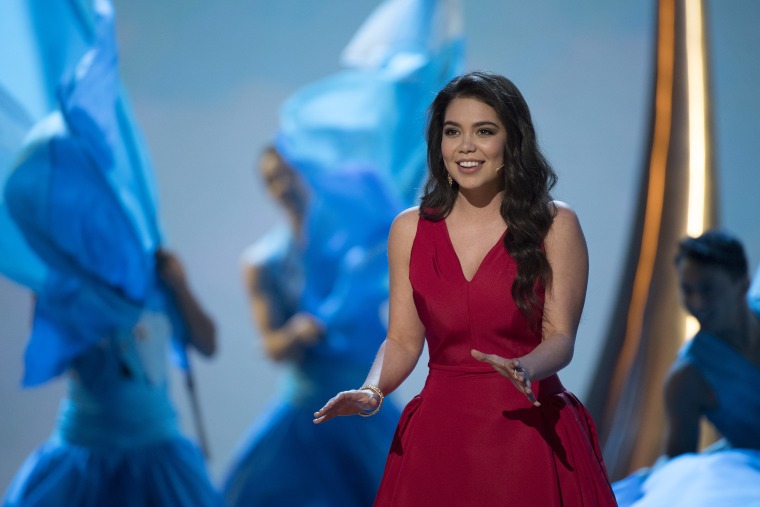 "I just remember the first trumpet, which is the opening of the show. And I had to push this giant, giant cart on (stage) —I mean two stories, and weighing about three thousand pounds," recalled Gillespie. "And I remember my heart just beating out of my chest…. one of the newsboys (whispered) 'You got this, Dog, you're good. Congratulations man.'
"I'll never forget that day because people were screaming as we were coming on the stage. It was the closest to a rock-star I've ever felt."
To both actors, "Rise" is crucial to their careers. With their new show airing after "This Is Us," they will be stars on the rise.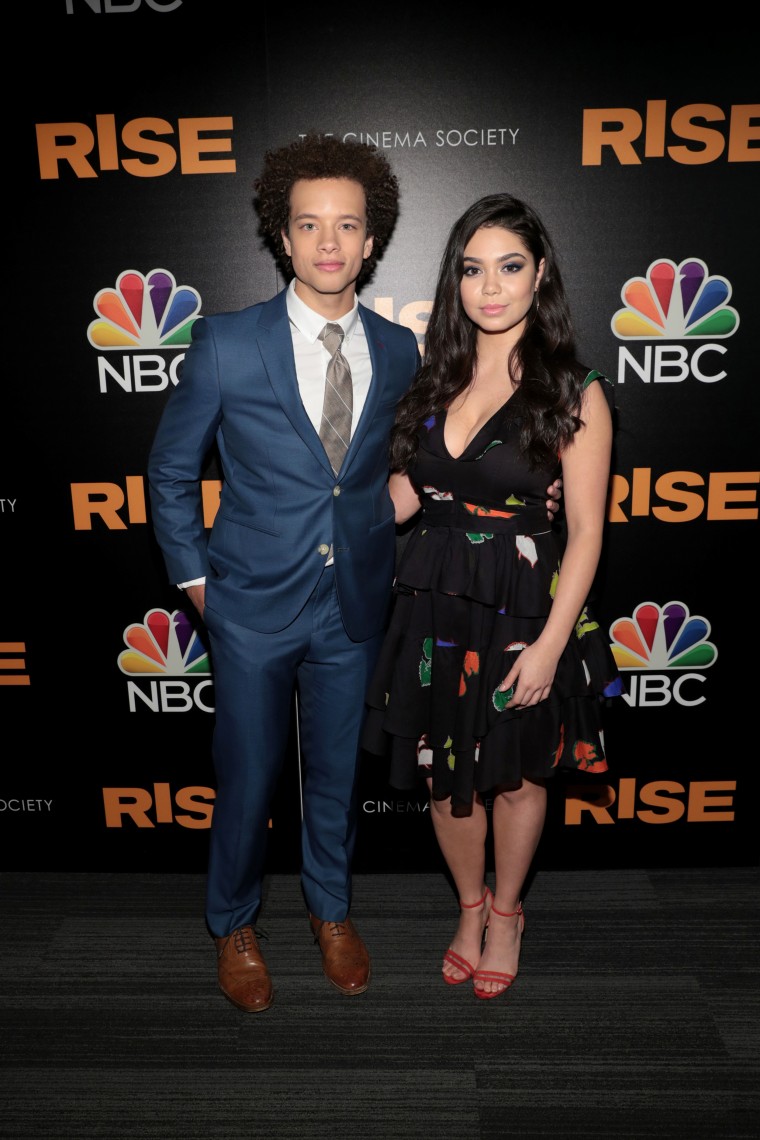 Premiering Tuesday, "Rise" is set in Stanton, Pennsylvania, where a high school teacher (Josh Radnor) follows his dream of directing a school musical. In the process, he changes the lives of a band of students struggling with their own personal issues.
Cravalho, who plays Lilette, relates to her character because she also grew up in a single-parent household.
"I do understand that feeling of mother and daughter against the world," said Cravalho. "Paycheck to paycheck, I grew up knowing that if my mom brought home white bread from the store, that that means we were going to be okay for the rest of the month. And that was something that I just put into my character."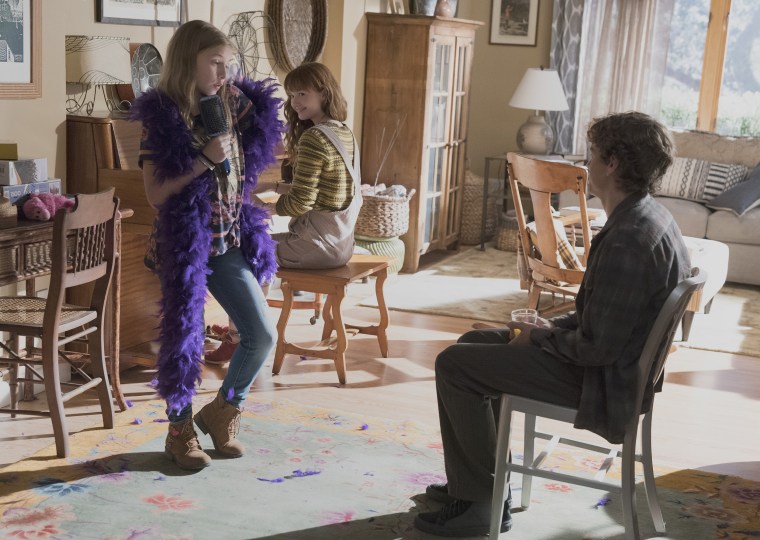 Gillespie — a kid from Chattanooga, Tennessee, who went to a performing arts high school in Chicago — saw parts of his life in his character, a high school quarterback named Robbie.
"I grew up playing football and I also did musical theater in high school and I actually know what it's like to be pulled from the coach and from your director and just to feel that, trying not to disappoint anybody," he said.
For Cravalho, playing a high school student required some learning because her only previous experience was voicing an animated character.
"I now have to worry about my face and my body," explained Cravalho. "I filmed my first ever kiss scene with (Gillespie). So I studied my lines, I know what I'm supposed to say, I know the camera angles, but I legitimately didn't know what to do with my face."
"Rise" premieres Tuesday at 10 p.m. on NBC.