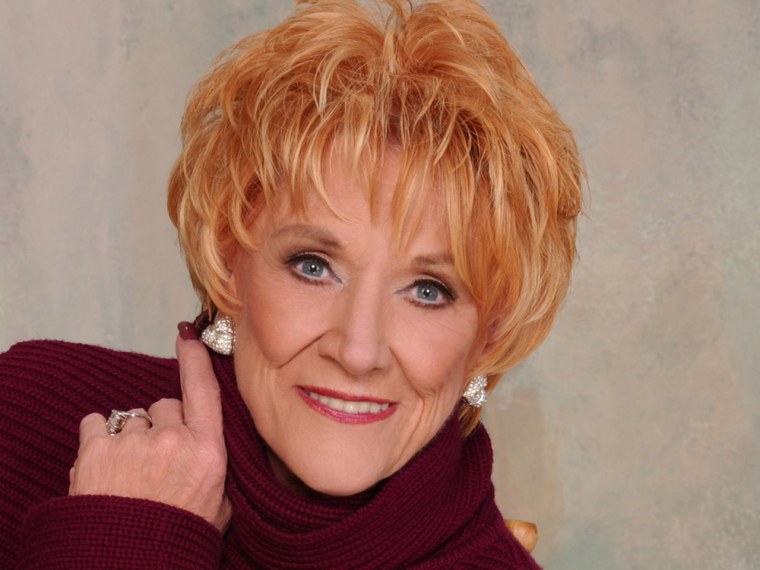 It's going to be a veritable who's who of Genoa City when "Young and the Restless" characters past and present gather for Katherine Chancellor's memorial service, airing on Sept. 3 and 4.
The late, great Jeanne Cooper, who played the soap's matriarch for nearly 40 years, passed away in May, but the show took a few months to write her character's death into the story line in order to do it justice.
"These episodes are definitely for the longtime viewers," Peter Bergman, who plays Jack Abbott, told TODAY.com. "Nothing's more real than watching Jess Walton — who plays Kay's longtime nemesis, Jill — at Katherine's funeral. It's palpable. You can feel the emotion in the air when she steps to the podium."
Cooper's real-life son, Corbin Bernsen of "Psych," reprises his role as Father Todd, who will officiate Kay's service. 
Other familiar faces are returning for the memorial, including Christine (Lauralee Bell), Danny (Michael Damian), Nina (Tricia Cast), Amber (Adrienne Frantz) and Brock (Beau Kayser). 
"The episodes are deeply powerful," Bergman teased. "Tricia Cast is a wonderful actress; the audience always loves seeing her come back. Lauralee Bell looks wonderful and there is a terrific surprise with her character. Michael Damian sings a song, and it would not have been the same without Beau Kayser, a sweet, sweet man who lost a longtime friend. These are great shows for 'Y&R' purists."
In a clip from the memorial episodes that CBS is sharing exclusively with TODAY.com, Jack and his brother Billy (played by Billy Miller) take a moment to privately and fondly recall their late father, John, and his long friendship with Katherine. (Kudos to "Y&R" scribes for referencing John and Katherine's skinny-dipping exploits from the duo's younger days!)
Bergman said toward the end of the second day of taping the memorial episodes, Bernsen addressed his mother's castmates in an impromptu, off-screen moment. 
"Corbin said, 'I want to say to everyone what a strange couple of days this has been for me. The line between life and art has been horribly blurred. It seems strange not to mention how much my mom loved this place and how much she loved all of you.' 
"It was so touching, so real, so unplanned and so final. It was the last official word on Jeanne. You felt like you were lucky to have been one of the people there," Bergman said.
Bergman and Cooper's characters, Jack and Katherine, certainly had their share of scenes together over the decades, but it was the actress' off-camera actions that the actor, who joined the show in 1989, will remember the most. 
"Jeanne was a giant friend to Terry Lester, my predecessor," Bergman recalled of the man who first played Jack Abbott. "That put her in a terrible position when I came in to take over the role, but she could not have been more supportive as she cheered me on."
"The Young and the Restless" airs weekdays on CBS.