Here's some fun for Justin Bieber fans and not-fans alike: The first promo for the singer's upcoming roast special on Comedy Central has just been released — and it leaves Biebs with egg on his face. And pecs. And abs.
In the 30-second video, a shirtless Bieber preens before the camera before standing back, opening his arms wide and accepting a judgment of raw eggs thrown at him. While the eggs crack and splatter against his torso and face, the "O Fortuna" movement from Carl Orff's "Carmina Burana" plays, adding a hilariously dramatic interpretation to the event.
Comedy Central posted the promo to Facebook and Twitter with the quip, "Watch Justin Bieber learn how poor, defenseless houses feel," a reference to his history of egg-related drama. In July 2014 the singer had to perform community service and pay a fine after pleading no contest to a count of misdemeanor vandalism after egging a neighbor's home; and in May 2011 he was pelted with eggs onstage in Sydney, Australia.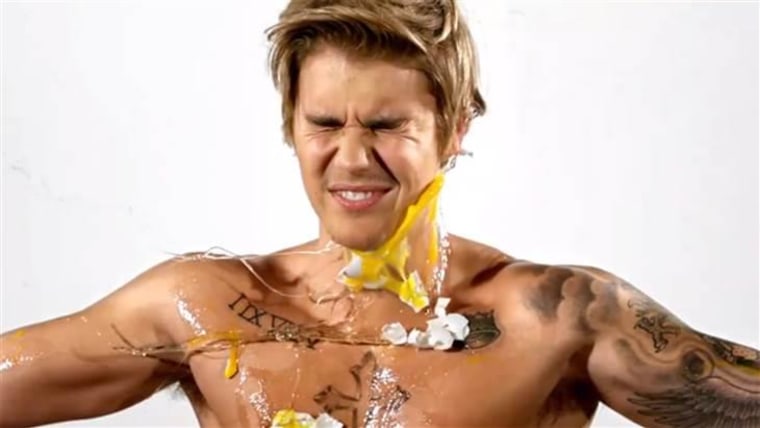 But don't think Bieber is going to take this lying down. (Or standing up with his arms open, either.) At the end of the promo, he wings an egg directly at the camera and ... splat! The video ends with the words "Come and get it."
"The Roast of Justin Bieber" airs on Comedy Central March 30. Egg-celent.