Bob Brunner, a writer-producer on the classic ABC sitcom "Happy Days" who named Henry Winkler's "Fonzie" but also -- as legend has it -- suggested the character jump a shark in a now-infamous 1977 episode, has died. He was 78.
Brunner, who teamed often with "Happy Days" creator Garry Marshall -- the two met in 1959 while working as copyboys for The New York Daily News -- died Oct. 28 of a heart attack near his home in Northridge, Calif., according to Heather Hall, a longtime Marshall staffer at his Henderson Production Company and the Falcon Theatre in Burbank.
PHOTOS: Hollywood's notable deaths of 2012
Born in New York City on Aug. 3, 1934, Brunner launched his career as a publicist in the early '60s working with such entertainers as Tony Bennett and Louis Armstrong and others, then jumped into TV by writing for ABC's "The Odd Couple," executive produced by Marshall.
After writing for "Laverne & Shirley" and the short-lived "Blansky's Beauties" -- two other series created by Marshall -- Brunner penned 15 episodes of "Happy Days" and produced 37, at times serving as the showrunner for the All-American comedy that was set in Milwaukee in the 1950s.
Brunner invented the nickname "Fonzie" for Winkler's suave biker character, whose birth name was Arthur Fonzarelli. He also came up Fonzie's insulting comeback catch phase "Sit on It!" which wildly caught on in America as the show became a huge ratings hit.
With TV's No. 1 show returning in 1977, the show decided to set the season-opening three-part episode in Hollywood, where Fonzie is invited to take a screen test. In one storyline, he engages in a water-skiing challenge with a local kid and, as a tiebreaker, has to jump a shark in a netted area in the ocean. (Of course, Fonzie is wearing his trademark black leather jacket as he attempts the feat.)
The phrase "jump the shark," coined by radio personality Jon Heim and his college roommate, has since come to signify the precise moment when a popular TV show begins its inevitable decline.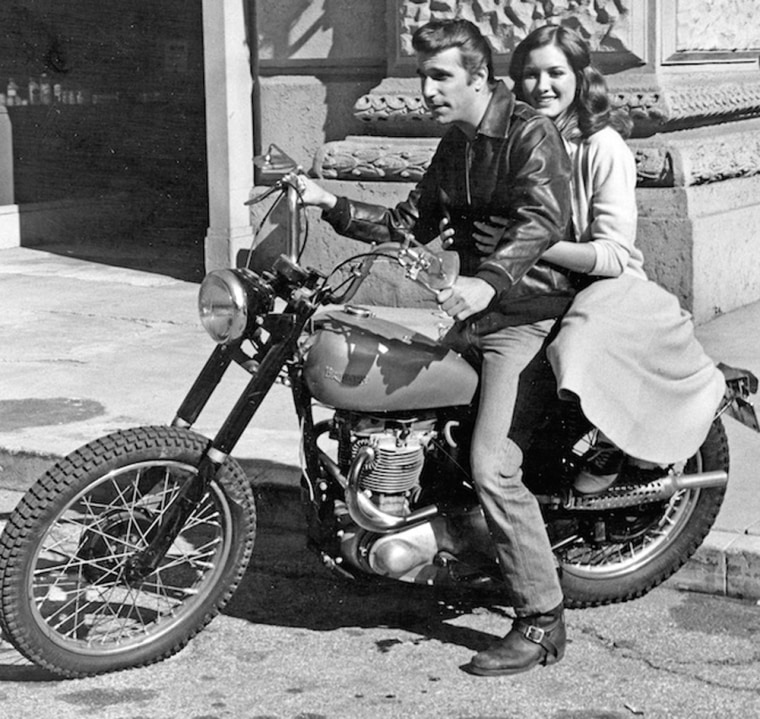 In a September 2010 article for the Los Angeles Times, "Happy Days" writer-producer Fred Fox Jr.wrote about who came up with the shark idea.
Q&A: Garry Marshall on earning laughs in TV and why Fonzie jumped that shark
"Amazingly, I can't remember — which is frustrating, as I can usually watch a 'Happy Days' episode from any season, hear a joke and recall who wrote it," he wrote. "My friend Brian Levant, then a talented new member of the writing staff, believes that Garry Marshall, the show's co-creator and executive producer, and Bob Brunner, the showrunner at the time, made the suggestion. But what I definitely remember is that no one protested vehemently; not one of us said, 'Fonzie, jump a shark? Are you out of your mind?'"
Fox wrote that the Sept. 20, 1977, episode attracted 30 million viewers and was the No. 3-rated show on TV that week. "Happy Days" remained on the air for another six seasons.
Later, Brunner co-created and executive produced the series "Brothers and Sisters" and "Working Stiffs," co-developed "The Bad News Bears" for television and executive produced "Diff'rent Strokes," "Webster" and "Love, Sydney." For the latter, he shared an Emmy nomination in 1982 in the outstanding comedy series category.
For the big screen, Brunner co-wrote with Marshall the critically acclaimed film "The Other Sister" (1999), starring Juliette Lewis as a mentally challenged girl, and co-wrote Marshall's erotic comedy "Exit to Eden" (1994). He also had a bit part in Marshall's "Frankie and Johnny" (1991).
Brunner's survivors include children Robert Jr., Elizabeth and Jennifer and grandchildren Ashley, Mikayla, Anna, Aaron, Matthew and Robert III. A private service was held Tuesday for the family at Forest Lawn Memorial Park, where Bob's wife Ann was laid to rest in 1987.
 Related content: