The women who will be competing for Ben Higgins' attention on the upcoming season of "The Bachelor" have been revealed and they include some familiar faces — plus, one woman who curiously calls herself a "chicken enthusiast."
A couple women are getting a second shot at love on the show. Becca, who came close to winning Chris Soules' heart on Season 19, and Amber, from that same season as well as "Bachelor in Paradise," will return when the show premieres on Jan. 4.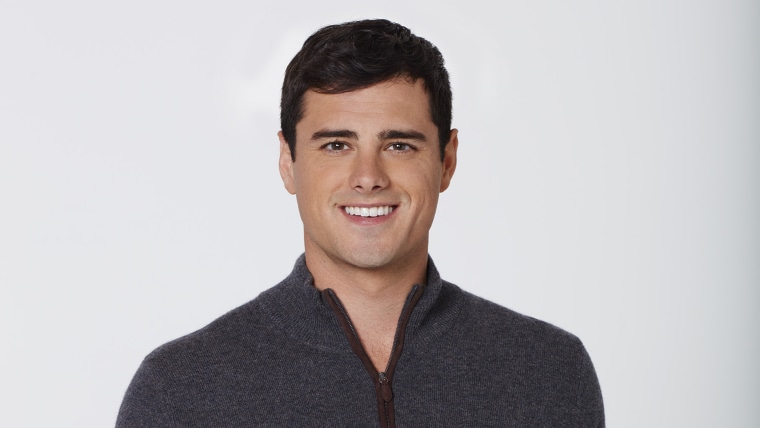 And even a friend of the very woman who turned Higgins down, Season 11 "Bachelorette" Kaitlyn Bristowe, was named as a contestant: her pal Jami, a bartender from Canada.
RELATED: Chris Soules' advice for 'Bachelor' Ben Higgins: 'Be prepared for the unexpected'
A pair of twins are also among the 28 contestants. "No way. Group hug?" Higgins asks when the blondes step out of the limo, in a preview ABC released.
The network posted a list of the women's names and occupations, and (along with the aforementioned chicken enthusiast) it includes two bartenders, a flight attendant, a war veteran and a cowgirl. Four of the contestants are named Lauren.
Higgins grew up in Indiana but lives in Denver, Colorado, where he works as a software salesman. The 27-year-old became a fan favorite for his easy-going demeanor and good looks on Bristowe's season before he was sent home. ABC announced he would be Season 20's "Bachelor" in August.
Here's a full list of the upcoming season's contestants:
Amanda, 25, esthetician, Rancho Santa Margarita, California
Amber, 30, bartender, Chicago, Illinois
Becca, 26, chiropractic assistant, San Diego, California
Breanne, 30, nutritional therapist, Seattle, Washington
Caila, 23, software sales representative, Hudson, Ohio
Emily, 22, twin, Las Vegas, Nevada
Haley, 22, twin, Las Vegas, Nevada
Isabel "Izzy," 24, graphic designer, Branford, Connecticut
Jackie, 23, gerontologist, San Francisco, California
Jami, 23, bartender, St. Albert, Alberta, Canada
Jennifer, 25, small business owner, Fort Lauderdale, Florida
Jessica, 23, accountant, Boca Raton, Florida
Joelle "Jo Jo," 24, real estate developer, Dallas, Texas
Jubilee, 24, war veteran, Fort Lauderdale, Florida
Lace, 25, real estate agent, Denver, Colorado
Laura, 24, account executive, Louisville, Kentucky
Lauren "LB," 23, fashion buyer, Stillwater, Oklahoma
Lauren B., 25, flight attendant, Marina Del Rey, California
Lauren H., 25, kindergarten teacher, Ann Arbor, Michigan
Lauren R., 26, math teacher, Houston, Texas
Leah, 25, event planner, Denver, Colorado
Maegan, 30, cowgirl, Weatherford, Texas
Mandi, 28, dentist, Portland, Oregon
Olivia, 23, news anchor, Austin, Texas
Rachel, 23, unemployed, Little Rock, Arkansas
Samantha, 26, attorney, New Smyrna Beach, Florida
Shushanna, 27, mathematician, Salt Lake City, Utah
Tiara, 26, chicken enthusiast, Redmond, Washington