Washington, D.C.'s Metro stations are not where most people would choose to hold a concert. They're places to briefly visit and then shuttle away from.
Of course, if one of those stations happens to contain Tymara Walker, you might want to stick around a while.
RELATED: Subway singalong: 'Somewhere Over the Rainbow' unites Australian commuters
Recently, the Las Vegas professional singer was visiting family in the District. While waiting for a train, she had a great idea. She wanted to sing "O Holy Night."
"The acoustics are great," she told The Washington Post. "I thought I'd give it a try."
Not only did she "try," she definitely succeeded: The video of that performance, with her vocals soaring around the station's chambered walls, has gone viral.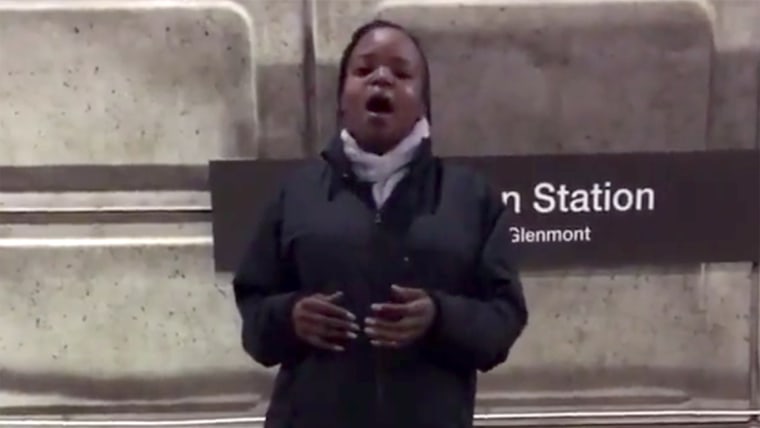 And it is amazing, we have to admit!
Why "O Holy Night"? "It's my favorite carol because of that amazing high note at the end, and because I'm finally at a fresh start place," she told TODAY in an email.
Walker's regular job is as an on-call performer for the Michael Jackson ONE Cirque Du Soleil show; she also worked as a backup singer for Gladys Knight. So she knows how to warm up a crowd.
In the background of the video you can hear her mom, sister and a friend singing along.
"We were all raised in church," she told the Post. "That kind of stuff just comes natural."
RELATED: Tough crowd! See Brandy's awesome subway performance go unnoticed by commuters
Walker's gone through some rough times recently, but told TODAY that "I used to be a domestic violence survivor, and now that I've truly healed and have beautiful love in my life, I try to make everything I do beautiful."
That is a very, very good reason!
Follow Randee Dawn on Twitter.