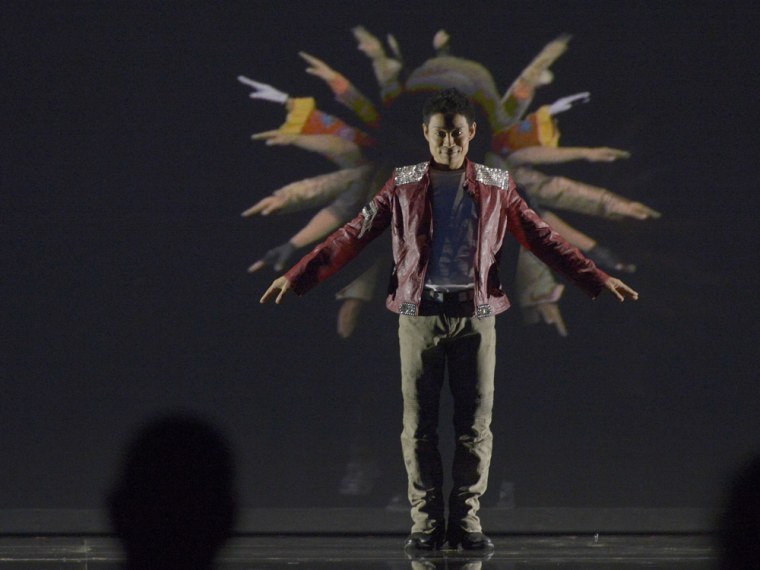 America has voted! 
Dancer Kenichi Ebina, who has wowed the nation on "America's Got Talent" with his self-taught moves that meld dance, illusion, special effects and mime, became the season eight winner Wednesday night after beating out five other talented finalists.
"Oh my gosh! I don't know what I can (say), but it's amazing! ... Crazy!" he cried when host Nick Cannon declared him to be the winner of the show's $1 million prize and a headline show in Las Vegas. As for what he's going to do with the cash, he joked to WNBC in New York that he'd have to ask his wife first.
"This is why 'America's Got Talent' is great: We discovered a superstar," judge Howard Stern exclaimed after the dancer's win. "America got it right." 
It was a victory that the shock jock had foreseen. An hour before the live finale aired, he had called in to the "AGT All Access" show on SiriusXM to share his predictions. Of Ebina, he said, "I think that Kenichi fit the bill when it came to coming up with great material, and for a dancer, that is so hard. ... This guy is so unique and different, I don't know how he wouldn't win."
The family man stole the show in part one of the finale Tuesday night, offering an updated version of his earlier robotic performance that included jaw-dropping contortions and illusions.
Comedian Taylor Williamson finished in second place, and accepted his defeat with a joke. "I'm No. 2! That's kind of a disgusting number," he cracked.
In third place was U.S. Marine Corps vet and country crooner Jimmy Rose, who learned how to play guitar while deployed in Iraq. Rounding out the rest of the top six were tenor trio Forte, 17-year-old magician Collins Key and singer Cami Bradley.
During the finale, Key brought TODAY's Kathie Lee Gifford and Hoda Kotb on stage to help him with his performance. He had Gifford sign a sealed manila envelope, then sit on it for the rest of the act. With Kotb, he produced her book "Hoda," had her randomly pick a page, wrote its first word — "sucking" — across it, and gave the book to her to hold. He then took out several $1 bills and had Gifford read the serial number of a random bill. For the final bit, he "visualized" tearing out the aforementioned page in Kotb's book, turning the page over, writing the bill's serial number on it, and inserting said page into the envelope Gifford was sitting upon. The envelope was then opened, and viola! The page with the word "sucking" had magically disappeared from the book Kotb was holding and was now inside the envelope.
"Are you kidding me?!?!" a very surprised Kotb declared.
Not at all. But as much as the young man amazed the TODAY personalities, he won't be the one to appear on the show Thursday. Champ Ebina will be visiting NBC's morning program.