While "Star Trek" was in production and exploring new galaxies 50 years ago on NBC, stars William Shatner and Leonard Nimoy were not exactly close. But in the years after the show's cancellation, the men who played Captain Kirk and Spock went beyond the final frontier and became best buddies, at least for a time.
"We had some disagreements to begin with and in the end, but in between, it was a brotherhood," Shatner explained on TODAY Monday. "I loved him."
Their complicated relationship is now the subject of Shatner's new book, "Leonard: My Fifty-Year Friendship With a Remarkable Man."
MORE: William Shatner to host 'Star Trek' cruise setting sail in 2017
As he explained during a visit to TODAY Monday, Shatner pointed out how unusual it was for them to reconnect once the series ended. "Usually you're best friends forever while the show is on ... and then when the show is over ... you say, 'I'll see you tomorrow' and you don't," he said.
But thanks to the enduring appeal of "Star Trek," the pair were reunited at conventions and gatherings for years afterward, and they bonded.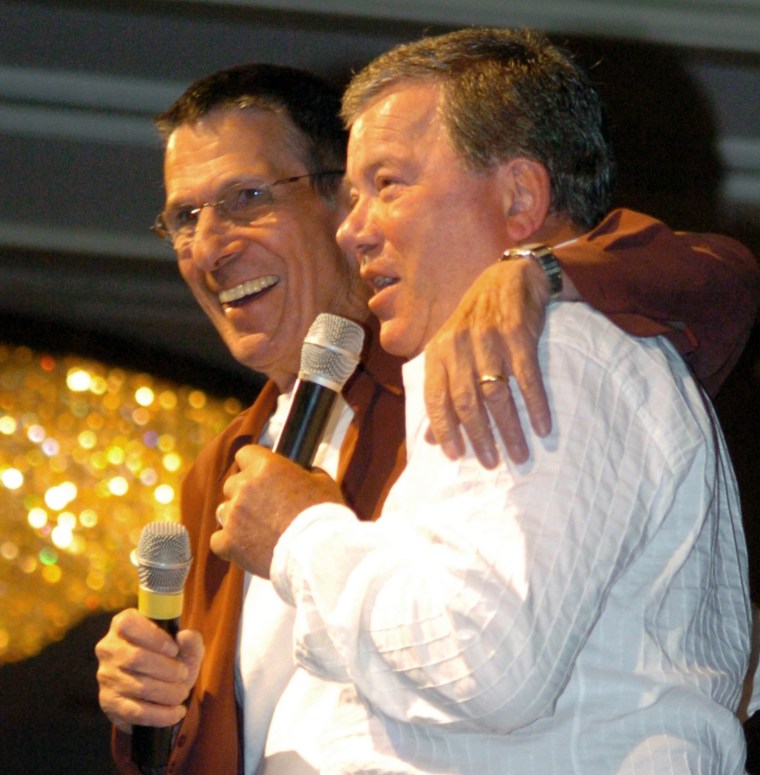 Alas, there was a falling out that ended up not being resolved before Nimoy passed away on February 27, 2015 from complications of chronic obstructive pulmonary disease (COPD) at age 83. But Shatner is still unsure as to why their friendship became rocky.
"I have no idea why," said Shatner, 84. "I thought whatever it was would blow over and he'd tell me what it was and I would try to make amends or find some common ground, but he died before that could happen."
MORE: Celebrating Leonard Nimoy: 5 lessons that Spock from 'Star Trek' taught us
It's a heartbreaking end to a decades-long friendship, but Shatner clearly holds many fond memories still close to his heart.
"I miss him," he said.
Follow Randee Dawn on Twitter.