Is the world ready for another Chris Pratt?
Reality TV vets Heidi Montag and Spencer Pratt are considering names for their first child and, it turns out, the name Chris may be on the list.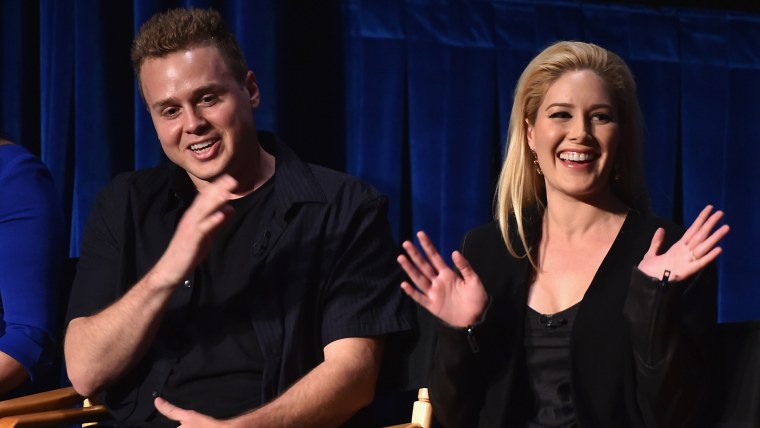 The former "Hills" stars — once collectively known as "Speidi" — recently opened up to Refinery 29 about monikers they're mulling over for their little boy, who's due in October.
"(Chris) is definitely on the list. But our Chris Pratt would take photos with his fans. He'll be a very different Chris Pratt," Pratt, 33, joked, referring to the "Guardians of the Galaxy: Vol. 2" star's brief no-selfie-with-fans rule.
Pratt joked that the couple may even include "Speidi" in some part of their son's name.
"(For a) middle name," he said. "It's a very realistic middle name. There's (a) first name (that would go with) Speidi... Well, 'Speidi' is in it, but you merge 'Speidi' with an ending. It makes it a little less flashy... Speidison."
"Uh oh, did I give it away?" he quipped.
More seriously, Montag, 30, revealed that the couple is having a "seriously challenging time" settling on the perfect name for their son.
"A lot of the names I like are taken," she said. "Spencer doesn't want to have a duplicate name out there."
She also shared that she's turned to her fellow "Hills" alums, Kristin Cavallari and Audrina Patridge, for parenting advice.
"Kristin gave me the advice that I need to pick my own baby name because it's our baby and we get to enjoy it ourselves. She gave me a list of the top things that you'll need before you have the baby," said Montag.
Meanwhile, Audrina, has been "really sweet," she said. "Both of them have been in touch with me about little things."
As for letting their little one watch "The Hills" some day, Montag was iffy on that.
"I don't know if he'll want to watch it. The show will be so outdated by then," she said. "He'll be like 'What? Shows used to be that long?' I'm not too worried about it."