Will Smith and Jada Pinkett Smith's marriage is uniquely theirs.
The couple, whttps://www.today.com/popculture/will-smith-jada-pinkett-smith-relationship-timeline-rcna105454https://www.today.com/popculture/will-smith-jada-pinkett-smith-relationship-timeline-rcna105454ho have been married since 1997, have been in the spotlight even more than usual since Pinkett Smith revealed to TODAY's Hoda Kotb and People that she and the actor have been separated since 2016. The surprising news came ahead of the release of her memoir, "Worthy," out now.
Before Pinkett Smith shared insight into her Hollywood marriage, the "Men in Black" star had opened up about their relationship in his 2021 memoir, "Will."
Pinkett Smith dives deep into the ups and downs of her marriage — and her reluctance to get married — in "Worthy." Smith writes about marriage in "Will," too.
Below, find everything Will Smith said about his marriage to Jada Pinkett Smith in "Will."
Will Smith forewarns that he always does 'too much' in his relationships
In Chapter Three, Will Smith writes about challenges he faces when it comes to romantic relationships. All his life he's been "haunted by an agonizing sense" that he's "failing the women (he) loves."
"Over the years, in my romantic relationships, I would always do too much. Coddling, overprotecting, desperately trying to please them, even when they were totally fine," he writes. "This insatiable desire to please manifested as an exhausting neediness."
He adds that, for him, love was a performance and if his partner wasn't clapping, "I was failing. To succeed in love, the ones you care for must constantly applaud. Spoiler alert: This is not a way to have a healthy relationship."
It was 'love at first sight' for Will Smith
The year was 1990 when Smith first saw his future wife at an audition for "The Fresh Prince of Bel-Air." Pinkett Smith did not get the role of portraying Smith's girlfriend on the show because she "wasn't tall enough." She "was pissed," he writes
When Smith went up to say hello, Pinkett Smith ignored him without stopping. "That was the first time I saw Jada Pinkett," he writes. "It was love at first sight."
But their romance took a while. Smith went on to meet and marry his first wife, Sheree Zampino. They welcomed a son, Trey, in 1992.
Will Smith shared his thoughts on divorce
Smith and Zampino were married from 1992 to 1995. To now better understand his "ride and die" situation with Pinkett Smith, he writes about how he never believed in divorce.
"I would never have gotten married if I thought divorce was an option," he writes about his first marriage. "If quitting is a possibility, everyone will pick that — it's the easiest one."
Smith was adamant that it was "til death do us part."
Smith recalled the moment Zampino filed for divorce during a "Red Table Talk" appearance in 2018.
"She hit me hard," he said.
"I was like, 'Ouch! Ouch! And I still told her, I said, 'No. You can't have a divorce and she hit me with the, 'So you're going to make somebody stay with you who doesn't love you?' And I said, 'I'm actually not. Nope, I'm not. And that was the one that got me," he said.
Will Smith and Jada Pinkett Smith get married — but she did not want a wedding
When Zampino filed for divorce, Smith called up Pinkett Smith and told her that he was now single and wanted to be with her. The two had run into each other over the years, but always kept it platonic.
While dating, Pinkett Smith found out that she was pregnant with her first child, Jaden. Smith wanted to get married, but "Jada didn't believe in conventional marriage and despised the traditional ceremony."
"She also had questions about the viability of monogamy as a framework for successful long-term relationships," he writes.
"Jada didn't believe in conventional marriage and despised the traditional ceremony."
The "Girls Trip" star only agreed to a wedding after her mom, Adrienne Banfield-Norris, called Smith begging to talk to Pinkett Smith and make her reconsider.
"Jada held her ground as long as she could, but pretty soon, the 'wedding pressure' became too much. She was in her second trimester, she was tired and uncomfortable, and didn't want to argue," Smith writes, adding that Pinkett Smith finally agreed to have a wedding ceremony.
However, the actor told her mom that she had to plan the wedding. Smith and Pinkett Smith got married on New Year's Day in 1997.
"Gam was ecstatic. To this day, Jada refers to our ceremony as 'Gammy's Wedding,'" Smith recalls, later adding, "And while the event itself was joyful and heartwarming, this would be the first of many compromises Jada would make over the years that painfully negated her own values. She had boarded the Will Train, and there was no way off."
Pinkett Smith addressed the wedding on a 2018 episode of "Red Table Talk." She said she felt "pressured" by her mother to walk down the aisle.
"I was under so much pressure being a young actress and pregnant, and I didn't know what to do," she said.
This would be the first of many compromises Jada would make over the years that painfully negated her own values.

Will Smith
Banfield-Norris apologized for not respecting her wishes.
"I'm sorry that I didn't respect your wishes. It was, 'I'll never have that experience of my daughter getting married' because you were my only child," she said.
They would go on to welcome son Jaden Smith on July 8, 1998, and daughter Willow Smith on Oct. 31, 2000.
Jada Pinkett Smith's compromised again on a house
As their family grew, Smith writes he was "consumed by the dream of the Smith family." To along with the dream, he wanted to buy a 256-acre compound — one that Pinkett Smith did not want.
She expressed how it was too big, too expensive and too much space, Smith writes. Smith bought it anyway.
"This was Jada's second great compromise, the next stop on the ever-accelerating Will Train," he writes, before giving his "young make readers" a friendly note: "No means no."
"Nothing good comes from spending your hard-earned money on a 'family home' that your wife doesn't want. You are putting a down payment on discord and for years you will be paying off a mortgage of misery. Or, worse," he shares.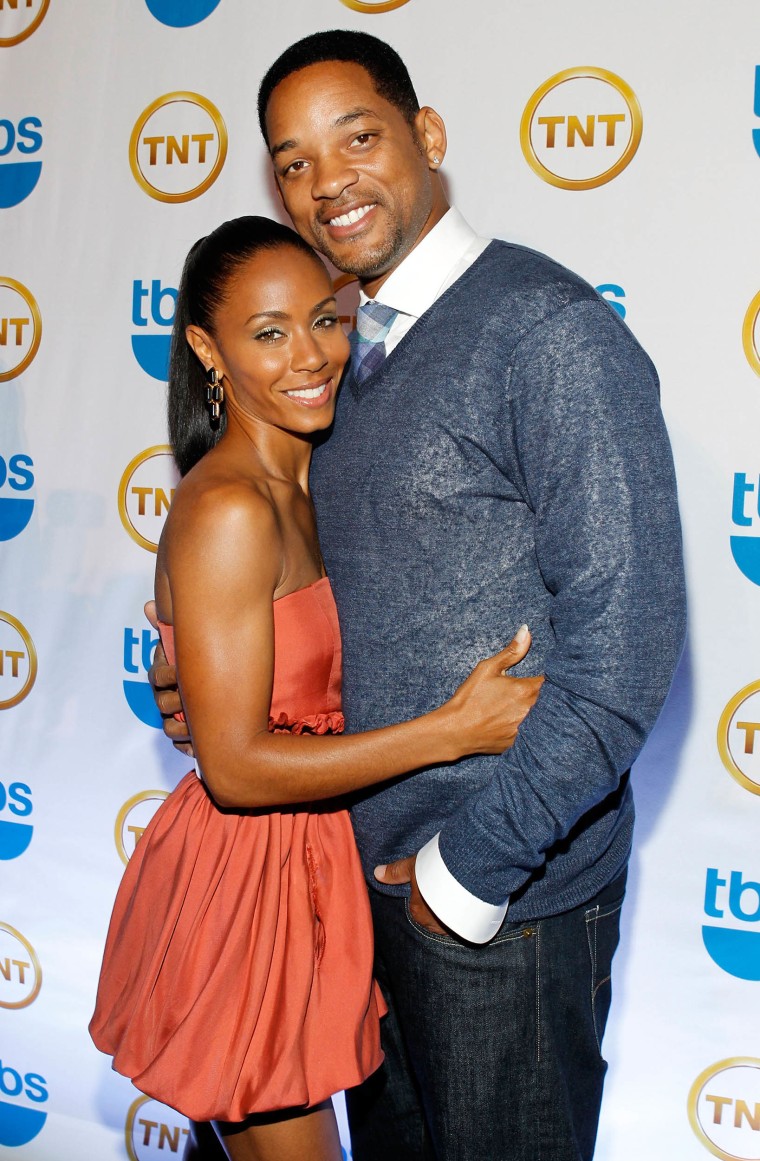 Will Smith recalls one of his 'greatest arguments' with Jada Pinkett Smith
Smith says one of their "greatest arguments" came down to lists of priorities they wrote independently, then shared.
"As I read Jada's, a look of confusion spread across my face. As she read mine, her eyes swam with tears," he writes.
Pinkett Smith's priorities were, in order of importance, "the children, Will, (herself) and extended family and friends."
Smith's were "himself, Jada, the children and (his) career."
Pinkett Smith was upset that Smith put himself above his children. Smith explained that if he didn't take care of himself first, he couldn't provide for the rest of his family.
"But her heart was shattered. She didn't even wipe the tears," he writes.
Will Smith notices a shift in Jada Pinkett Smith
In the 2010s, a time when Smith felt like he was "winning at everything" in his career, it appeared his marriage was on the outs.
Smith says he and Pinkett Smith reserved mornings for bonding, building and connecting time.
"But these days, I could tell something was shifting. Jada was having almost daily crying spells. Now in our mornings, she would wake up sobbing. During one stretch, she cried for forty-five days straight," he writes.
Pinkett Smith would later confide in Hoda that she suffered through depression and suicidal thoughts nearing her 40th birthday.
Will Smith gets a reality check from daughter Willow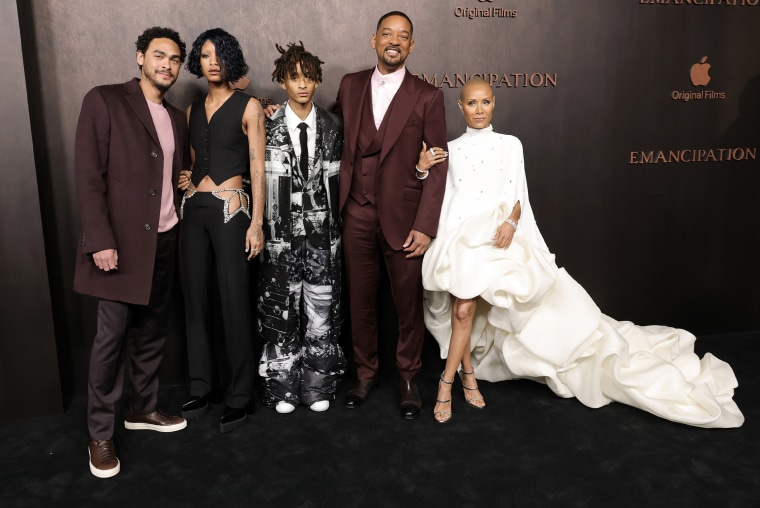 Smith recalls a moment when he was eating ice cream in the kitchen with his daughter and wife. Willow Smith turned to her mom and said, "It's so sad."
"Daddy has a picture of a family in his mind. And it's not us!"
Smith was achieving at work and in life, "Yet, everybody around me was miserable," he writes.
"Willow looked me in the eye with so much compassion. She genuinely felt bad for me," he writes, adding that Pinkett Smith "mercifully looked away."
Willow then told him, "It's OK, Daddy. You'll be OK."
Will Smith and Jada Pinkett Smith's big blowout happened after her 40th birthday
The couple separated after Pinkett Smith's 40th birthday in 2011. Smith went above and beyond for the celebration, inviting a large number of people to celebrate his wife's milestone birthday in Santa Fe, New Mexico.
He had a whole weekend planned for a large number of people, with special surprises, elaborate decorations and more, he writes. "The crowd reacts in awe," Smith describes one evening. "Jada seemed to be enjoying herself, but she was quiet — I couldn't get a good read."
The big surprise was a documentary Smith made tracing Pinkett Smith's family lineage back to slavery. He resurfaced picture , found family members and procured a recording of her late beloved grandmother that she and her family had never heard before.
Smith thought of this gift as a way to "win (his) way back into (his) wife's heart." His plan backfired.
"The entire place is in tears — her family, my family, everybody. All except Jada," he writes. "She sat motionless, refusing to make eye contact with me. The video ends — family and friends erupt in a standing ovation."
They would go on to have a huge fight that night, with Pinkett Smith telling him to call off the rest of tomorrow's activity. When he didn't budge and asked her what was wrong, she yelled at him, saying the documentary was the "most disgusting display of ego."
"At this point, we were both screaming at the top of our lungs, which was very uncharacteristic," he writes in part. "This night was unlike any before, or since. The pressure cooker of our perfect picture was cracking."
When they returned to Los Angeles, Smith knew they were over for the time being.
"Our marriage wasn't working. We could no longer pretend. We were both miserable, and clearly something had to change."
Smith writes that he told her, "I retire from trying to make you happy. You are free. You need to go make yourself happy and prove to me that it's even possible. But I quit — you go do you, and I'm-a go do me."
They didn't want a divorce, but the structure of their life that they had established, he writes, "was strangling both of us."
Pinkett Smith spoke about the change on Red Table Talk in 2010.
"That was a display, that moment of me having the courage to just say no. But now I had to have the courage to unravel it, and just realizing, 'This next 40, I gotta do it my way,'" she said. "This next half has to be directed by my picture for myself."
Will Smith and Jada Pinkett Smith decide to go their separate ways
The two agreed that they would go and work on themselves.
"We agreed that Jada's happiness had to be her responsibility and my happiness had to be my responsibility. We were going to seek our distinct, innermost personal joys, and then we were going to return and present ourselves to the relationship and to each other already happy — not coming to each other begging with empty cups, demanding the other person fulfill our needs," he writes.
"We felt this vampiric relational model was unfair, unrealistic, destructive — even abusive. To place the responsibility for your happiness on anybody other than yourself is a recipe for misery."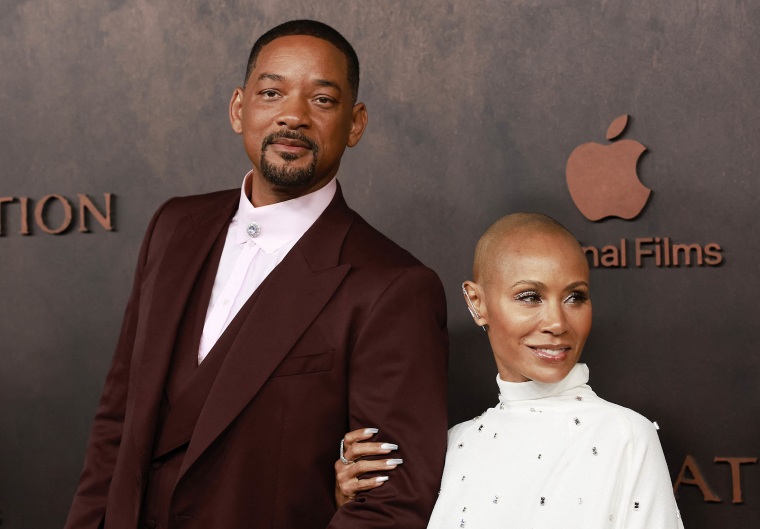 Will Smith and Jada Pinkett Smith reconcile at his father's funeral
After the death of Smith's father, Willard Smith Sr., in November 2016, the actor recalls having a "wake-up call."
He and Pinkett Smith were sitting next to each other at his father's funeral and realizing that they were in this together.
"Our time apart helped us both to discover the power of loving in freedom. We're simultaneously, 100% bound together and 100% free. We agree that we were both imperfect people doing our best to how to figure out how to be in this world joyfully," he writes, adding that what they needed from each other was "unbending devotion to each other's growth and well-being."
Note that Jada Pinkett Smith, in her memoir, writes that the couple had been separated since 2016.
Will Smith's reflects on his love for Jada Pinkett Smith
In 2018, Smith celebrated his 50th birthday with a bungee jump over the Grand Canyon. Concluding his memoir, the actor recalls facing his fears and writing down his thoughts just moments before the big jump. One person on his mind was none other than Jada Pinkett Smith.
"Me and Jada just started playing golf together. She loves it — she gets dressed for a round before the sun even comes up. After all of these years, we found something new we love doing," Smith pens. "We're supposed to be playing tomorrow. I enjoy playing with her more than anybody. She's the best friend I've ever had."
Pinkett Smith concludes her memoir by writing about Smith, too, and the "unconditional love" they share.