Anyone else fervently counting down to the "Will & Grace" revival this week? (No, you have a calendar alert set to go off every hour on Thursday!)
Well, take comfort in knowing you're not alone — and as we enter the final stretch before the beloved show returns, the cast has given us some new musical material to ease the wait.
Debra Messing, Eric McCormack, Megan Mullally and Sean Hayes blessed us with a performance of the "Will & Grace" theme song on Friday's "Tonight Show" — and for the first time ever, it has lyrics.
"I'm Debra Messing as you probably know. You might remember me from the cast of the show," sang Messing. "Grace is a character that I play, an interior designer and Will's roommate."
"I'm Eric McCormack and I play Will. The show is coming back and I'm playing him still," McCormack chimed in. "You can see it this fall on NBC. Remember when we used to call it 'Must See TV?'"
Then comes the catchy chorus: "Get down! 'Will & Grace' is coming to town!"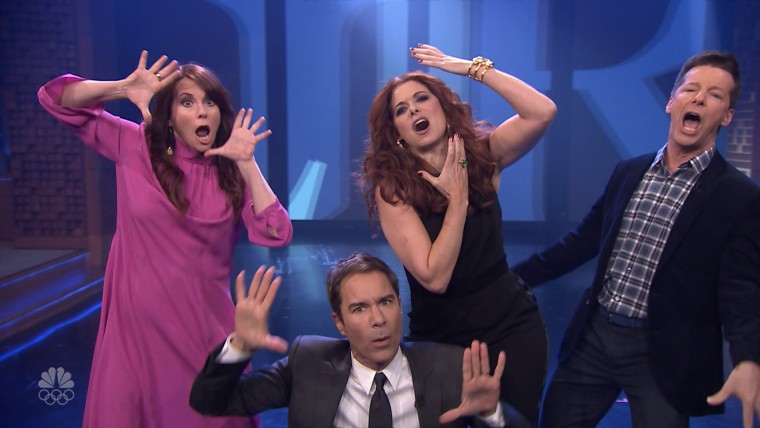 Of course, while we adore the show's title characters, we can always count on Jack and Karen to take things over the top. "It's more fun than you could ever know. Only show on NBC not set in Chicago," sang Mullally with her signature dry humor.
Hayes added that it "just might be the best show in the whole universe, but it's still on NBC so we can't f------ curse."
"Tonight Show" host Jimmy Fallon jumped onstage to wrap up the number, complete with jazz hands. (We love a good jazz hand.)
The new "Will & Grace" premieres at 9 p.m. ET Thursday on NBC — so clear your schedule and make sure you're all caught up on old episodes before then.
Oh, and get your jazz hands ready. We have a feeling this isn't the last time this crew will have us tapping our toes!