After all these years, we thought we knew the "Will & Grace" cast pretty well.
But Debra Messing, Eric McCormack, Megan Mullally and Sean Hayes are still full of surprises!
Take their visit to "The Ellen DeGeneres Show" on Monday, where they discussed their pre-show rituals, some of which developed during the series' original run from 1998-2006, and now continue in the second season of the revival.
"It's very theater-like because we all have a theater background," said Hayes. "We all get together and do a little prayer, and we still do the prayer every single show."
What exactly do they pray for?
Everyone kept tight-lipped except for McCormack, who said, "'Please God, let this be funny!'"
Clearly, their prayers are working.
But there's more to their ritual than just being wholesome: they also like to boogie a bit.
"We kind of do what you do," McCormack told DeGeneres. "As soon as we meet (the audience), we start dancing."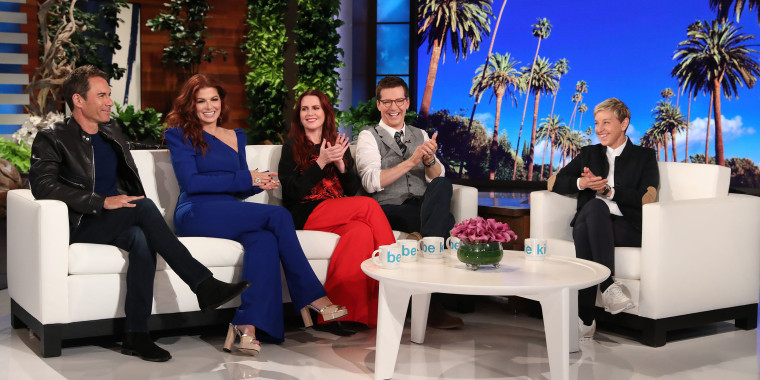 Messing added that the dancing can get a little racy. Eventually, the four of them are "gyrating all over each other and feeling each other's bodies."
The gang also shared about what their characters are up to in season 10, which begins airing on NBC Oct. 4: Will is going to be teaching law, Grace is running for office, Karen's still a scoundrel and Jack is engaged. Plus, Grace gets a new boyfriend, played by David Schwimmer!
We'll be tuning in, of course!