Ron Burgundy and Roger Federer are a match made for laughs!
Actor and comedian Will Ferrell resurrected his clueless "Anchorman" character for a zany post-match chat with the Swiss tennis champ Tuesday at the Australian Open.
After an introduction by tennis legend John McEnroe, the pair met on the court at the Rod Laver Arena in Melbourne just after Federer's win against Slovenian player Aljaz Bedene.
"Roger, tonight you seemed like a gazelle out there on the court. Would you describe your game as a silky gazelle?" Ferrell, 50, asks in Burgundy's gravelly voiced persona.
The 19-time Grand Slam winner chuckles, "Maybe. Maybe not. Don't they get eaten at the end?"
"Not if they're fast enough," Ferrell quips.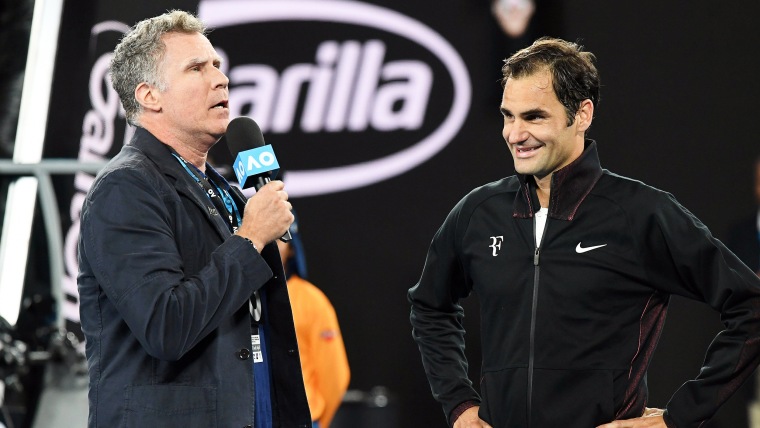 The laughs keep coming as Ferrell ponders whether the "ageless" tennis superstar — and dad of four — is "a witch or a vampire," and then asks the 36-year-old pro a question likely to make his furry Aussie friends upset.
"There is a rumor in the men's locker room that you love coming to play down here in Melbourne and your secret to fitness is that you only eat wombat meat. Is that true?" he presses.
Federer quickly denies the scandalous scuttlebutt.
Too bad, Ferrell implies. "It is delicious, the national food of Australia," he informs the courtside sports fans.
The comedian wraps up the wacky Q&A with a slightly altered version of Ron Burgundy's famous sign-off, telling viewers, "Stay classy, Melbourne."
Watch the interview in the video above!