"Everything Everywhere All at Once" actor Stephanie Hsu has been clear about what she wanted since the beginning of her career.
"I remember in 2012, I went into a commercial audition and they were like, "OK, could you do it again, but with a more Asian accent?" And I said, "I'm so sorry, but this role is not for me. I don't do that and I'm not interested in this part," she told The New York Times at the beginning of the year.
10 years later, she is a first-time Oscar-nominated actor for her role in "Everything Everywhere All At Once."
At Academy Awards show on Sunday, March 12, the film swept seven categories, including best picture and Ke Huy Quan and Michelle Yeoh both getting acting awards.
Given its success at past awards shows, the movie's Oscars sweep is no surprise: The genre-bending movie has been praised for its unique, universe-hopping story of love, dreams and family, and its cast, comprised of majority Asian actors.
But for some fans, Hsu's loss to co-star Jamie Lee Curtis comes as a blow. Hsu's character in the movie, Joy Wong, is a disgruntled young woman with a strained relationship with her parents.
Still, she seemed to partake in the evening with joy. Her reaction to "Everything Everywhere" winning best picture is already a meme.
Get to know Stephanie Hsu, and learn why she's inspiring such applause.
She grew up in California but her roots are in China and Taiwan
Hsu, 32, is an only child and was born in Torrance, California to a single mother, who as a teenager immigrated to the United States from Taiwan for a better education, per an interview with The Wrap. Hsu attended Palos Verdes Peninsula High School. Her maternal grandmother was from mainland China but later moved to Taiwan to escape the civil war in the 1950s.
The actor always knew she wanted to pursue acting as a career.
"I remember being really young when I told my mom I wanted to be an actress," Hsu told the Los Angeles Times last year. "She pointed to the TV screen and said, 'How can you be an actress? There's no one that looks like you!'"
Hsu said her mother's words did not deter her; she knew they came from a place of love and protection.
"My mom's not as much like that as I am, but she is very strong and persistent and smart. And when you bring in (the factor of) an immigrant family, it's a lot about you have to be excellent in order to survive in this world that was not built for you. That was a huge narrative growing up for me."
She got her start in theater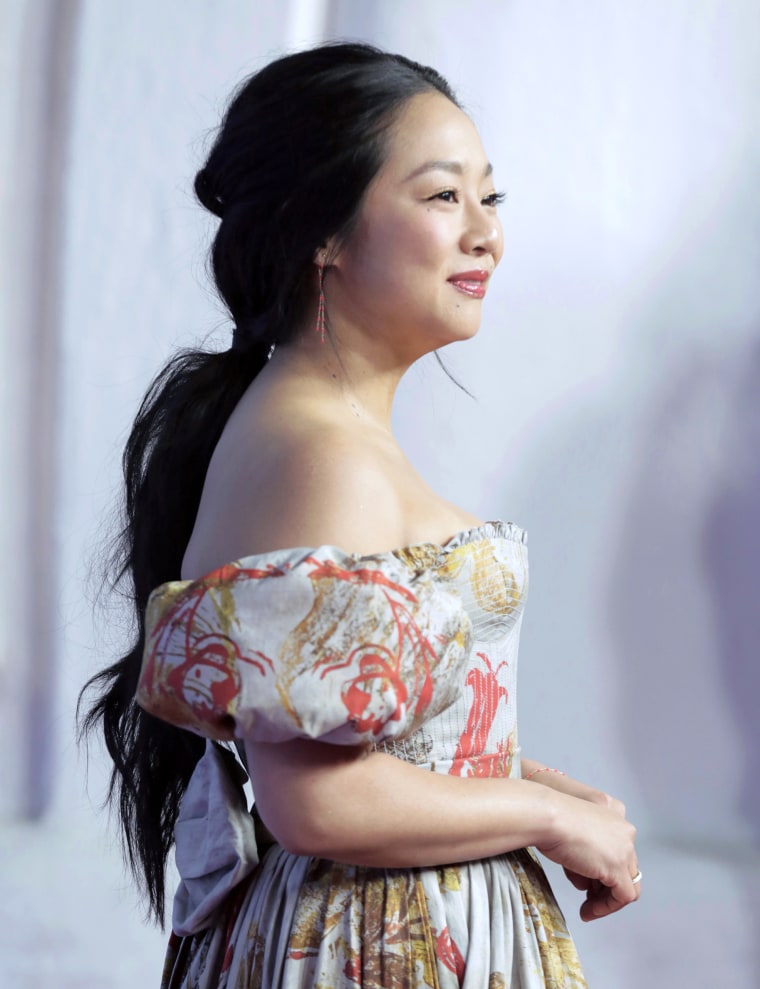 Hsu was 8 when she began singing and dancing during recess, she told the L.A. Times, which turned into roles in the school musicals.
"One of my teachers said I should consider going to college for acting and I was like, I didn't even know that was a thing," she told the L.A. Times.
But she did it, attending New York University's Tisch School of the Arts and training at the Atlantic Theater Company.
"When I was finishing school and living in New York, (good) roles were not available in the mainstream," she said, referring to accented or stereotypical roles instead of more empowering ones. "I had no interest in selling myself or just shrinking myself to an inappropriate cameo just so that I could say I added one more thing to my résumé."
Her luck changed though. By 2019, she originated the role of Christine Canigula in Broadway musical "Be More Chill" while squeezing in time to appear in "The Marvelous Mrs. Maisel," a dramedy series. 
"The image I get is a horse kicking down a door," Hsu said.
You can see her audition for 'Everything Everywhere All at Once'
Hsu's audition tape for "Everything Everywhere All at Once" captures the beginning stages of her Oscar-nominated performance, a role that would go on to shape culture.
Her character inspired Halloween costumes, including ones of the canine variety. Hsu saw a picture of one pug with her character's black braided hair, and reposted it on her Instagram last October.
"This photo was brought to my attention and I literally was transported out of this universe into another where I am a pug and only have other pugs and babies for friends," she captioned the post.
She has a love/hate relationship with social media
The heightened level of attention she's received since "Everything Everywhere's'" success has required a balancing act, she said.
"Slowly climbing back out of my shell onto this proverbial platform to flirt with the concept of being a human in this era," she said on Instagram last October.
She told The New York Times the advice co-star Jamie Lee Curtis, who has been in the spotlight her entire life, gave her to help her prepare.
"She took me aside and said, 'This year is going to be a total roller coaster for you. Center yourself.' And I remember thinking, 'Jamie, listen, I'm a grown-ass woman and I've been around the block. I know how to stay centered.' But as the year has unfolded, I've realized how little I knew about anything.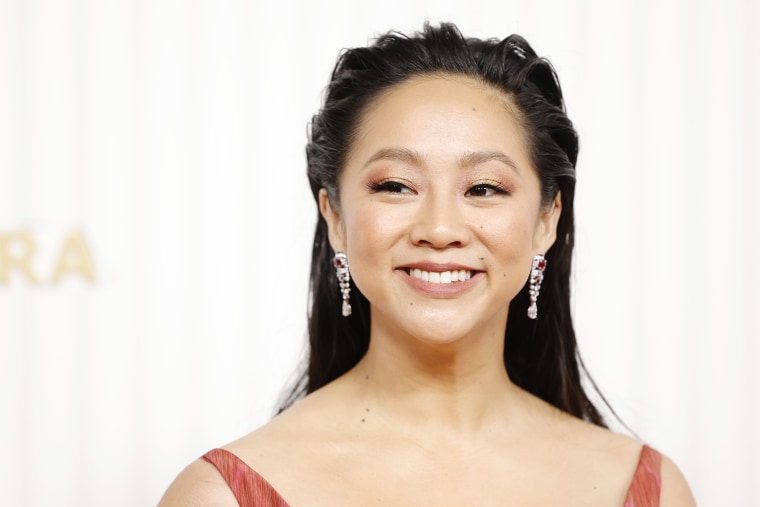 "You have to hold onto your self-worth in such a profound way and it's hard because it feels like other people's opinions of you are going to affirm whether or not you get to keep making movies, which is such a crazy trap and also very real, right? But I've had to continue to remind myself that I got to this moment without anyone ever knowing anything about me, so it really is just all about the work,'" she continued.
What she's said about 'Everything Everywhere All At Once'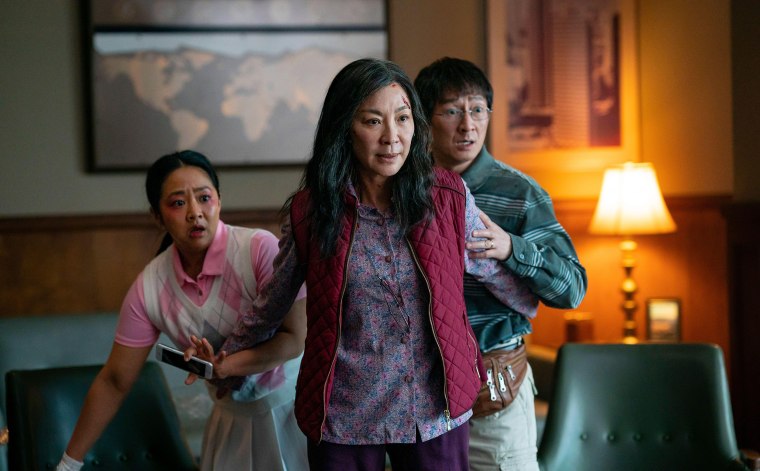 Hsu told The New York Times it's hard to quantify the impact of the movie.
"I'm witnessing other people's humanity in a way that is very alive," she said. "And I'm like, 'Oh my God, we did that. We did something that made people start crying even when they think about it.' And that's crazy. That came from our labor of love."
And that's been the best part, she said.
"It's been really delightful to still bring it into people's lives. I think (the film's) superpower is to somehow be able to make you feel a part of the mess of humanity again. To feel those roller-coaster feelings beside a stranger is a special thing."
Other movies and TV shows she's been in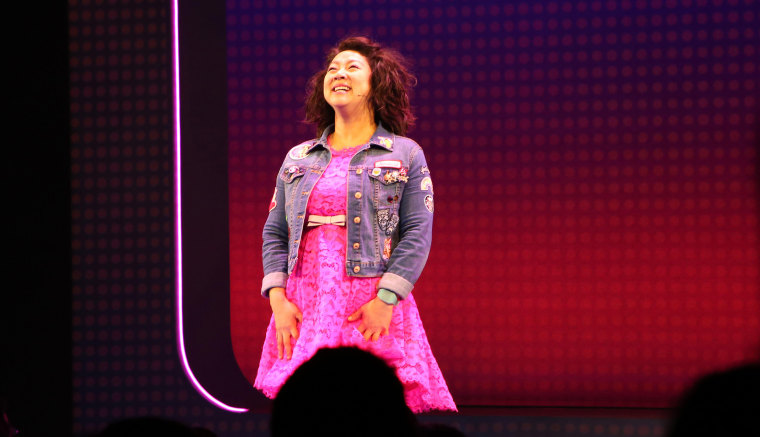 In addition to "Be More Chill" and "The Marvelous Mrs. Maisel," Hsu has also starred in "The Path," "Girl Code," "Shortcomings," "Nora from Queens" and "Shang-Chi and the Legend Of 10 Rings."