Ryan Seacrest's girlfriend, Aubrey Paige Petcosky, who goes by Aubrey Paige, is cheering him on.
The two have reportedly been dating since 2021 when Seacrest was a host on "Live With Kelly and Ryan," and made their red carpet debut in 2022 at the red carpet for Jennifer Lopez's "Halftime."
Their relationship has become more public amid Seacrest's career shifts. In early 2023, when Seacrest, 48, announced his departure from the morning show, giving him a shoutout on Instagram on his last day.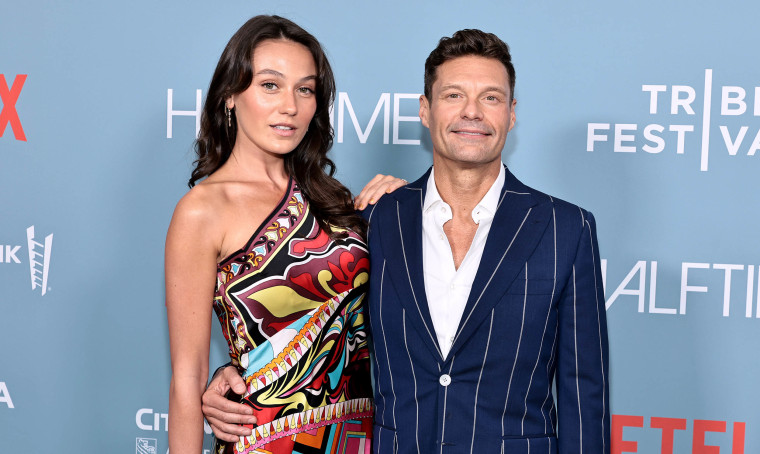 "I am so excited for this next chapter of your life and our life. May it be filled with total presence, joy and relaxation in every single moment. The best is yet to come. Cheers. Love ya babe," the 25-year-old, who was present for the last episode, wrote in April.
After leaving "Live," Sony Pictures Television announced in June that Seacrest would be the new host of "Wheel of Fortune" beginning in 2024. "I'm truly humbled to be stepping into the footsteps of the legendary Pat Sajak," Seacrest shared in a statement on Twitter.
Read on to learn more about Seacrest's girlfriend.
Paige works as a model, among other things
Paige is a model and actor signed to LA Models and NTA Talent Agency, per her LinkedIn page. Her LinkedIn also says that she's a "script writer with a demonstrated history of working in the marketing and advertising industry."
According to her Instagram bio, Paige's hobbies include fitness, fashion, travel and screenwriting.
After attending school in Austin, she moved to L.A.
Paige's LinkedIn said she studied at the University of North Texas and Austin Community College.
On Facebook, she wrote that she moved back to L.A. after taking a pause back in Texas. "It wasn't easy getting back out here post Covid, but after a year of reflecting and resetting I finally got my butt back out to LA! I could NOT have done it without my incredible parents," she wrote.
She spent her 25th birthday with 'childhood idols' Hugh Jackman and Daniel Radcliffe
After her 25th birthday in October of last year, Paige took to Instagram to share a few of photos from her birthday celebration, including one of her kissing Seacrest.
Paige said festivities also included meeting her "childhood idols" Hugh Jackman and Daniel Radcliffe.
"Thanks again for the bday wishes! Cheers to a quarter century and Scorpio season," she wrote.
She calls Seacrest an 'inspiring man'
In February, Seacrest announced he was leaving "Live With Kelly and Ryan." On the day of his final show in April, Paige took to Instagram to give her beau a shout-out and tell him how "proud" she was of everything he's achieved.
"Ryan, never have I ever met a more inspiring man. You make it look so easy, but the truth is there is just nobody quite like you. I am so beyond proud of you. Not just for your work ethic, but for your caring heart and the genuine love that you give to others," she wrote in April.
Paige has 4 siblings
In a Mother's Day post from 2022, Paige revealed that she comes from a large family.
"Happy Mother's Day to this icon who raised us 5 kids like the ultimate boss with an abundance of love, laughter, and support. Blessed to be your daughter mama. Happy Mother's Day to all the strong mamas out there," Paige wrote alongside a picture of her family on Instagram.