Fame is not easy, but for people like gymnast Olivia "Livvy" Dunne, balancing stardom is part of the job. The Louisiana State junior, 20, has gone from Division One college athlete to Gen-Z household name, thanks to the power of social media.
Dunne, as her resume lays out, is an accomplished gymnast. After starting in gyms near her hometown of Hillsdale, N.J. as a girl, she is now nationally recognized in the world of gymnastics, having competed in Italy at the 2017 Jesolo Trophy as part of the USA National Team. The USA junior team went on to win the gold All Around medal.
During her past two years as an LSU Tiger, Dunne has garnered the Women's Collegiate Gymnastics Association (WCGA) Scholastic All-American title, an honor given to outstanding U.S. athletes in a specific sport. 
Dunne's success, however, surpasses gymnastics bars: She has over 3 million followers on Instagram and 7 million on TikTok, a fanbase that only keeps growing. Dunne's content includes dance videos, a glimpse of behind the scenes at competitions and lifestyle moments.
The gymnast's online presence has started to converge with the off screen world, as fans gather at gymnastics meets hoping to see her.
Such was the case in Salt Lake City in January. A TikTok video taken by Sam Peszek captured dozens of male fans gathered outside, chanting Dunne's name and saying, "We want Livvy."
Dunne was not competing that day due to an injury, per ESPN.
Another TikTok user showed a crowd gathered inside the competition center, holding signs in support of Dunne.
Another video showed another angle of supporters holding signs for Dunne inside the arena.
Responding to the heightened attention, Dunne put out a call on Twitter asking for "respect" from her fans who go to meets.
"I will always appreciate and love the support from you guys, but if you come to a meet, I want to ask you to please be respectful of the other gymnasts and the gymnastics community as we are just doing our job." 
Dunne opened up about the incident in further detail with TODAY's Stephanie Gosk.
"In the past, I have had some of my supporters come out to meets and watch and cheer for LSU, but that was insane. It really was," Dunne said.
Since then, the university has increased its security measures, with LSU coach Jay Clark telling reporters a security detail would travel with the team for the rest for the season, per ESPN.
"They gave us some new rules, us athletes, just to keep us safe, to not go into the stands after meets. We have a new security person who travels with us," Dunne said.
Dunne is at the forefront of college athletes experiencing from social media stardom, thanks to recent policy changes in the NCAA's NIL (name, image and likeness) policy that began to take effect on July 1, 2021, which allows college athletes to have benefit economically from sponsorships and use of their name.
Her fanbase and social media presence have led to sponsorships with Grubhub, Vuori, BodyArmor and American Eagle. Dunne told Gosk her income reaches seven figure numbers.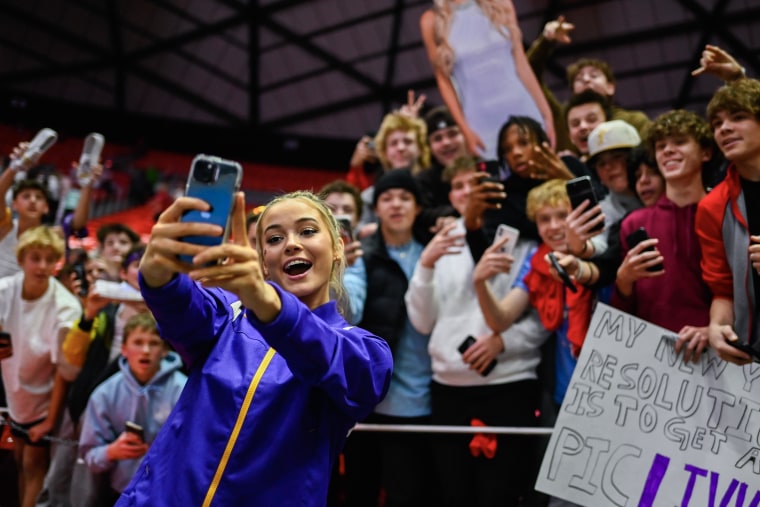 "It is very cool that someone in college has the opportunity to do that now," Dunne said. 
According to data collected in October 2022 by ON3, a college sports company focused on digital media, data and marketing, Dunne's influence is at the top of all college women athletes.
Dunne has an NIL valuation of $2.3 million and $31,000 per post value, per ON3NIL. For comparison, the second athlete on the list is fellow gymnast Sunisa "Suni" Lee, who became a national sensation last summer after winning Olympic gold with Team USA in Tokyo. With 31.5 million followers, Lee has an NIL valuation of $1.5 million and a $21,000 per post value.
For Dunne, this moment of success is the product of hard work.
"I pretty much sacrificed my summers, those pool days, those beach days with your friends," Dunne told Gosk. "I was in the gym training."
She plans to turn her "brand into a business" after she graduates, per Gosk.