/ Source: The Associated Press
White is the new black, at least in the fashion rule book of Alicia Keys, Usher and Kanye West.
Keys wore one of the most glamorous outfits seen at Sunday night's Grammy Awards. It was a full-length white satin gown with thick gold straps and a bare back. The dress, paired with simple dangling earrings and sparkling gold eye makeup, made for a sophisticated look that was sexy in its demureness.
West, who had a swirl pattern shaved into his head, was head to toe in white, from his blinding diamond earring to his shoes.
Meanwhile, Usher wore a white shirt, vest and pants, but no jacket, with a brown tie and brown-and-white spectator shoes. Brandon Flowers of The Killers paired his white tuxedo, complete with white bow tie, with a black shirt.
Joss Stone, a hot newcomer, got noticed in her white gown covered with bright orange, pink and green oversized flowers.
Gwen Stefani arrived in a black minidress with loose shoulders and a keyhole neckline but changed to white for the show's opening number.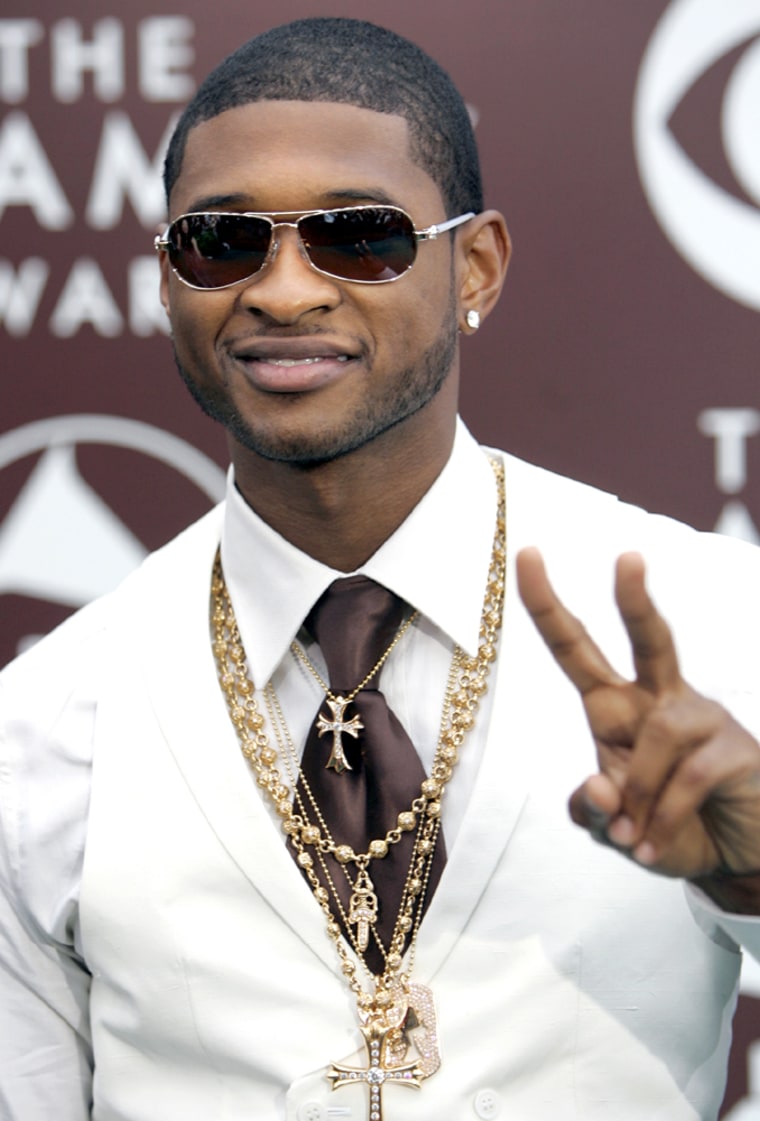 Surprisingly, a conservative dark banker's chalk-stripe suit was the other big trend on the green carpet (green instead of red because of Heineken's sponsorship) at the Staples Center in Los Angeles.
Jay-Z epitomized the look — and he wore it well. His pinstripes were complemented with a purple-and-white striped shirt, purple polka dot tie and white pocket square. Others in pinstripes included Hoobastank's Chris Hesse.
"I tried to wear a blindfold when I got dressed today," said smooth jazz star Dave Koz, who wore a navy pinstripe suit, green leather shoes and a green-and-raspberry striped shirt with a green pattern tie.
"I'm not afraid at all," he said. "Anything goes. The Grammys are reflective of music people who are creative."
But for all the bling and skin that MTV watchers are used to seeing, there were very few stars wearing anything flashy. All the rappers wore suits, not jeans, and few of the rock stars, who are known for their T-shirts and jeans, wore the casual look.
Johnny Van Zant of Lynyrd Skynyrd stayed true to his Southern rock roots, though. He wore a black leather vest, black T-shirt and jeans.
Most others, including Rob Thomas, put on suit jackets and button-down shirts, but skipped the tie.
Jennifer Lopez sang with husband Marc Anthony, in their first live duet, in a seafoam green gown with a gold-and-silver sparkling halter strap and similar beaded sash around her hips. It was the complete opposite of her famous green "barely there" Versace gown at the 2000 Grammys, which she attended with Sean "P.Diddy" Combs.
Eve may have worn the lowest plunging V-neck of the evening in her short red Roberto Cavalli dress covered with beads and fringe at the hem — but it didn't push the envelope too far. The same could be said for Ashanti's nude-colored Gucci dress with shimmering gold discs outlining the V that framed her neck and bust.
Another fan of the deep V was Christina Milian, who wore a wrap-style dance dress covered with white beads.
Fergie of The Black Eyed Peas wore a strapless, body-hugging dress with a gold flower at the bust and a gold hem that flared out at the knee. "I'm going to put those little skirts away this year," she said during E! Entertainment's preshow.
Meanwhile, her bandmate will.i.am wore a brown stovepipe hat with his brown pinstripes.
Janet Jackson wore a halter-style gown and E! fashion commentator Star Jones Reynolds wore an orange halter babydoll top with her light-colored pants with orange beading.
Jones Reynolds, living up to her diva reputation, had two outfits for her live two-hour show. The other was a pink pleated wrap-style gown with crystal embellishment, a tassel that hung from her hip and a high slit that went "from Georgia to Massachusetts," she said.
Talking to Grammys host Queen Latifah, whose arrival outfit was a salmon-colored gown with all-over pleats and a belt with a crystal-covered buckle, Jones Reynolds said, "All black women have the inner Diana Ross in them."
That said, Ricky Martin probably wore more necklaces with his black jacket and untucked white shirt than most of the women combined. Most of the jewelry was limited to diamond earrings and a handful of bangle bracelets.
Sheryl Crow wore a yellow halter-neck gown with a gold-trimmed cutout around her navel. She paired it with a WearYellow LiveStrong bracelet that raises money for cancer research through the Lance Armstrong Foundation on one arm and Armstrong, her boyfriend, on the other.