In "Goodnight Nobody," Jennifer Weiner, author of "In Her Shoes," tells the story of a young mother's move to a postcard-perfect Connecticut town and the secrets she uncovers there. For Kate Klein, a semi-accidental mother of three, suburbia is full of unpleasant surprises. Her once-loving husband is hardly ever home. The supermommies on the playground routinely snub her. And when a fellow mother is murdered, Kate finds that the unsolved mystery is one of the most interesting things to happen in Upchurch. Weiner was invited on the "Today" show to discuss the book. Here's an excerpt.
Chapter One "Hello?" I tapped on Kitty Cavanaugh's red front door, then lifted the brass knocker and gave it a few thumps for good measure. "Hello?"
"Mommy, can I ring the doorbell?" Sophie asked. She stood on her tiptoes and waved her fist in the air.
"No, it's my turn," said Sam, kicking his sneakered feet against one of the half-dozen perfectly spherical pumpkins beside Kitty's front door. Halloween was a week away, and we'd only gotten around to carving our single jack-o'-lantern the night before. It had come out crooked and its right side had rotted and caved in overnight, and it looked like we had a sadistic stroke victim parked on our porch. When I'd lit the candle, all three kids had cried.
"My turn!" said Jack, shoving his younger-by-three-minutes brother.
"Don't push me!" cried Sam, shoving back.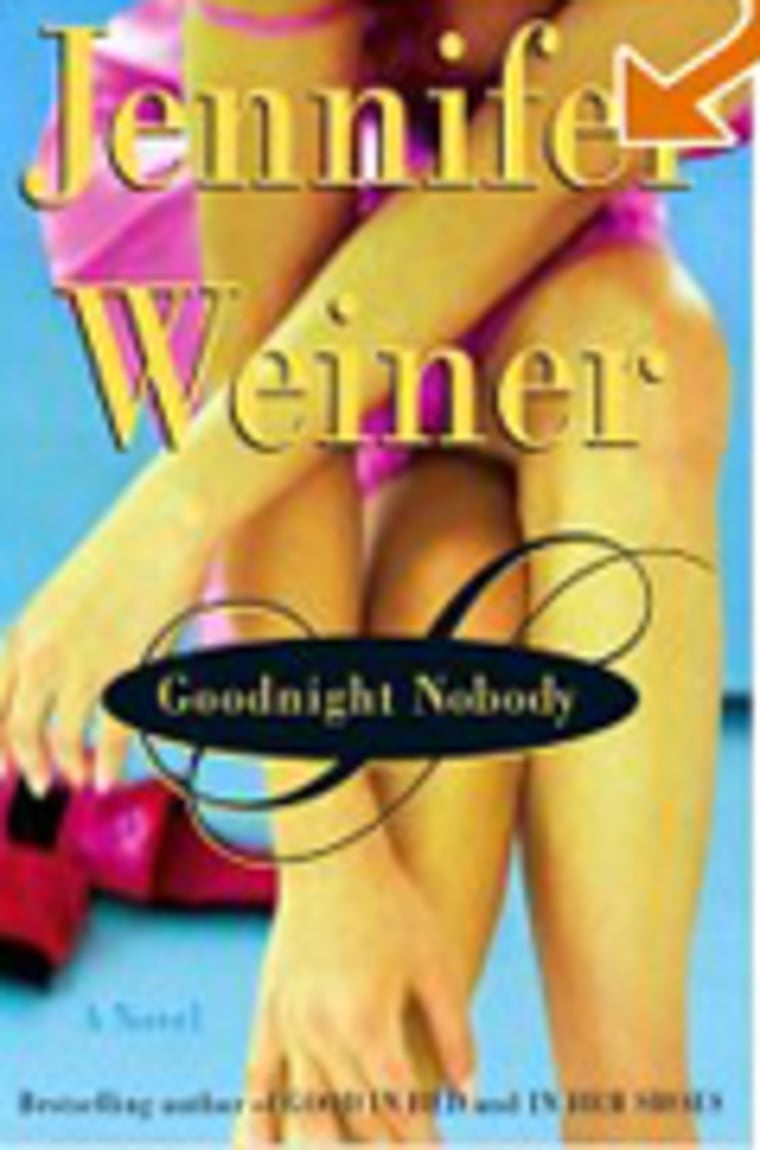 Sophie reached up, pigtails quivering, and rang the bell. A dimple flashed in her left cheek as she gave her brothers a smug look that said, This is how it's done. Nobody answered. I looked at my watch, wondering if I'd heard Kitty wrong. She'd called on Wednesday night, when the boys were in the bathtub and Sophie was sitting on the toilet, applying lipstick and waiting her turn. I was kneeling in front of the tub, my shirt half-soaked, a washcloth in my hand, scrubbing playground grime from underneath their fingernails and enjoying one of my most persistent and vivid daydreams, the one that began with two men knocking on my front door. Who were they? Police officers? FBI agents? I'd never figured that out.
The younger one wore a beige suit and a clipped inch of sandy mustache, and the older one had a black suit and thinning black hair combed over his bald spot. He was the one who did the talking. There's been a mistake, he would tell me, and he'd explain that, due to some glitch I'd never quite fleshed out (Bad dream? Alternate universe?), I'd wound up with someone else's children, living someone else's life. Really? I would ask, careful not to sound too eager, as a woman — these days, she was usually the lady from the Swiffer commercial who danced around to the Devo song, happily dusting — stepped between them, hands planted on her capable hips. There you are, you little scamps! she would say to the children. I'm so sorry for the inconvenience, she'd say to me. No problem, I'd graciously reply. And then she'd say ...
"Telephone."
I looked up. My husband stood in the doorway, with his briefcase in one hand and the telephone in the other, staring at me with something that was either disdain or its close first cousin. My heart sank as I realized that getting slopped with the boys' bathwater was the closest I'd come to showering that day.
I reached for the phone with one soapy hand. "Can you watch them for a sec?"
"Let me just get out of this suit," he said, and vanished down the hall. Translation: See you in an hour. I stifled a sigh and tucked the telephone under my ear.
"Hello?"
"Kate, it's Kitty Cavanaugh," she'd said, in her low, cultured voice. "I was wondering whether you were free for lunch on Friday."
I'd been too shocked to stammer out "Sure" or "Yes." I'd wound up saying "Shes," even though lunch with Kitty Cavanaugh wasn't high on my to-do list. As far as I was concerned she represented everything that was wrong with my new hometown.
I remember the first time I'd seen Kitty. After a morning of unpacking I'd driven the kids to the park our Realtor had pointed out. I hadn't washed my thick, curly brown hair in three days and was looking more than a little disheveled, but the other mothers wouldn't mind, I thought, as I pulled into a parking space. As the kids and I walked through the white picket playground gates, we saw four women seated on the green wooden bench by the seesaws: four women wearing the identical shade of dark pink lipstick; four formidably groomed, exquisitely fit, terrifyingly capable-looking women. Each one had a monogrammed paisley silk diaper bag slung across her shoulder, like a Pink Lady jacket. Or an Uzi.
"Hi!" I said. My voice seemed to bounce off the pebbled rubber mats underneath the slides and echo through the swing set. The women took in my outfit (loose, syrup-stained cargo pants, fingerpaint-smeared sneakers, one of my husband's washed-out long-sleeved gray T-shirts with one of my own violet short-sleeved shirts on top), my messy hair, my makeup-free face, the belly and hips I'd been meaning to do something about for the past two years and, finally, my kids. Jack looked okay, but Sam was clutching his favorite pacifier, which he hadn't used in months, and Sophie had pulled on a tutu over her pajama bottoms.
The buff-looking blonde in the middle, in camel-colored boot-cut pants topped with a zippered fleece vest, raised her hand and gave us a semi-smile. Her name, I'd later learn, was Lexi Hagen-Holdt, and she looked exactly like what she was — a former all-state athlete in soccer and lacrosse who'd worked as a high school coach before marriage and had started training for a triathlon six weeks after she'd had baby Brierly.
The brunette next to her had shoulder-length light brown hair perfectly streaked and styled, and eyebrows plucked into perfect arches, then dyed to match; she gave us a half of a wave. Her full lips twisted sideways, as if she'd tasted something sour. This was Sukie Sutherland, in Seven jeans and high-heeled, pointy-toed suede boots — the kind of outfit my friend Janie would have worn out clubbing and I never would have attempted at all.
"Hi!" said the redhead — Carol Gwinnell — at the far end of the bench. She sported a pumpkin-colored sweater with a long skirt in swirling shades of red and orange and gold. Her little gold earrings were clusters of bells that jingled and chimed, and she wore sequined purple slippers trimmed in gold braid. Carol's husband, I would shortly learn, was head of litigation at one of the five biggest law firms in New York City. Carol and Rob and their two sons lived in a Bettencourt and had a summer house on Nantucket, which I guess gave her the right to dress like she was going to a Stevie Nicks concert if she wanted to.
Finally, the fourth woman deigned to approach us. She knelt down gracefully in front of my kids and one by one asked them their names. Her straight, thick hair fell to the center of her back, a glossy sheet of chocolate brown held with a black velvet band. She had lovely features: full lips, a straight, narrow nose, high cheekbones, and a neat little chin. Given her hair, and her golden complexion, I would have expected brown eyes, but hers were wide set and a blue so dark it was almost purple. The color of pansies.
"And I'm Kitty Cavanaugh," she said to my children. "I have twins too."
"Kate Klein," I managed, thinking, Don't fall for it, you little bastards. Of course, my kids were charmed. The boys let go of my leg and smiled at her shyly, while Sophie stared at her and said, "You're so pretty!" I tried not to roll my eyes. The last time Sophie looked at me that intently, she hadn't said that I was pretty, she'd told me I had a hair growing out of my chin.
I plastered a smile on my face and made a series of mental notes: figure out where to buy a perfectly cut suede jacket; find out where these women got their hair blown, their teeth bleached, their eyebrows plucked; and try to locate the other overwhelmed, undergroomed, bigger-than-a-breadbox mothers like myself, even if I had to cross state lines to find them.
The ladies had gone back to their conversation, which seemed to concern the student-teacher ratios at the town's competing private schools. It had taken three more playground visits, twenty minutes spent listening to Sukie talk about reorganizing her pantry, and a trip to Mr. Steven, the local hairdresser, before Kitty and I had had an actual conversation, about what kind of baked goods I should bring to the Red Wheel Barrow annual holiday bake sale. "No nuts, no dairy," she'd told me. I'd nodded humbly and managed to keep from asking, "How about crack? Would crack be okay?"
Excerpted from "Goodnight Nobody" by Jennifer Weiner. Copyright © 2005, Jennifer Weiner. All rights reserved. Published by No part of this excerpt can be used without permission of the publisher.