We've seen it happen time and time (and time) again: An eager "Wheel of Fortune" contestant stands before a seemingly simple puzzle, and they miss the obvious answer.
Well, it's happened again, and this time, it resulted in a whole new character for a beloved children's tale.
With most of the letters on the board and a $10,000 bonus on the line, all contestant Tara had to do was list off the names of Snow White's seven dwarfs.
There's Dopey, Grumpy, Doc, Bashful, Happy, Sleepy, and according to Tara, Sneaky.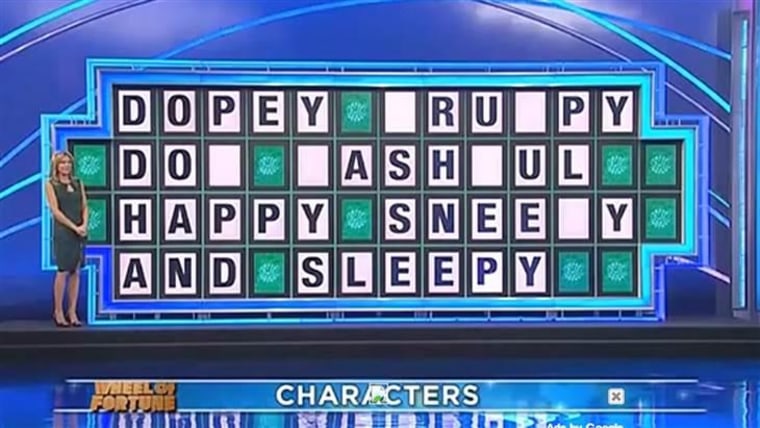 Ooh! So close. But while it's hard not to let out a little laugh over the Sneezy-Sneaky mixup, it's an understandable mistake, says Al Roker. And he should know.
"I actually did 'Wheel of Fortune: Celebrities and their Moms Week' with my mother," Roker recalled on TODAY Friday. "And before the show, I [was] nailing puzzles left and right."
But once it started, things didn't go so well.
"We were out by the second question," he said. "[The category] was like a state, and I think it had seven letters. I said, 'Ohio' or something."
His mom's reaction? A gentle smack to the back of the head.
At least Tara had better luck than that. While the dwarfs stumped her, she went one to end the show with over $12,000 winnings.
Follow Ree Hines on Google+.
This article was originally published Mar. 6, 2015 at 12:45 p.m. ET.