We suppose all good things must come to an end. Sniff.
We're bidding adieu to Ellie Kemper, who's joined Willie Geist, Tamron Hall, Natalie Morales and Al Roker as a co-host for the 9 a.m. hour over the past few weeks. From the moment she showed up on the plaza and received her welcome gifts (an apron, an alarm clock, a pint of Ben & Jerry's ice cream and a bedazzled Pop Fix mug), we knew her big smile and "unbreakable" charm would add something special to our already fun-filled mornings.
Of course, this isn't really goodbye. We know she'll be back in the studio someday soon, but in the meantime, we're ready to share our favorite TODAY moments featuring this "ray of sunshine."
1. The way she danced with the girls of Fifth Harmony.
Between sets on the plaza, the ladies of Fifth Harmony sauntered into Studio 1A to demonstrate a few of their signature moves, including a hairflip and — lest you forget — a "booty pop." Ellie was game to join in, and things got a little wild. Honestly, it became difficult to see where the girl band ended and the Ellie began.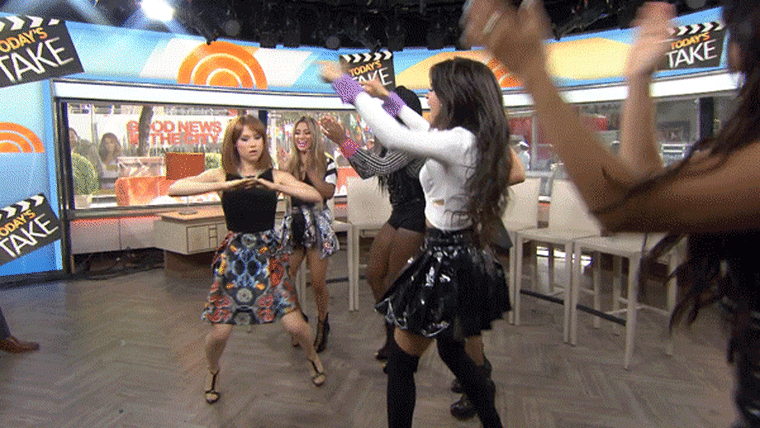 2. Her amazing rendition of Channing Tatum's Vogue-dance video.
Newsflash, Channing: You've got nothing on our girl Ellie. The "Magic Mike XXL" star may have showed off some serious dance moves in a Vanity Fair web feature for their August 2015 issue — and, yeah, it may have been pretty impressive. But when given the chance to recreate his 30-second clip, Ellie showed us that she, too, could own "the funky chicken" and "the hula" just as well. Don't believe us? See for yourself:
3. That time she got hypnotized live on air.
Er, sort of. As TODAY's Al Roker and Natalie Morales found themselves transfixed by professional hypnotist Richard Barker (Al ended the segment howling at the moon), Ellie proved that her lively persona is indeed "unbreakable." We couldn't help but notice her giggling and opening her eyes every now and then to sneak a look at the studio.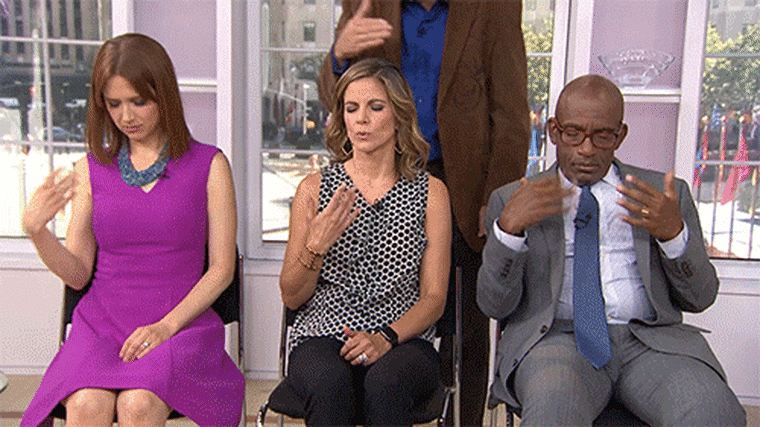 4. When she busted a move with Boy George, becoming the most likable unlikely pair.
Match Culture Club frontman Boy George with sunny Ellie Kemper and add a few classic dance moves and you have a recipe for magic. We were totally transfixed by these two!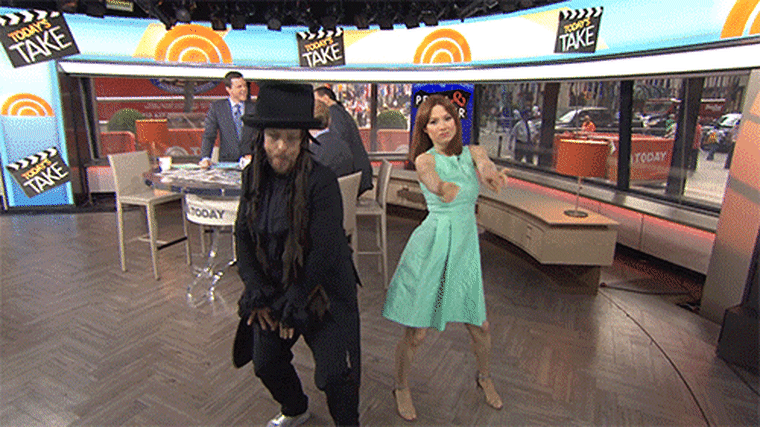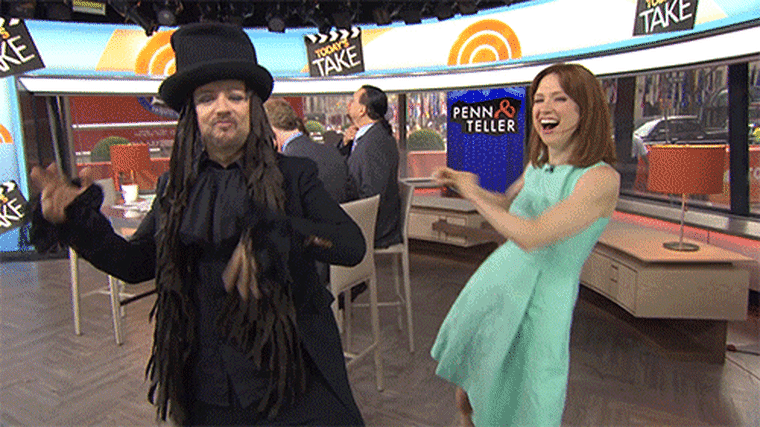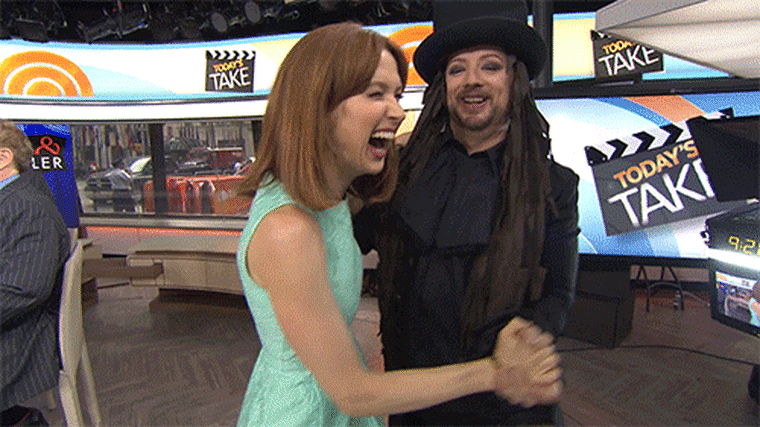 5. And, last but certainly not least, the "man under the stairs."
Ellie, we won't be forgetting this hilarious video anytime soon. The actress shared a clip of a childhood movie she made in 1992 with her sister and a friend. Titled "Man Under the Stairs," the full-fledged (albeit, seriously low-budget) film tells the story of — surprise, surprise — a man. A man under the stairs.
Missing Ellie now that she's no longer on your TV every morning? We've compiled a few more favorite moments below for you to relive.