Gloria Gaynor, the legendary voice behind the anthem of empowerment, "I Will Survive" speaks of the power of song to inspire, strengthen and encourage in "We Will Survive." Here's an excerpt.
INTRODUCTION
Behind the Song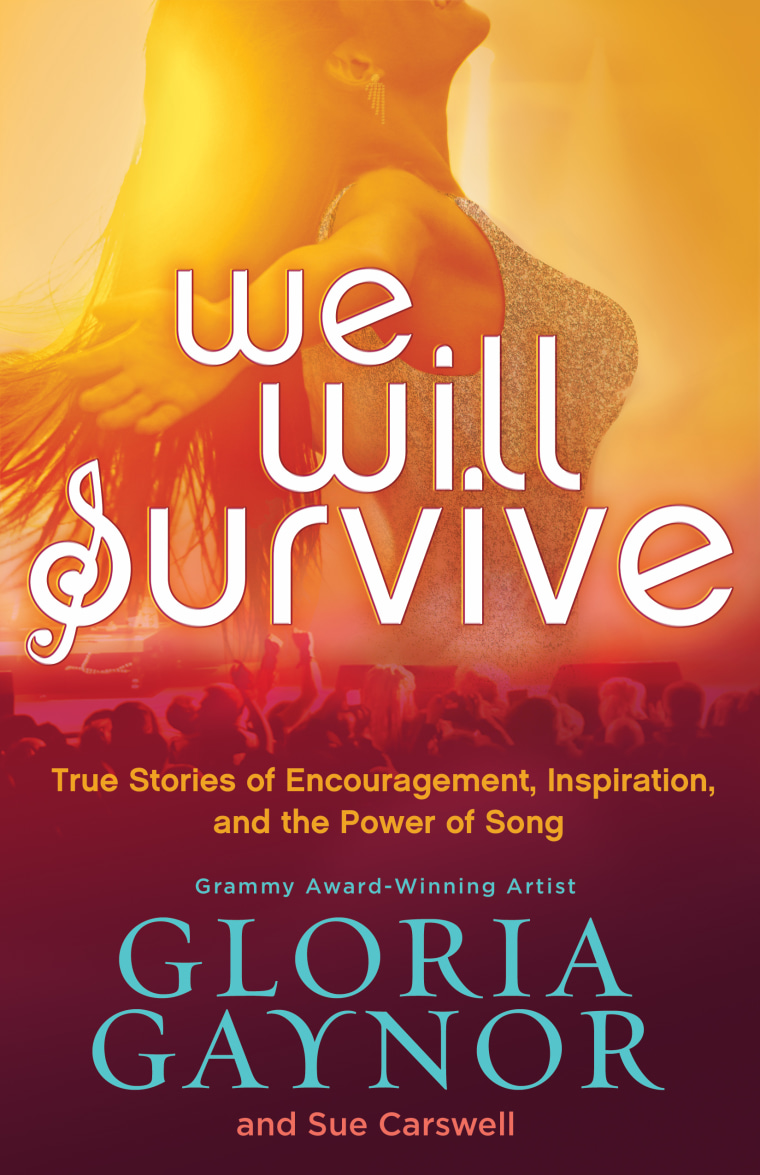 I grew up in a single-parent home with a single mother and six siblings—therein lay the crux of my problems. Too few people know the devastating long-term effects that can ravage the life of a child raised without a father—or at least a good father figure. I had no uncles—my mother was an only child—and my father had two sisters but no brothers.
When I was five years old, we moved from an apartment building to a two-family house. There was a young, childless couple, John and Mary, who lived on the second floor. I often visited them, and they played with me every day.
One day Mary went to the hospital to deliver their first child. I had come to think of them as an aunt and uncle, so it was not strange to me when John invited me up to their apartment to have cookies and milk. I innocently allowed him to lead me into the bedroom, where he proceeded to lift me onto the bed and remove my panties. As he began to molest me, I looked up at him and said, "My mommy's not gonna like this!"
He responded angrily: "Your mother's not gonna know!"
"Yes, she will, cuz I'll tell her," I timidly said.
At that he hurriedly replaced my panties, snatched me from the bed, and dragged me to the front door of the apartment, where he shoved me out with a growl: "Git on back downstairs. You make me sick." Looking back on it now, I think he probably meant, "You make me scared."
My mother was a no-nonsense, take-no-crap-from-anyone kind of person, and John knew it. Because of that, I never told her what happened that day. I believed she would probably have hurt him seriously, which would have meant jail time and that I would be left without a mother as well as a father. I had no way of realizing then that John had stolen my innocence that afternoon and had reinforced the low self-esteem and abandonment issues I already suffered, born of fatherlessness.
Fatherlessness, coupled with this incident, set the stage for my behavior in male relationships from then on. I grew up feeling that every rejection or maltreatment from any man for any reason was because I wasn't worthy of better treatment. When I was twelve, my mother had a relationship with a man she grew to love. For two years she kept him away from my siblings and me, so as not to have someone around who might, in some way, harm her daughters. Eventually he came to live with us, and we grew to like him a lot. He was a father figure—until one day he sexually molested me while I was asleep in my bedroom and my mother was asleep in hers.
"Why are you doing this?" I asked as I awoke.
"I was just trying to see if you were messing with those little boys," he answered.
"You could have asked me that," I snapped back.
I stopped him before he had gone too far, but the damage to my psyche had already been done. Again I didn't tell my mom, even though her greatest fear had come to pass. I had seen her alone and lonely for years, and I didn't want to get in the way of her happiness with the man she loved. I also didn't want her to get into trouble for trying to seek retribution against him.
The incidents with my stepfather and John, as well as my reactions to them, set the tone for my future relationships with men and became par for the course. I ended up being rejected, disrespected, and neglected in every relationship, from puberty up to and including my marriage. When I was eighteen, I was naïve enough to trust the cousin of an ex-boyfriend. I allowed him to take me to visit his girlfriend—only to find that not only was she not home, there was no one there at all. He raped me. "Don't even think of screaming," he threatened. "No one else is here, no one will hear you, and you will only piss me off. So, act like you like it!"
When I got home that night, I went straight to the bathroom and tried to scrub away the guilt and shame I felt. It did not work. I never told anyone about it because, again, I didn't want anyone to get in trouble for trying to defend me. Legal recourse never crossed my mind. Again, I just considered it all par for the course.
When I met my husband, Linwood, I thought he was my knight in shining armor. He was handsome, intelligent, gallant, chivalrous, generous, and so much fun. After two years I made him my manager. As artist/girlfriend and manager/boyfriend, our relationship was great for two years that was followed by a not-so-terrific one.
In the midst of my trouble in paradise, I received a notice from my record company. For no apparent reason, they were not renewing my recording contract, which would expire at the end of the year.
One night, at one of my shows, I had an accident onstage and woke up the next morning paralyzed from the waist down. I ended up in the hospital for spinal surgery. People were going around the record company saying, "The Queen is dead." Was I simply a one-hit wonder with "Never Can Say Goodbye"? During the three-month hospital stay that followed, God got my attention. Gripped with fear of abandonment, physical handicap, and showbiz obscurity, I reached out to Him for help.
True to form, the Lord didn't fail me. Within a year I had a massive hit with "I Will Survive," and Linwood and I were married. Like so many innocent women, I thought, now that we're married, things will be different; our focus will be on building a happy family together. I wasn't the perfect wife, but I was attentive, trusting, reassuring, supportive, affectionate, loving, caring, and faithful. Linwood wasn't all that bad as a husband. He was supportive as far as my career was concerned—physically protective and affectionate. But he took disrespect and disregard to a whole new level. I think he became so self-absorbed that he didn't care if he was being hurtful to me. He had no concept of commitment and thought a grown man should be free to do whatever he wanted, stay out all night as many nights as he liked—so he did. It's enough to say, as I often do, that I stayed at that party way too long.
What Linwood didn't count on was the impact of "I Will Survive" and how much it would do for me. When I recorded the song, I thought of it concerning the courage it produced in me regarding my career, my mom's passing, and the surgery I'd just had, and how it would encourage and inspire other people as well.
Now it became my mantra. It guided me in holding on to my faith and trusting God to bring me victoriously through all my trials and tribulations. I learned that internal scars—like those caused by fatherlessness, my stepfather, my ex-boyfriend's cousin, and Linwood—put holes in your soul. Those scars can be just as deep as physical ones. They are just as painful and damaging, and generally hurt longer and are more debilitating. It took a while, but I grew strong, and I truly learned how to get along. My courage grew, and I began to recognize my own strength and the power God had placed in me. I spent several more years trying to make my marriage successful. But, as I told my husband on several occasions, "The problem with pushing a person to her limit is that no one knows what her limit is until she reaches it, and then it's too late."
Indeed, it became too late. I had reached my limit and came to the conclusion I couldn't make the marriage work on my own and it was time to end it. My husband had taken up permanent residence in the state of denial and it was time for me to make a move as well. When I told my pastor I was getting a divorce, he asked me how I felt about it. After a long pause, I said, "Free at last, free at last, thank God Almighty, I'm free at last!"
I never missed Linwood because, to tell the truth, he had left me years before the divorce. But it was great getting to know the new me, the me so many abusive men had caused to hide deep down inside. Well, she's out now. I love her, and God loves her, and she'll never go into hiding again.
Indeed, I will survive.
…
In the following pages, you will find compelling stories that will likely mirror the experiences of yourself, family members, friends, and acquaintances. They are real-life stories of real people who valiantly climbed mountains of seemingly insurmountable obstacles to reach the pinnacle of triumph.
This book came about in a special way. My team—Sue Carswell, Stephanie Gold (my manager), and I—put out the word across the world that we were looking for survival stories for this book. We eventually received stories from as far away as Africa—including one story of a woman who was encamped in Auschwitz, another from a 9/11 mother, and the story of an autistic boy ordering flowers for his mother for Mother's Day. We contacted blogs and writing magazines and reached out to various organizations that had members' stories depicting the true essence of the song. Several of these groups included healing resources for abused women and men. It seems we used every connection we could find. Some in this book are even our friends' stories. In the end we narrowed it down to forty stories we felt best illuminated the lyrics of my song. They vary in dimension, but I am very proud of each and every contributor for making this book come true.
My sincere hope is that these stories will provide inspiration, encouragement, and empowerment to you—no matter what challenges you might be facing. If the remarkable people in these stories can survive as I did, I know you can too!
Copyright © 2013 Gloria Gaynor from the book "We Will Survive," published by Grand Harbor Press. Reprinted with permission.