This week marks the 20th anniversary of "We Are the World," a song that made music history. To commemorate the occasion, a new DVD is being released with behind-the-scenes footage of the recording session. "Today" national correspondent Jamie Gangel gets an exclusive look back with the stars that made it happen.
It was an incredible undertaking. Lock 45 artists, many of them superstars, in a studio overnight for one marathon recording session. To this day it still amazes the man who modestly stood in the back row.
"To get two artists in a room is to invite chaos," says organizer Harry Belafonte. "But here you are with dozens of the best and most powerful artists in popular culture, who had relegated their managers to a place in Siberia — and as a consequence, it was completely art on art."
If Belafonte was the conscience of the project, legendary producer Quincy Jones was the maestro.
Twenty years later, he still has the lucky sweater he wore to corral all that talent and remembers the warning he gave them: "Check your egos at the door."
"You know, when you start something like this, you don't know what's going to happen — you never do. One by one as they came in, they started to see each other, and they couldn't believe it. When I think about that night, I get goose bumps," says Jones.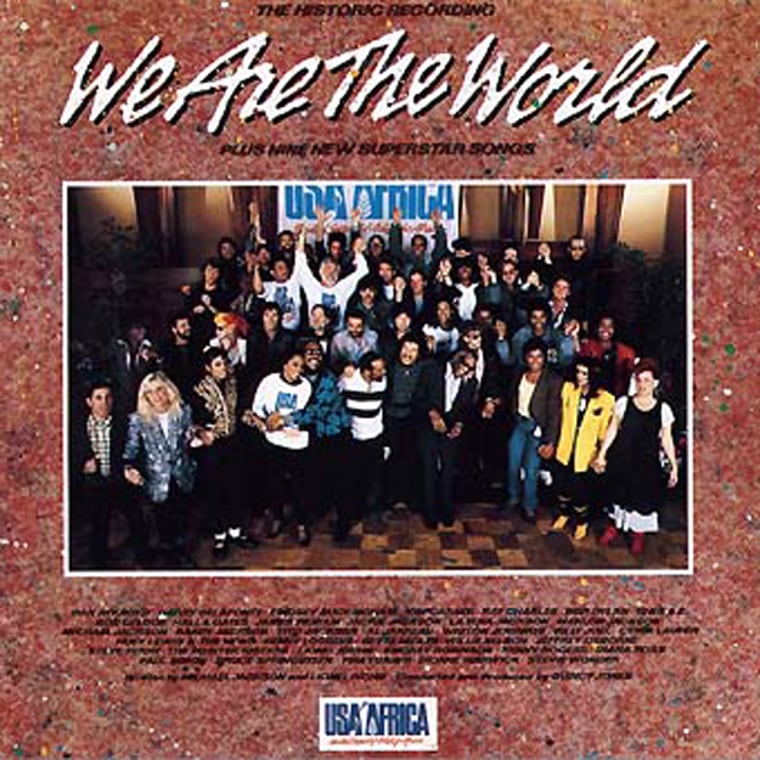 What many people don't know is that the song was written by two pop icons: Michael Jackson and Lionel Richie.
Richie admits they didn't come up with the lyrics until the last minute.
"The joke of it is, we hummed it.  We did not play it," he says.
Richie adds, "The demo was Michael humming [with] no lyrics. Except, you know, [singing] 'We are the world. We are the children. We are the…'  It's just mumbles."
While they quickly wrote the words, there was another challenge — this was the only time the entire group would rehearse together. Their singing styles were, to say the least, different.
Jamie Gangel: How did Quincy handle that?
Lionel Richie: Quincy was the best at that because he's Mr. Personality.  He knows how to let things float for a minute then reel it back in. So, you know, one line, that's Paul Simon.  One line, that's Tina Turner. So, of course, the ultimate question came down, "Lionel, when would you like to come in?"  I said, "First." [Laughter] I'm not crazy.
There were bumps in the road. First, no one could figure out what was causing a jangling sound on the recording. It turned out Cyndi Lauper was the guilty party. Her earrings were being picked up by the microphones.
Then, Bob Dylan asked Stevie Wonder for some help. Richie says, "Bob happened to ask a very unusual question. 'God, how do I sing this part?' Stevie turned up to him and said, 'Just sound like Bob Dylan.' "
And finally, here is a chorus that never made the final cut.
Richie: [Singing] "Sha la," which we thought was just amazing. [Laughter]
Gangel: You thought it was wonderful?
Richie: Oh, my … yeah.
Gangel: Who said no to you guys?
Richie: Well, you know, I'm so glad Quincy was there.  It would have been a massive fistfight.
Gangel: No sha-la?
Richie: There's no sha-la. But we were definitely in love with it!
Gangel: But he was right in the end.
Richie: He was right. 
There were other memorable moments, but none more poignant than a spontaneous tribute to Harry Belafonte.
Harry Belafonte: It stunned me in a way. It was wonderful. I was very touched.
Gangel: Twenty years later, what would you like people to remember about that event?
Belafonte: First and foremost was that we truly have the capacity to make a difference, and what "We Are the World" did was to define the best of who and what we are. Perhaps the ultimate compliment is that the song has stood the test of time — anyone old enough can still at least hum along.