Wednesday marks the fifth anniversary of Bravo's late-night talk show "Watch What Happens Live," and it's been five years full of outrageous and oh-so-memorable interviews with host Andy Cohen at the helm.

To celebrate the milestone, we've rounded up some of our favorite celebrity moments from the show.
Susan Sarandon high at 'almost all' awards shows
In a round of Plead the Fifth, a game in which guests can pass on one of three personal questions, Cohen asked actress Susan Sarandon to name a single Hollywood event she "showed up to stoned."

"Only one?" Sarandon laughed without even considering her option to take the Fifth. "I would say almost all except the Oscars."
Sign up for top Entertainment news direct to your inbox
Mike Tyson reveals what an ear tastes like
After going head-to-head and mouth-to-ear with Evander Holyfield in 1997, Mike Tyson considers himself something of an ear connoisseur.

Cohen asked the former heavyweight champ what an ear tastes like, and Tyson said it "depends."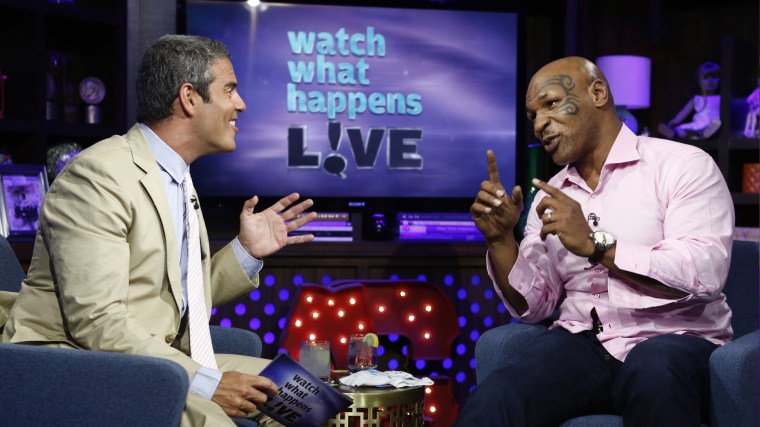 "It depends on which ear you bite," he explained. "But since I bit Holyfield's ear — and it didn't have any of that Holyfield Hot Sauce on it — it wasn't too tasty."
Seth Rogen does a little Justin Bieber bashing
Funnyman Seth Rogen may play it for laughs most of the time in interviews, but he wasn't joking around when he told Cohen just what he thought of pop star Justin Bieber.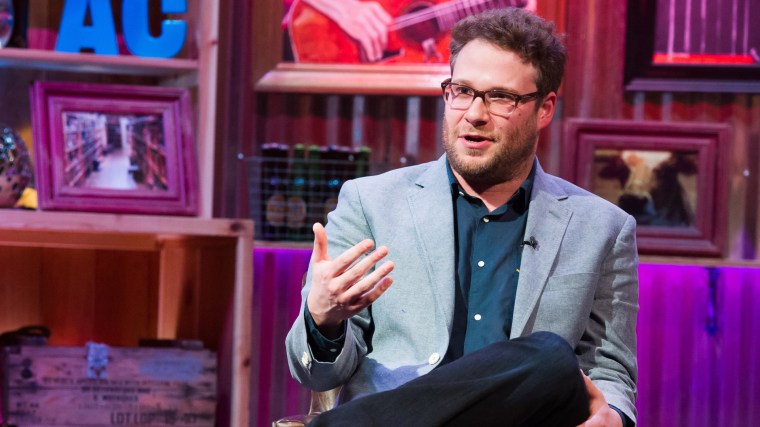 "He seems like he's obnoxious and ungrateful, insincere, and he puts people's lives (in) danger," Rogen said just weeks after the singer was arrested on suspicion of DUI in Miami. "Overall, he acts like a piece of …"
Well, you get the idea.
Cher puts Tom Cruise on her top five lovers list
Back in the 1980s, when Cher went from singer and variety act to Oscar-winning actress and Tom Cruise went from complete unknown to rising star, the pair briefly dated. But while their relationship was short, it was evidently pretty sweet, too.

In fact, when quizzed about her top lovers during a visit to "Watch What Happens Live," Cher assured Cohen that Cruise was "in the top five."
"It's not a long list," she added, "but just a good list."
Lindsay Lohan explains her list
Lindsay Lohan hadn't yet acknowledged her own so-called "conquest" list, which had made the tabloid rumor rounds, before she sat down for a game of Plead the Fifth, but she opened up all the same

At first, when asked about the roundup, which featured a variety of famous names including Ashton Kutcher, Orlando Bloom, Zac Efron, James Franco and Justin Timberlake, Lohan opted to take the Fifth — that is, until she realized she'd already used that option on another question.  
"That (list) was actually my fifth step in (Alcoholics Anonymous) at Betty Ford," she then confessed. "Someone, when I was moving during the OWN (reality) show, must have taken a photo of it." 
Terrence Howard makes steely claim about 'Iron Man's' Robert Downey Jr.
There's just something about sitting across from Cohen that puts stars at ease when it comes to talking about topics they've never shared in public. For Lohan, it was that list. For Terrance Howard, it was his version of the story behind his absence from the "Iron Man" sequels.

"It turns out that the person I helped become Iron Man ... when it was time to re-up for the second one, (he) took the money that was supposed to go to me and pushed me out," Howard claimed.
As for whether or not he's OK with former pal Robert Downey Jr. now, without a smile Howard added, "Oh, I love him."
Oprah smells like…
Ever wondered what Oprah Winfrey smells like? Well, one curious "Watch What Happens Live" viewer actually asked that question when the talk titan appeared on the show, and Cohen offered up the answer.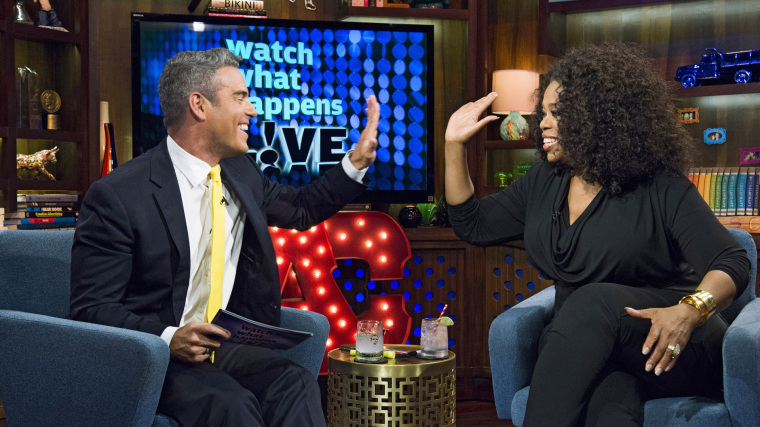 "It's a floral note with a hint of gardenia and bountiful garden," he said. When O informed him that she doesn't wear perfume, he added, "The scent of Oprah just smells perfect."
Of course.
Be sure to tune into TODAY Wednesday when Cohen gives Willie Geist a tour of the "Watch What Happens Live" set as TODAY celebrates the fifth anniversary of the Bravo hit.
Follow Ree Hines on Google+.