Some rivalries never end.
High school may have been 30 years ago, but the feud between Daniel LaRusso and his old bully Johnny Lawrence is about to reignite in YouTube's upcoming "Karate Kid" television sequel, "Cobra Kai" — and now fans can see an exciting new teaser trailer for the 10-episode series.
"I just don't know why you'd ever want to bring back Cobra Kai," Daniel (Ralph Macchio) tells Johnny (William Zabka) in the dramatic 48-second clip.
Fans of 1984's "The Karate Kid" and its '80s film sequels remember Cobra Kai was the name of the karate dojo where Johnny learned martial arts from the villainous John Kreese. Ultimately, they were no match for Daniel and his mentor, Mr. Miyagi, played by the late actor Pat Morita, who died in 2005.
The new series, which will air on YouTube Red, the site's subscription service, takes place 30 years after the 1984 All Valley Karate Tournament and finds down-on-his-luck Johnny seeking redemption.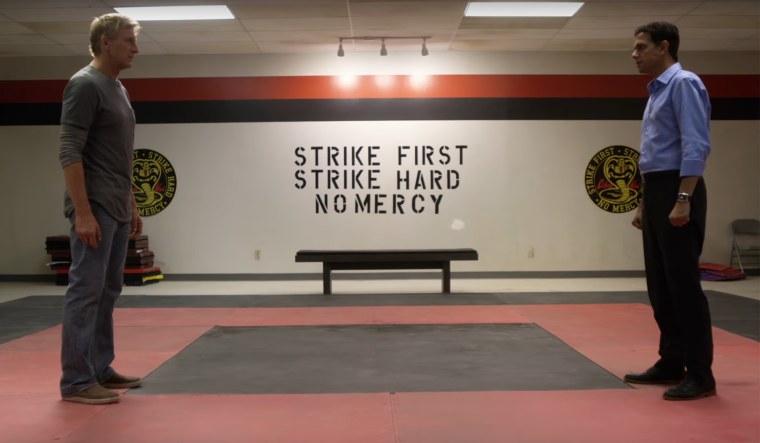 Johnny's plan to reopen Cobra Kai doesn't sit right with Daniel, who, although he's a successful car dealer and family man, is struggling to maintain balance without the guidance of Mr. Miyagi.
The trailer features an especially tense moment where the now-grown rivals engage in another showdown inside the dojo.
Like the original "Karate Kid," the new series will also focus on a bullied teen: Miguel, played by "Parenthood" star Xolo Maridueña. But this time around it's Johnny who takes the teen under his wing.
We'll also get to meet Daniel's feisty daughter, Samantha ("Freakish" star Mary Mouser), and Johnny's son, Robby ("Designated Survivor" actor Tanner Buchanan).
It all sounds pretty intense, but the series promises to feature a heavy dollop of comedy. "The humor comes from two guys, who at 50 years old, still have an ax to grind," Macchio, 56, quipped last August.
"Cobra Kai" is set to premiere later this year.