"Late Late Show" host James Corden is certainly keeping London hopping this week. He's already performed "Mary Poppins" on the streets with Ben Kingsley, and on Wednesday night he decided to take a more leisurely trip down a different thoroughfare: down the Thames.
Well, maybe not so leisurely: After all, his companion for the boat ride was none other than Tom Cruise!
It was all a surprise to the "Mummy" star, who was led to a riverboat bedecked in giant posters of his and Corden's heads, with a sign reading "Tom's Cruise" — which of course was sailing down the river Thames Corden.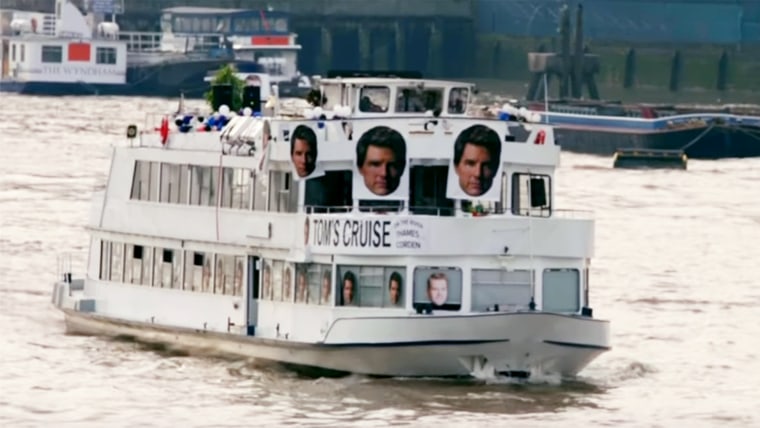 Wordplay! Get it? Still, Cruise seemed more bemused than anything else as Corden walked him through the interior, where the rooms were all named after Cruise's big films. There was a "You Can't Handle the Truth" booth from "A Few Good Men," and a Corden'ed-off area out on deck for the interview later.
"I'm not going to lie. I'm a little nervous about this," said Cruise, standing next to "The Last Samurai" room. Then the sign fell off, revealing that it was actually the restroom.
But that was only the beginning, as they welcomed passengers on board for a "Risky Business" contest, after which Cruise got the party started by mixing lots of colorful drinks a la "Cocktail."
"This is the best idea you've ever had," Cruise eventually told Corden, which is saying something: In 2016 the pair re-created Corden's entire career in less than 10 minutes on the show.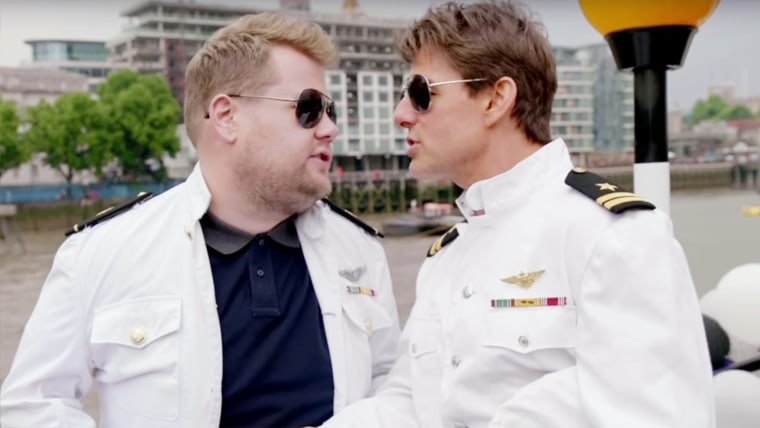 Alas, Corden was feeling a little down in the dumps: Nobody wanted to visit his Corden'ed-off area upstairs for an interview. Fortunately, Cruise had just the solution: Navy whites for them both and a duet of the Righteous Brothers' "You've Lost That Lovin' Feeling" — just as Cruise and co. sang in "Top Gun"!
"There is no Maverick without Goose!" said Cruise, pointing to Corden. "Goose!"
"Although Goose does die halfway through the film," noted Corden.
Well, it was good while it lasted!
Follow Randee Dawn on Twitter.