Performing on the most pressure-packed stage of her career in front of millions on television hasn't fazed Simone Biles one bit.
After all, it's not like it was as nerve-wracking as meeting crush Zac Efron in person or anything.
Biles, 19, may be an Olympic superstar, but she's still like many teenagers when it comes to the hunky actor.
In a surprise orchestrated by TODAY's Hoda Kotb, the star of the U.S. gymnastics team nearly needed a defibrillator when she met the actor whose life-sized cardboard cutout sits in her bedroom.
Watch Zac Efron surprise the Final Five on NBCOlympics.com
"If you bring him out, I think I'm gonna pass out,'' Biles told Kotb Tuesday night.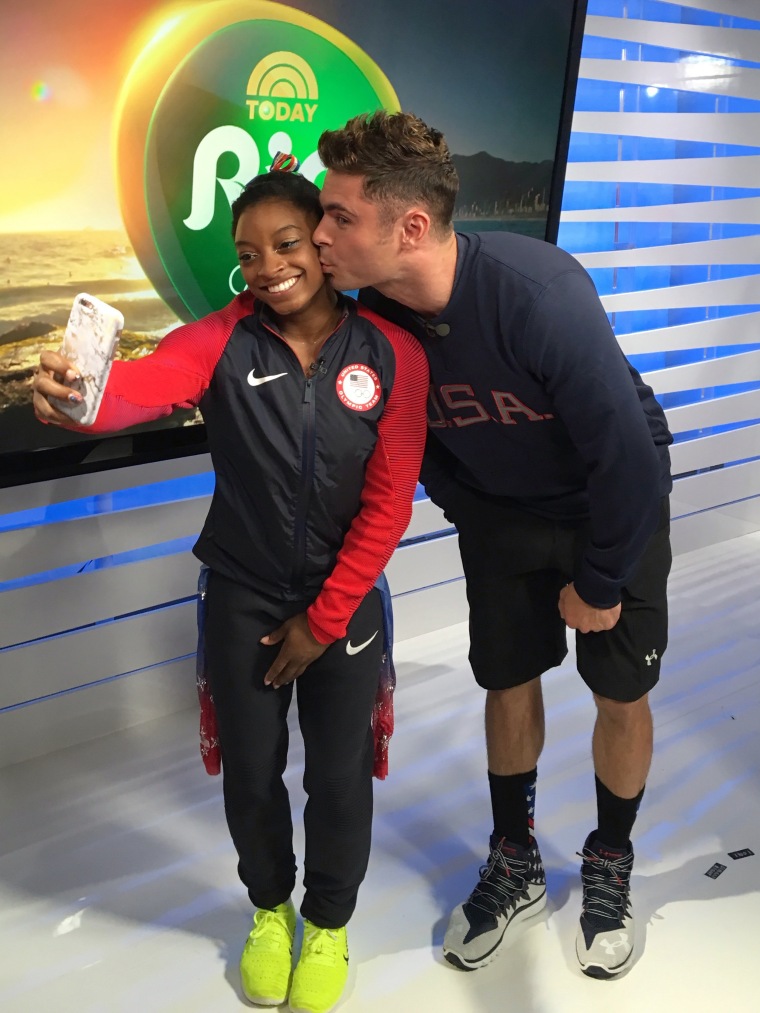 Efron then came out to give her a big hug shortly after she had won her fourth gold medal in Rio de Janeiro and her fifth overall in the Games.
RELATED: Will Simone Biles and Aly Raisman return for 2020 Olympics? Gymnasts say...
"Stop, you're lying,'' a flustered Biles said. "Stop, no way, no way.
"Ahhh, oh my God! Stop, is this real life? Oh my God. Stop."
Biles had told Hoda in an earlier interview that she would pass out if Efron ever came to watch her perform in Rio. That's about the only time you'll see her on the ground and not flying through the air in Rio.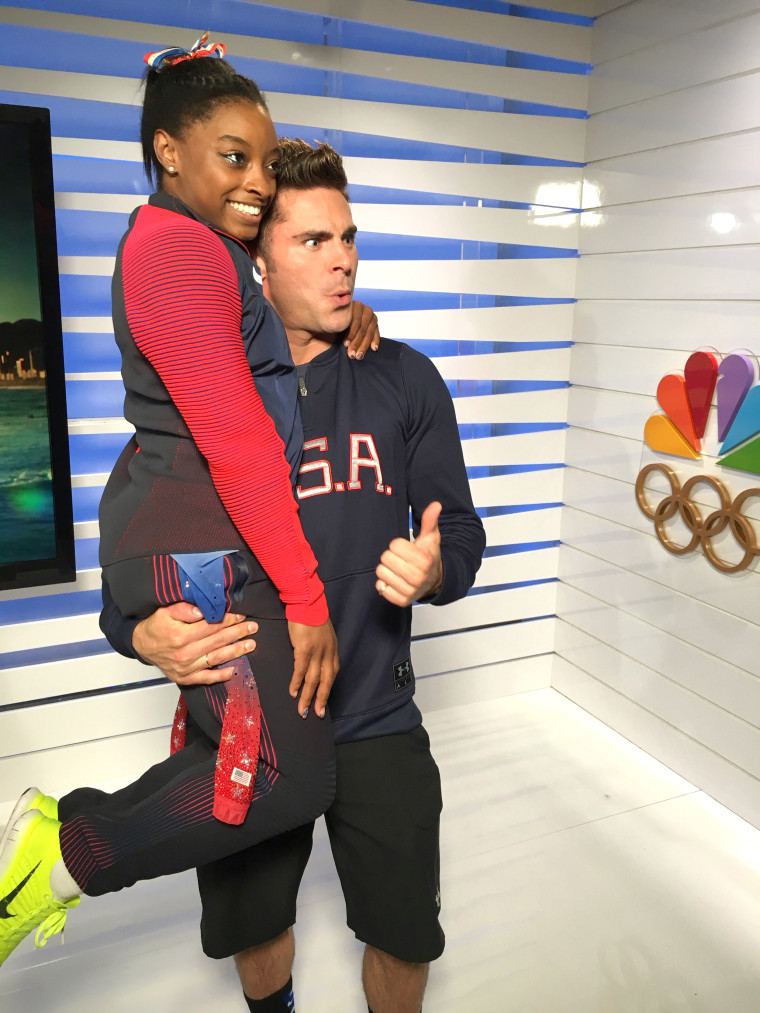 An enthusiastic supporter of Team USA, Efron flew to Rio on Tuesday to congratulate Biles and teammates Aly Raisman, Gabby Douglas, Laurie Hernandez and Madison Kocian.
"Their story just blew my mind,'' Efron told Hoda and Matt Lauer on TODAY Wednesday. "When I found out Simone and this team were fans, I was like, 'What kind of guy am I if I don't show up?'''
The powerful legs that helped Biles dominate the competition turned to jelly at the sight of Efron, who was hiding at the media center next door to the gymnastics venue.
"They won gold medals, they were crushing it the entire Olympics, and I was like hiding in a closet waiting to come in, so I didn't know what to think,'' Efron said. "I kind of was getting nervous myself, but it ended up being so sweet."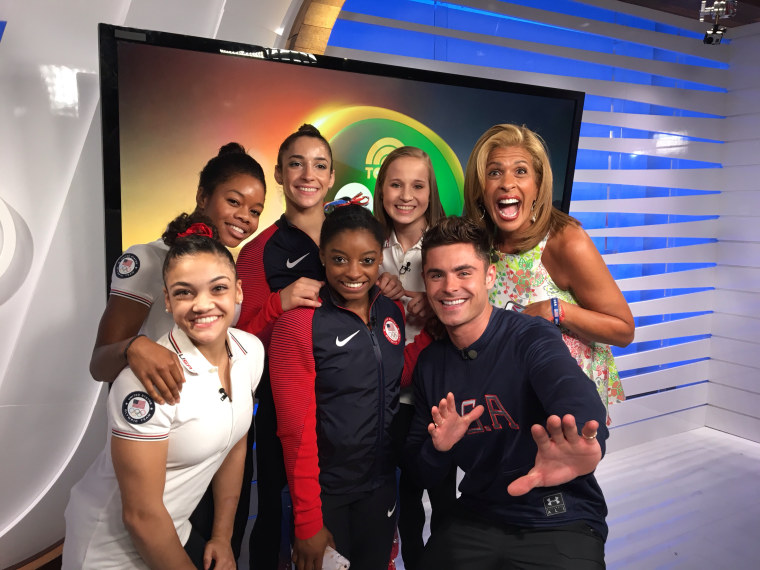 RELATED: Simone Biles on beam upset, Laurie Hernandez's silver: 'I'm so proud of her'
When the U.S. team thought they were doing a routine interview with Hoda, Efron made his entrance as their jaws dropped and they rushed to hug him.
"He's even more gorgeous in person!" Biles said after meeting him.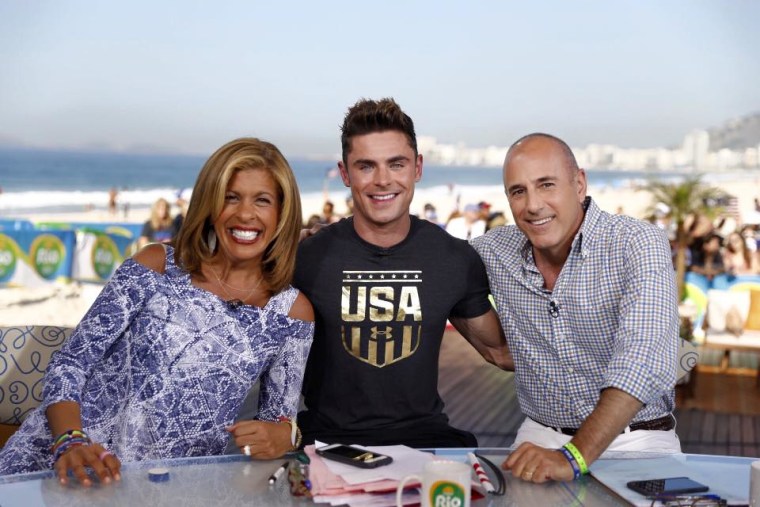 Follow TODAY.com writer Scott Stump on Twitter.