When "This Is Us" fans took a tour of NBC Studios Tuesday night, they were surprised with an opportunity to talk about the beloved show for a promo.
But the real surprise turned out to be that there was no promo.
Instead, they got a once-in-a-lifetime opportunity to come face-to-face with their favorite leading man, Milo Ventimiglia!
Groups of faithful viewers stood before a camera and opened up about what makes the series, and Jack Pearson in particular, so great — only to be interrupted by the star himself.
Just as one fan said that watching the drama on the small screen "involved a lot of tissue boxes," Ventimiglia came up from behind and asked, "How many tissue boxes would you say?"
She responded with a slap to his arm and a loud cry of disbelief: "Stop it!"
Similar scenes played out again and again, with the 41-year-old actor hearing someone say that he's "the perfect person to aspire to meet" and then sneaking up with a "Hi!"
Shrieks of "Oh, my god!" and "This is amazing!" followed the fun encounters, except in the case of one admirer.
A woman who had nothing but praise for Papa Pearson seemed frozen in place when the actor revealed himself. But eventually, she glanced over her shoulder to offer up a personal message.
"You're the hottest guy on the show," she said with a smile.
But that was one comment he took issue with, telling her, "How can you say I'm the hottest guy on the show? Um, Justin Hartley!"
Well, there's no wrong answer, really. In fact, according to People magazine, all the main men of "This Is Us" — including Sterling K. Brown — are in a dead heat for hottest.
The morning after those surprise meet-and-greet moments, Ventimiglia visited TODAY and gave fans back home an idea of what to expect when they see him ... on TV, when "This Is Us" returns for season three.
"We're going back this season, at least for the Jack and Rebecca storylines," he said of the always time-hopping plot. "We're going to go back to, not only Jack in Vietnam, and like understand what happened in his younger years, in wartime. But we're going to learn about his brother, who we've only talked about."
And there's another important part of the past viewers will witness.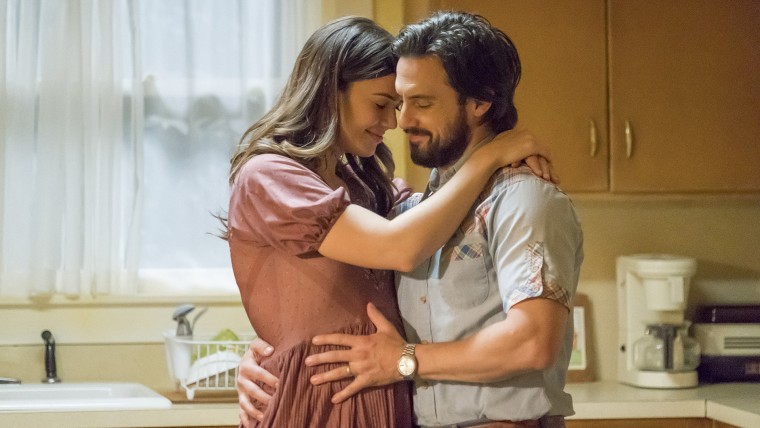 "We're also going to see young love," he added. "We're going to see Jack and Rebecca and that first courtship, when they're getting to know one another and how it turned into this beautiful couple."
The third season of "This Is Us" kicks off Sept. 25 at 9 p.m. ET on NBC.