Madonna is a Material Girl who sure knows her material!
As the latest guest inside the car with "Late Late Show" host James Corden for Carpool Karaoke, the superstar musician tooled around New York City voguing, twerking and — yes, even did leg splits, all while the pair ran through some of her hits.
RELATED: From Adele to Michelle Obama: 7 of our favorite Carpool Karaoke segments
"I don't like riding in a car unless there's music," said the 58-year-old, who then broke into "Vogue" with Corden.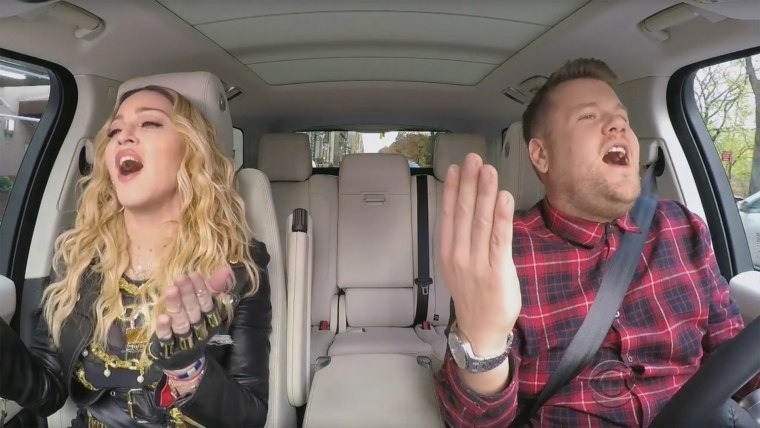 The duo also ran through tunes like "Express Yourself," "Ray of Light" and "Papa Don't Preach," though the highlight may have been their jam to "B*tch I'm Madonna."
Between all of the dancing and singing even got a chance to chat a bit, and she admitted to once wanting to be a nun.
"I like the uniform. It's kind of perverse," she said before noting she'd been excommunicated three times.
But the best intel came later on: Turns out that she and Michael Jackson once locked lips!
RELATED: Madonna's top 3 tips for college students (including her daughter, Lourdes Leon)
"Baby, I've been around," she told Corden, explaining that she initiated the contact. "I did get him to sort of loosen up with a glass of chardonnay. It did wonders."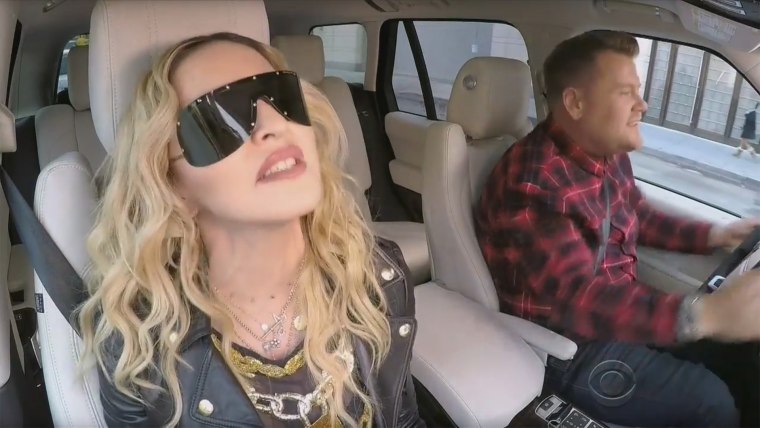 That's Madonna for you: Keeping things interesting since the 1980s.
Follow Randee Dawn on Twitter.