Want to ask your sweetie to the prom? Sure, you could do it by running into him (or her) in the hallways and mumbling something about going to the dance ... or you could put it all out there on national television, with one of the stars of "Frozen" singing along!
That's what happened on Thursday night, as Kristen Bell (subbing as host on "Jimmy Kimmel Live!") got into the promposal act with high school students Michael and Sarah.
See, Michael wanted to take Sarah — who he had never dated before — out to the prom. But he apparently needed a little help. So Bell put Sarah into a costume as Anna from "Frozen" (that's Bell's character in the film) and sent her out on the street to find Anna's sweetie Kristoff in the crowds, then bring him to the studio.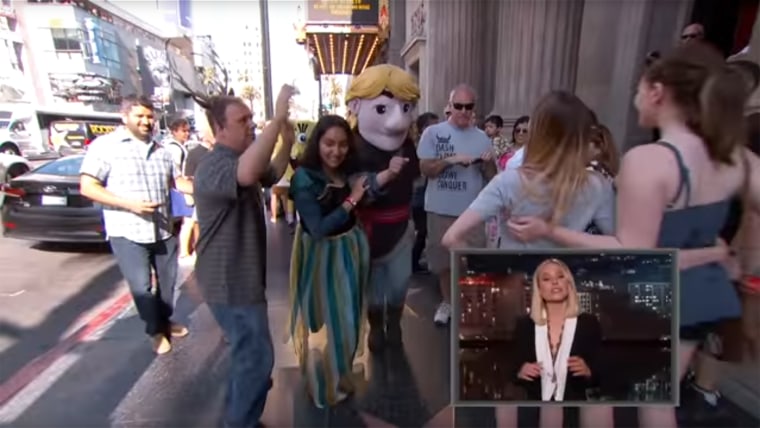 RELATED: 'Prom?' Ohio teen spells out sweet promposal using app to map 5.5-mile run
But once the young woman departed, Bell revealed the ruse: "Now, to make things more dramatic, Sarah and Michael have never been on a date before," she said. "Sarah has no idea Michael is asking her to prom. This could go terribly wrong, but you've got to admit it would make great TV, right?"
No disagreement there!
Meanwhile, Sarah easily finds "Kristoff" — who of course is Michael in disguise, wearing a costume head so she can't know who she's bringing in. Back onstage, he takes off the head to reveal who he is.
"Sarah, there's something I wanted to ask you, but I didn't know the words, so Kristen Bell is going to help me," he said.
Cue Bell, and an altered-lyric version of Anna's song from "Frozen," "Do You Want to Build a Snowman?" As she sang, "Do you want to be his prom date and go with Michael to the prom? He knows your just school buddies, but what the f***, he thinks you're really cute."
RELATED: Amazing video shows Robin Williams, Ben Stiller helping 'Museum' co-star's prom-posal
A little vulgarity apparently helps with promposals because ... Sarah said "Yes!"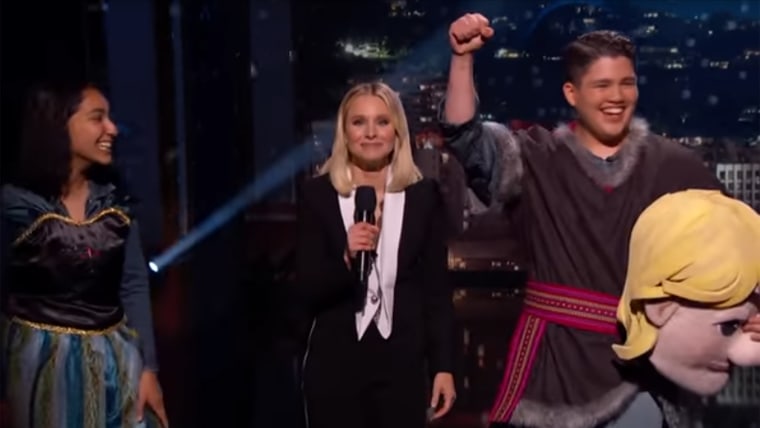 Bell even sweetened the deal with a stretch limo that will take them to the dance, a glam squad for Sarah and a tuxedo rental for Michael.
Congratulations, you two! Now, head to the dance and "Let It Go!"
Follow Randee Dawn on Twitter.