Nicole Kidman was back on "The Tonight Show" Thursday, and you know what that means: more he-said/she-said conversations about whether or not she and Jimmy Fallon could ever could have made a romantic connection!
"I so didn't want to come back," Kidman told him Thursday, but noted she had a new movie to promote, "Lion."
As you may recall, when Kidman visited "Tonight" last year, she reminded Fallon that they once went out on a date. He hadn't thought it was a date and clearly was doing a fast replay of every move he'd ever made in his life. Hilarity ensued.
RELATED: 'Was that a date?!' Jimmy Fallon finds out he blew a chance to be with Nicole Kidman
But that was not the end of the story. As Kidman explained on Thursday, Fallon had another chance to get Kidman's number when the pair attended a party at director David Fincher's house after the date.
"It was when Brad [Pitt] and Jen [Aniston] were still together, so it was a long time ago, and you could have asked for my number then ... and you still didn't ask for it!" she laughed.
Sputtering, Fallon said he had no memory of such a party.
"We were lurking in the kitchen, everyone went out and I'm like waiting and waiting and waiting," she said. "This is so true, and you know it!"
Fortunately, there was someone doing a different kind of lurking backstage: Kidman's husband Keith Urban, who strolled through the curtains playing the 1976 Gary Wright hit "Dream Weaver" on his guitar, and he walked right up to Fallon, serenading him.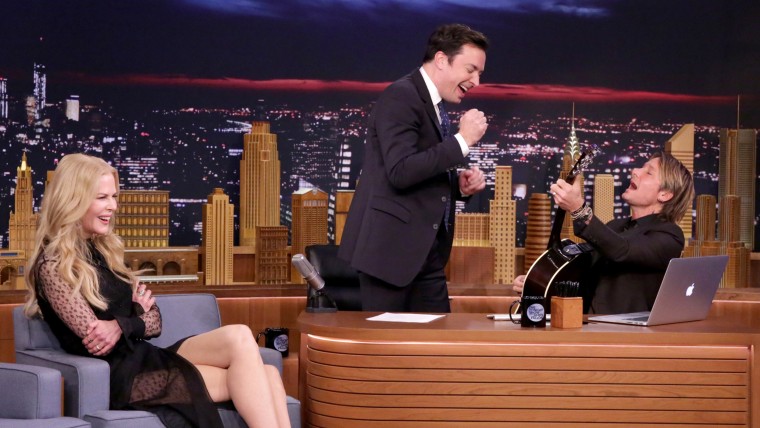 The former "American Idol" judge and country superstar then smooched his wife and took a seat. And she sat on his lap!
RELATED: Happy 40th, Jimmy Fallon! Thanks for making celebs do all this crazy stuff
At last, Fallon did have one important question for the pair: "Would you ever invite me over to the house?"
Maybe ... but probably not to hang out in the kitchen!
Follow Randee Dawn on Twitter.