Tuesday marked a family reunion of sorts for Britney Spears, who joined her brother Bryan in surprising their sister Jamie Lynn at the Grand Ole Opry.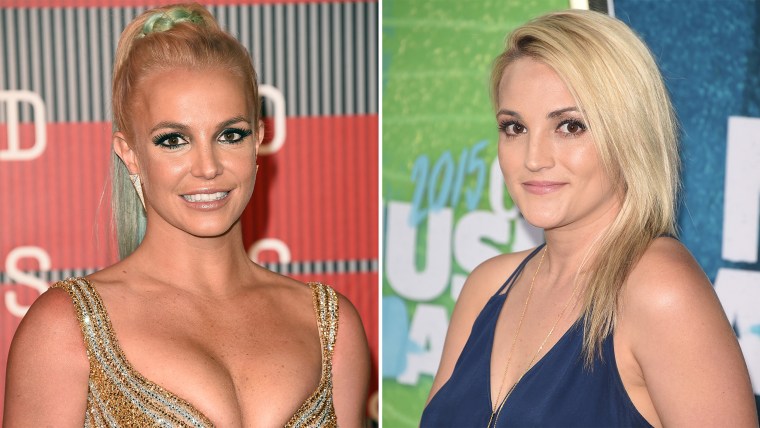 Jamie Lynn, the former star of Nickelodeon's "Zoey 101" and current singer-songwriter on the rise, was moments away from performing at the legendary Nashville concert venue when her pop-star sister and Bryan took the stage to introduce her.
RELATED: Britney Spears says 'Hello' to record-breaker Adele with a happy dance
"Thanks to the Opry for letting me introduce this beautiful young lady, who is my heart and my soul," Britney, 34, told the cheering crowd, while Bryan, 38, stood by her side and smiled. "Not only is she beautiful and extremely talented, she's my little sister: Jamie Lynn Spears!"
Jamie Lynn then emerged from the wings, covering her mouth with her hands, and appeared to be crying tears of joy as she embraced her sister onstage. "I can't believe my whole family kept this secret from me," said the younger Spears sister, whose parents, husband and daughter also were in attendance. "Well, now I'm going to try to sing some songs for y'all. I'm so honored to be at the Opry, but I'm even more honored to be here with all the people that I love the most."
Fans at the Opry snapped photos and snagged video of the emotional moment and posted the proof on social media, where users took notice. Some may have been expecting Britney to be in Las Vegas, where she has an extended residency as a performer at Planet Hollywood, but her next show there isn't until April 6.
Early Wednesday morning on Twitter, Britney shared her own photo, which she contends was taken before she and Bryan made their way onto the Grand Ole Opry stage.
RELATED: Britney Spears pranks prospective bodyguards on 'Best Time Ever'
"So proud of our baby sister," reads the corresponding text to that picture, which was shared with Britney's 44 million Twitter followers and had been liked more than 6,000 times as of Wednesday afternoon.
Jamie Lynn remained moved by her siblings' gesture, hours later. "Best surprise ever at the most special place ever," she tweeted Wednesday morning. "So blessed."
Follow TODAY.com writer Chris Serico on Twitter.