Whether it features an inspirational message, a buzzy backstory or an A-lister at the top of her/his game, an Academy Awards acceptance speech must stand out to make Google's most-searched list.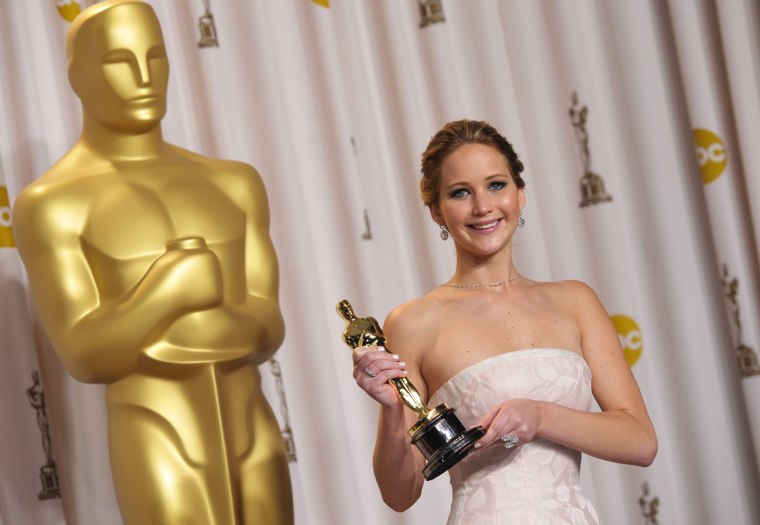 This week, Google provided TODAY.com with an updated list of the 10 Oscar acceptance speeches that generated the most interest on its search engine as of Feb. 18. Want to watch the No. 1 most-Googled speech? Keep reading!
10. Daniel Day-Lewis (2013)
Award: Best Actor
Movie: "Lincoln"
The history-making moment marked his third Oscar win in the leading-actor category — which no other male actor has accomplished. The only thespian with more Oscar wins in a leading-role category: Katharine Hepburn (four).
9. Halle Berry (2002)
Award: Best Actress
Movie: "Monster's Ball"
Berry's emotional acceptance speech also was historic, as she was the first (and remains the only) African American to win that category. Acknowledging the moment as "so much bigger than me," she praised Dorothy Dandridge, Lena Horne, Diahann Carroll, Jada Pinkett, Angela Bassett and Vivica A. Fox, as well as "every nameless, faceless woman of color that now has a chance because this door tonight has been opened."
RELATED: Academy Awards to take 'historic action' to improve film diversity
8. Graham Moore (2015)
Award: Best Adapted Screenplay
Movie: "The Imitation Game"
Moore's message of hope and positivity began with a stark recollection. "When I was 16 years old, I tried to kill myself because I felt weird and I felt different and I felt like I did not belong," he said at the podium. "And now I'm standing here and, so, I would like for this moment to be for that kid out there who feels like she's weird or she's different or she doesn't fit in anywhere. Yes, you do. I promise you do. You do. Stay weird. Stay different."
RELATED: The 7 most emotional thank yous of the 2015 Oscars ceremony
7. Sandra Bullock (2010)
Award: Best Actress
Movie: "The Blind Side"
The actress, who was 45 at the time, opened her speech with, "Did I really earn this, or did I just wear you all down?"
RELATED: Sandra Bullock reveals her late mother's powerful advice
6. Ben Affleck (2013)
Award: Best Picture
Movie: "Argo"
Most showbiz experts were shocked Affleck, accepting as a producer, hadn't received an Oscar nomination for best director, when many considered his work in that category to be the year's best. In addition, this is the speech in which Affleck thanked his then-wife, Jennifer Garner, for their relationship by saying, "It is work but it's the best kind of work and there's no one I'd rather work with." The couple separated last year, but publicly have been trying to keep things civil.
RELATED: Ben Affleck shows off huge back tattoo, while Justin Bieber teases smaller tat
5. Meryl Streep (2012)
Award: Best Actress
Movie: "The Iron Lady"
Streep's win helped her become the fifth person (at that time) to win at least three Oscars in an acting category; Day-Lewis would join the club a year later.
RELATED: All in the family: 13 stars who've acted onscreen with their real-life kids
4. Patricia Arquette (2015)
Award: Best Supporting Actress
Movie: "Boyhood"
Months before Jennifer Lawrence penned her essay about gender-based pay inequity, Arquette addressed the issue during her acceptance speech. "To every woman who gave birth, to every taxpayer and citizen of this nation, we have fought for everybody else's equal rights," Arquette said. "It's our time to have wage equality once and for all and equal rights for women in the United States of America."
RELATED: Patricia Arquette dishes on season 2 of 'CSI: Cyber'
3. Jennifer Lawrence (2013)
Award: Best Actress
Movie: "Silver Linings Playbook"
Previously nominated for her work in "Winter's Bone," the zeitgeist-capturing star thanked the Academy and fellow women. "You were so magnificent and so inspiring, and not just those of you in my category," Lawrence said. "And it's been so amazing getting to know you, and you've been so nice, and you've made this experience unforgettable."
RELATED: Jennifer Lawrence pens powerful essay: Why do I make less than my male co-stars?
2. Jared Leto (2014)
Award: Best Supporting Actor
Movie: "Dallas Buyers Club"
In addition to thanking his mom at length, Leto said his award was "for the 36 million people who have lost the battle to AIDS." Honored for his cinematic portrayal of a transgender woman, Leto added, "To those of you out there who have ever felt injustice because of who you are or who you love, tonight I stand here in front of the world with you and for you."
RELATED: Jared Leto Instagrams his mom's reaction to Oscar invite
1. Matthew McConaughey (2014)
Award: Best Actor
Movie: "Dallas Buyers Club"
All right, all right, all right: The Oscars' official YouTube video of McConaughey's acceptance speech had been viewed more than 4.3 million times as of Tuesday night.
Follow TODAY.com writer Chris Serico on Twitter.