/ Source: msnbc.com contributor
Anyone turning to "American Idol" last night expected to see the women perform got a rude surprise. Crystal Bowersox was not medically cleared to perform — reportedly because of hospitalization for complications from diabetes — so the men got moved up a day in order to allow her to sing.
That was eminently fair to Bowersox, one of the early favorites who has impressed with her coffeehouse style and strong vocals. But it wasn't so fair to the 10 guys who had their schedules adjusted on the fly.
The men weren't told until yesterday morning that the switch was being made, giving them about 10 hours instead of a day and a half to make final preparations. Perhaps that influenced the nerves and lack of confidence that several of them showed, images that will be hard to erase from viewers' minds in the coming weeks. Meanwhile, the rest of the women now have to sit around and wait for an extra day, their own routines disturbed.
Was that the right call? It depends on whether your favorite male struggled or starred on Tuesday night. Would the "Idol" folks have made it for just anyone? Probably not.
That's the nature of "American Idol" justice. There are rules on the books that all contestants must follow, but as we've seen three times already this season, they can be interpreted differently, benefiting some and hurting others.
Violated a technicality? See ya!Chris Golightly was the first to appear before the "Idol" justice committee. He seemed to be a natural candidate to win fan support, given his strong voice and the always-useful sympathetic backstory. Raised in a series of foster homes, he was overjoyed at getting to Hollywood because he said it was the first time something good had happened to him.
It looked even better, for a moment. Golightly made the original cut to 24, and was shown jumping around for joy with the rest of the semifinalists. And then ... just like that, life handed him another kick in the teeth.
Because Golightly may have been under the terms of a music contract at the time of his auditions — it's unclear based on the various reports — he was summarily booted from the competition with a terse statement: "It has been determined that Chris Golightly is ineligible to continue in the competition." Those of you who don't like replacement Tim Urban — and judging from my Twitter feed, there are many of you out there — blame this snafu for putting him in the competition.
Confidentiality agreement? Not your fault! The ironic thing about the Golightly disqualification is that Internet rumors were already spreading that one of the guys was getting kicked off the show. They just centered on the wrong person.
Seemingly ever since he earned raves at his initial audition, rumors had Michael Lynche leaving the show. His father told the local newspaper that Lynche had made the Top 24, which reportedly violated the confidentiality agreement all Idol contestants sign and was grounds for his dismissal. Though nobody would confirm or deny that had happened — it was impossible to do so anyway without violating the agreement again — the rumors were repeated often enough that many assumed the story was true.
And yet, that didn't happen. "Big Mike" is still there, one of the judges' most beloved men and among the few who looks comfortable onstage. That seems more than fair — after all, it was a family member who spilled the beans, not Lynche himself – but it's hard not to contrast his treatment with the harsh sentence given to Golightly.
Too sick to sing? Take the time you need
Which brings us to Crystal Bowersox.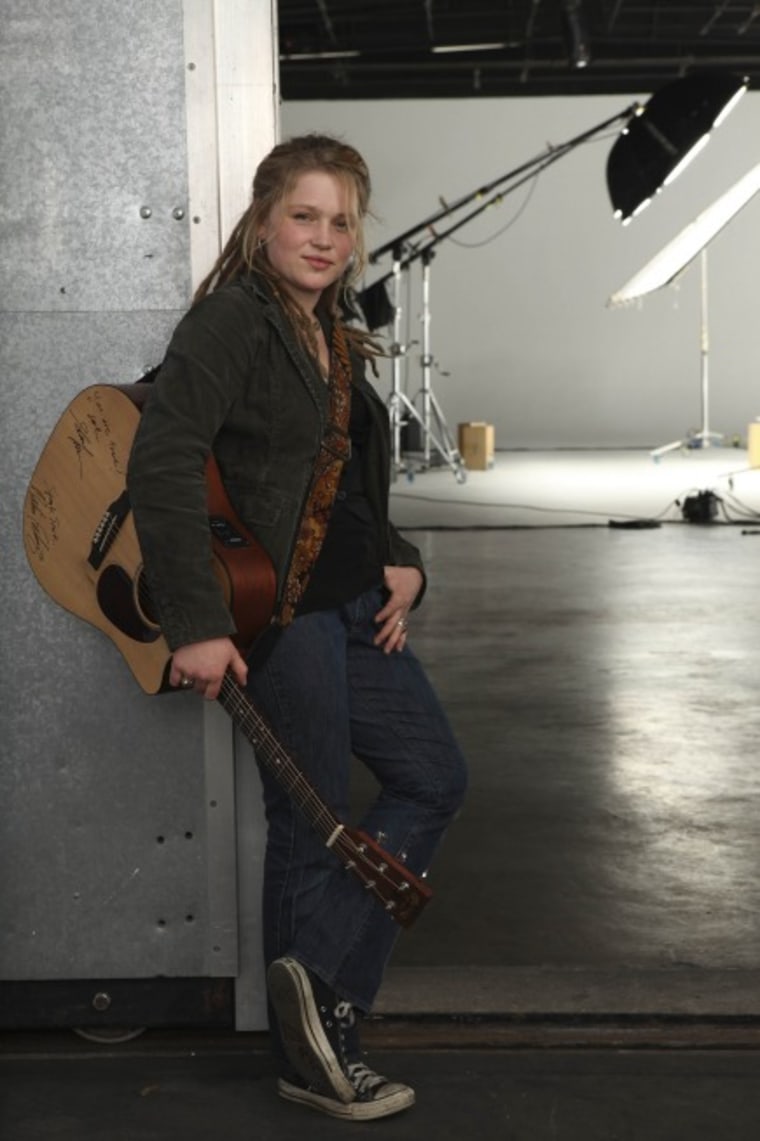 First of all, let's stipulate that it's a good thing the show didn't ignore the doctors' orders, drag her out of the hospital bed and force her to sing. Though "Idol" is a prize that everyone wants to win, it isn't worth risking a candidate's long-term health to get her to perform. Even the pros sometimes have to cancel shows for health reasons.
And yet … "American Idol" does not portray itself as a cute and cuddly program. Most of the time, there's no excuse accepted for a poor performance, particularly by judge Simon Cowell. Though host Ryan Seacrest might gently note that a bunch of contestants are suffering from the flu, or that David Cook was singing despite his brother's failing health, the show has never gone out of its way before to accommodate the ill health of a candidate. Numerous seasons have seen contestants need medical care early in the week and still perform as scheduled.
So it's interesting that Bowersox's unavailability caused a wholesale changeup of the "Idol" schedule. That's unprecedented in "Idol" history. There were a number of possible alternatives — including letting her skip a week, sending only one woman home Thursday and eliminating three next week instead — that would have fit better with the decisions the show has made in the past.
It may be uncharitable to say that Bowersox has gotten special treatment — after all, this was serious enough to require her hospitalization, not simply a lost voice or bad cold. But it's also notable that Bowersox has been one of the judges' favorites this season.
Did that influence the decision to switch days, possibly costing one of the guys an earlier-than-expected trip home because of the lack of prep time? Would the show really have done that for anyone?
Only the "American Idol" judge and jury know for sure, and — as always — they aren't talking.
Craig Berman is a writer in Washington. Follow him on Twitter at