"Well, well, well, looky here at Mr. Geeeeeeee Quuuuuuuuuu." You can just imagine, were he still alive, Merle Dixon getting in the face of his little brother, Daryl, on "The Walking Dead" over his new fashion spread and video from GQ magazine.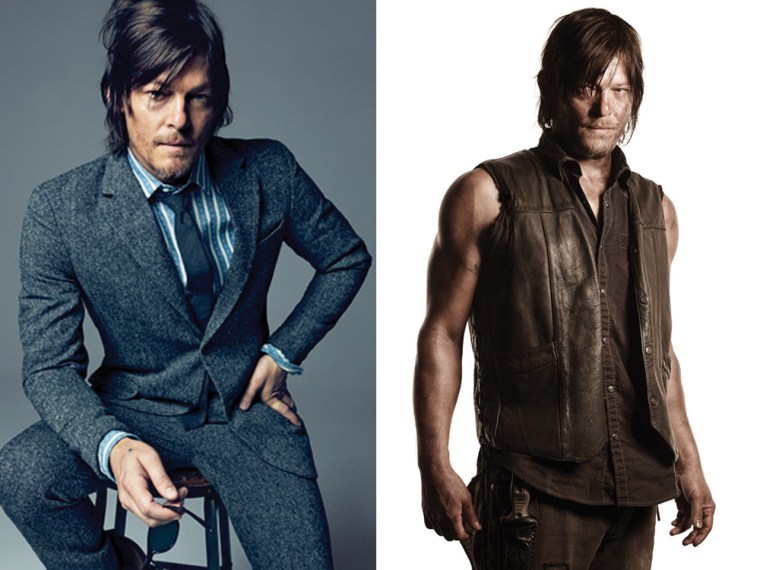 Norman Reedus, who plays Daryl on AMC's hit zombie series, is featured by the men's fashion mag looking decidedly less backwoodsy. He's wearing a tie! And ... sleeves! He even sports a washed head of the shaggy hair he wears as Daryl. (Sorry, last barber probably got eaten over there in Woodbury.)
GQ refers to Reedus' character as an "angry, greasy, loner" and "racist hillbilly" who has evolved into the show's "unlikely moral center." Reedus also films a video for GQ in which he, while briefly wielding a crossbow, lists his "10 essentials" of style. In the event of a zombie apocalypse, you'll want to grab these things.
Number one on the list is his Francis Francis espresso machine. Bet that thing beats Dale's ol' campfire coffee, eh, Daryl?
Next on the list for Reedus — a professed hugger of people who is "constantly shoving women's faces in his neck" — is some Kiehl's Original Musk. Nothing hides the smell of walkers and squirrel BBQ better, we bet.
Reedus rattles off a number of other things which would be rendered useless by an epic plague. But the boob pillow and bunny slippers are two comfort items any zombie killer could appreciate.
"The Walking Dead" returns for season four on Sunday at 9 p.m. ET on AMC.