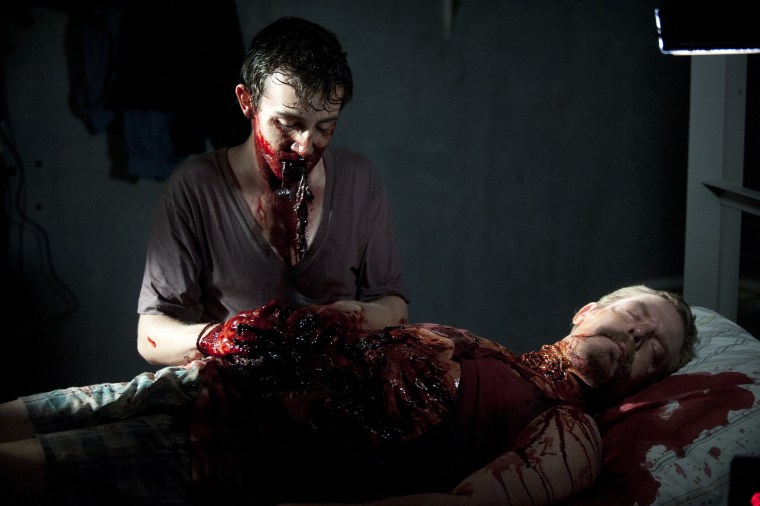 And just like that, Patrick is gone. 
Fans of AMC's mega hit "The Walking Dead" didn't have much hope for Patrick, Carl's sweet new friend, after a mysterious illness killed him in the premiere episode last week, and he quickly turned into a Walker. 
On Sunday night, fans got to see Patrick the Walker wreaking havoc at the prison before he was taken out for good. It was a short stint for actor and 'Walking Dead' super-fan Vincent Martella, but he told TODAY on Monday that he wouldn't have it any other way.
"I was actually really excited that I got to play a Walker," Martella said. "It's not something everyone gets to do on 'The Walking Dead.' A lot of people were telling me how lucky I was that I got to do everything people want to do on 'The Walking Dead.' They want to have a part that's good and establishes itself and they want to die in a really cool way and then come back as a Walker and then die again in a really cool way as a Walker. I got all those things on my brief time on 'The Walking Dead.'"
Although the role was short-lived, Martella's character sets in motion one of the big mysteries of the show's fourth season — a flu-like infection that quickly kills the afflicted, human or not. Besides Patrick, a boar and Violet the Pig have already gotten sick and the virus seems to be spreading.
"It's certainly not good for everyone in the prison right now," Martella explained. "Anybody who dies can become a flesh-eating zombie. You're not in a good position, being dropped in a prison with a bunch of people in close quarters when there's a sickness going around. So Patrick's definitely kick-started something in the prison that's not going to be easy for the people that he deals with, to say the least."
The 21-year-old actor, who voices Phineas Flynn on Disney Channel's "Phineas & Ferb" and starred on "Everybody Hates Chris," knows the nature of the mysterious illness spreading at the prison but has been trained well to keep the show's secrets. He won't reveal who is mysteriously feeding rats to the zombies at the fence or the origins of the disease. For those upset with Rick (Andrew Lincoln) for disposing of three pigs in Sunday night's episode, Martella said, "Rick was upset about that! It was not an easy thing, letting all those piglets go."
The first day Martella arrived on the set of the prison in Georgia, the production company was filming a scene involving the Walkers gathered outside the prison fence. 
"It was surreal," he said. "I thought to myself, 'This is the closest I'm ever going to get to a zombie apocalypse probably.' It looks super real. You have these amazingly well-done Walkers five feet from you. There's really nothing like it."
To transform into a Walker himself, Martella worked with executive producer and special effects make-up artist Greg Nicotero. The make-up process took about an hour; Nicotero taught him how to avoid overdoing the walk and the mannerisms. The hardest part: "Eating another person."
"I mean the walk is a little hard to do because it's very specific," Martella said. "But then when you eat someone you have to look like an animal devouring prey. You can't look like you have any specific motive or where you're going to take a bite. You're just blindly eating prey. That's something that I wanted to get right, making it look very animalistic and not human at all. I wasn't making choices a human would make."
Although viewers will definitely learn how the infection originated during the course of the season, Martella won't say if it's possible he will return in another episode, possibly in a flashback. The actor is still working on "Phineas" and will appear in an independent horror movie, "Clinger," next year. Of course, he says, he would have loved to stay a little longer on his favorite show.
"I would have liked to have taken out a few more people because it was a lot of fun," he said.