/ Source: The Associated Press
Wal-Mart heiress Alice Walton jolted the art world in 2005 by outbidding two venerable East Coast museums for an iconic New York painting, paying a record price for the 1849 Asher B. Durand work "Kindred Spirits."
The purchase heralded the avid collector's plan to found a major new museum of American art in northwest Arkansas, home of her late father's company. The project is starting to take physical shape since foundation pouring began in October.
Dubbed Crystal Bridges for a natural spring and the bridges that will span two ponds in the center of the compound, the glass-and-wood design by architect Moshe Safdie will cover 100,000 square feet when the museum opens in 2010.
It aims to be "a premier national art institution" dedicated to American art and artists from the Colonial period through the modern era, according to the museum Web site.
Bringing masterpieces to a folksy corner of the Ozarks better known for Wal-Mart Stores, Inc., has spurred some art world reactions "ranging from fascination to skepticism to fear," the journal ARTnews wrote. There is also excitement among art professionals over what some describe as a major new museum, one of only a handful nationally focused on American art history.
"The collection, as far as it's been made known, is superb," said Betty Krulik, a New York art dealer who specializes in American art. "Alice Walton is an experienced collector and Crystal Bridges is an exciting, major new institution."
The collection includes Gilbert Stuart's 1797 painting of George Washington, Charles Bird King's early 19th-century portraits of American Indian leaders, and works by Winslow Homer, Norman Rockwell and Martin Johnson Heade.
Museum director Robert G. Workman, a 30-year veteran of the art world and former deputy director of the Amon Carter Museum in Fort Worth , says reports suggesting his big city peers are taking a snobbish view of the $50 million project are not true.
"Almost to a person, they're absolutely thrilled that this project is underway and that it's bringing a very high quality of art to an underserved region," Workman told The Associated Press.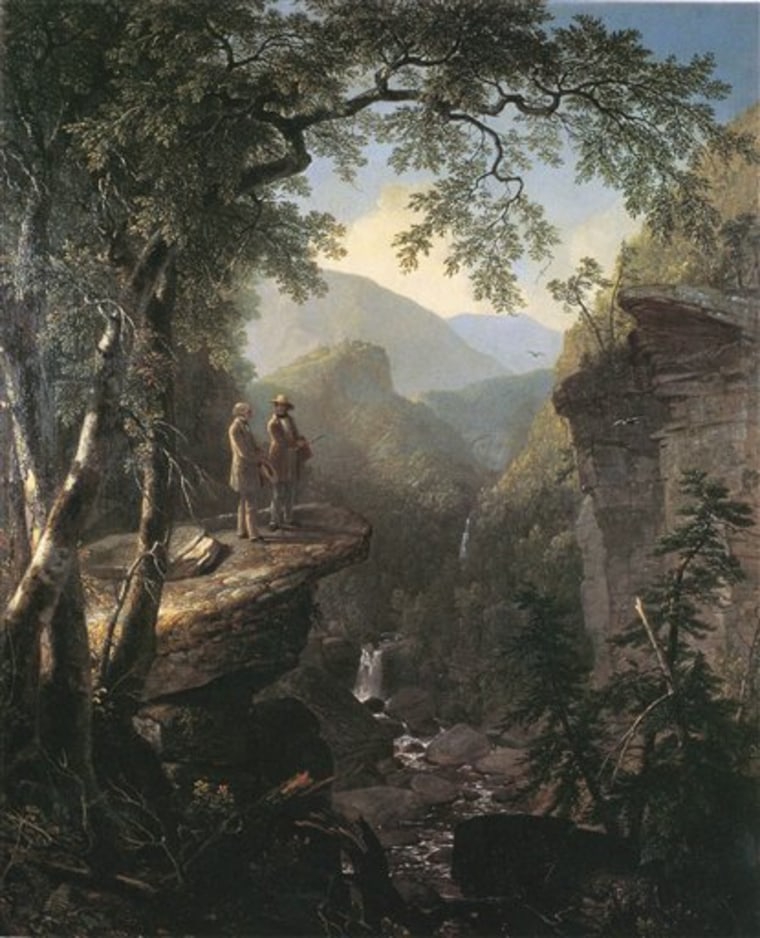 Alice Walton declined an interview request for this story. The heiress, who lives on a horse ranch west of Fort Worth, Texas, has collected American art for over 20 years. She met Workman as a board member of the Amon Carter.
The museum is a series of glass-and-wood pavilions with copper roofs set in a narrow valley around two ponds and connected by bridges. It is surrounded by more than 100 acres of rolling Ozarks forest, donated by the Walton family, to reflect the role that nature and landscapes have played in American art and the nation's history.
"We want the forest and the buildings to meet in a way that maximizes the interaction of art and nature and the human mix," Workman said.
Visitors will follow a half-mile lane through the woods to arrive at a knoll looking over the pavilions. From the knoll, a four-story-high tower of glass elevators will lead down to a courtyard facing a glass lobby with a view of the water.
"It's going to look like the buildings were just set down in the middle of the forest," Workman said.
The museum will include about 34,000 square feet of exhibition space as well as a cafe, performance hall, library and research center.
Trails will link the grounds with the historic Bentonville square and the museum expects about 250,000 visitors annually. Bentonville has fewer than 30,000 people but the surrounding 60-mile radius is one of the fastest growing areas in the nation with over 500,000 people, according to U.S. Census figures.
Regional tourism officials are already touting the museum, including in bids for national conference business at a new convention center in Rogers, bordering Bentonville.
"We think it's going to have a dynamic impact on tourism in northwest Arkansas," said Rogers Advertising and Promotion Commission chief Tom Galyon.
Galyon thinks the museum will draw a mix of locals, people from neighboring states and national and international visitors. One group of interest will be the thousands of vendors who fly in every week to work with Wal-Mart and might bring their families for vacations combining Crystal Bridges with other area attractions.
Besides the permanent collection, the museum will have galleries dedicated to American Indian and regional art and artists, plus temporary exhibits drawn from national institutions.
Art world controversiesThe plan for Crystal Bridges was made public in 2005 on the heels of the purchase of "Kindred Spirits" from the New York Public Library. The work was the first of several art world controversies over Walton acquisitions. The latest is an ongoing legal dispute between Walton and the Georgia O'Keeffe Museum in Santa Fe, N.M., over an O'Keeffe collection at Fisk University in Nashville, Tenn. The cash-strapped school wants to sell the art and the museum has sued to gain rights over the collection.
In New York, Walton outbid the National Gallery of Art and the Metropolitan Museum of Art to acquire "Kindred Spirits" for a reported $35 million, a record price for an American painting. That triggered worries in art circles that Walton, with a fortune estimated by Forbes at over $16 billion, could easily outbid established museums for a shrinking pool of American art masterpieces.
Mimi Gaudieri, executive director of the New York-based Association of Art Museum Directors, said Walton's public appearance on the scene as a well-funded collector of prominent works "did surprise and dismay many of us."
"She has the money. The art prices are going up, there are auctions coming up, and I'm sure she will be participating," Gaudieri said.
Another concern is that Walton is taking art to far-away Arkansas.
That argument played a role in Philadelphia's debate late last year over the sale of Thomas Eakins' 1875 painting, "The Gross Clinic." Thomas Jefferson University agreed to sell the painting for $68 million to a partnership of Crystal Bridges and the National Gallery of Art. Protests erupted over the loss of what local supporters argued was part of the city's heritage. A fundraising drive ultimately matched the price tag and kept the painting in Philadelphia.
Workman said he is glad if acquisitions wake up communities such as Philadelphia to the art in their midst.
"People are expressing their passion for art and, in one case, for the need for that art to remain in that city," he said.
He said the museum will be an active part of the national and international art world, not an isolated repository. It is already lending major works, including some to museums in New York and Philadelphia, the two cities with the loudest protests so far over Walton acquisitions.
Workman said Walton will continue to make acquisitions as she sees opportunities. But she is not out to spend whatever it takes to fill what he called "some artificial checklist" of American masterpieces.
"This will be an evolving permanent collection and it will be supplemented with loans. There are going to be loans from institutions and private individuals in the museum," Workman said. "We are optimistic that we will start with a fairly complete overview of the history of art in this country. That's something that will continue to be enriched as the museum evolves over the years."
Workman said the exhibition halls will follow a "chronological flow" through three centuries of the major developments in American art.
Plans are in the works for a variety of guides, including wireless transmission to personal devices such as cell phones. Downloads will also be available, meaning you could load a family tour or a specialized tour by topic onto an iPod before visiting.
Budget plans are still being finalized. Workman said he expects an annual operating budget between $10 million and $15 million funded by a mix of revenues from sales and event catering, and from donations, including an unspecified amount from the Walton family.