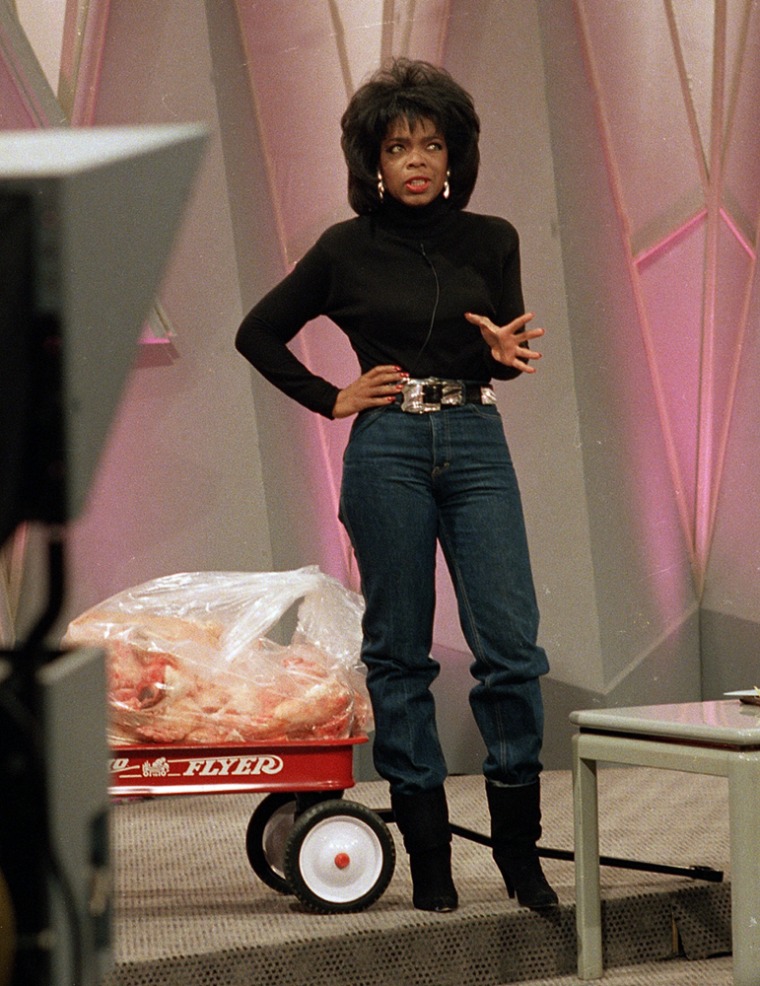 Talk titan Oprah Winfrey hits a personal milestone on Jan. 29 — her 60th birthday. But as she marks six decades of life, her fans are celebrating more than 30 years of Winfrey's cultural impact (including some notable hairstyles).

In 1983, Winfrey made the transition from small-time TV news to heading a Chicago morning show that eventually morphed into her career-making hit, "The Oprah Winfrey Show." From there she went on to become a magazine runner, network owner and a well-respected actress.
Over the years, O has been behind just as many light-hearted pop culture moments as hard-hitting fare. In honor of her big day, we're looking back at a few our favorites from both ends of the spectrum and in between.
The wagon of fat
When Winfrey wheeled out a little red wagon filled with 67 pounds of fat back in 1988, she wanted to illustrate just what her then-recent weight loss really amounted to. It worked! It was a moment viewers never forgot — even long after the weight came back (and left again). Later, looking back on what she admitted was an "iconic" episode, Winfrey said, "If I had to do it again, I certainly wouldn't do it that way."

AIDS divides a small town
In 1987, the talk show host took her show on the road and visited Williamson, W. Va., a region best known for the long-running, bloody feud between the Hatfields and the McCoys. But when Winfrey went there, the battle was about AIDS, and the panic that spread through the community after one HIV-positive man swam in a local pool. The resulting town-hall talk was as uncomfortable as it was important.
Tom Cruise jumps the couch
Winfrey always had a knack for getting celebrities to open up and show her audience something special, but even she was surprised by the display Tom Cruise put on when he stopped by her show in 2005. In the first flush of his romance with Katie Holmes, Cruise couldn't contain himself — and Winfrey's sofa couldn't contain him either. The actor leapt with glee, again and again, as he described his love for the woman he'd soon marry (and later divorce).
Battle of the beef
When news of mad cow disease (otherwise known as bovine spongiform encephalopathy) spread, Winfrey declared that she's eaten her last hamburger and Texas cattlemen declared Winfrey hurt their business. A two-month trial ended when a jury cleared Winfrey's name. It also ended with a new friendship — between the host and a Texas psychologist whose company (CSI) helped her case, Dr. Phil McGraw.
"You get a car! You get a car! And you …" get the idea
In 2004, Winfrey repeated a chant that left her studio audience screaming for joy. "You get a car!" she said over and over to the 276 recipients of brand new Pontiacs. The moment was so memorable, Winfrey recently decided to reenact it — on a much smaller scale — on "Jimmy Kimmel Live!"
Frying Frey
Over the years, many authors reaped the benefits of being selected for Oprah's Book Club, but only one author also reaped the wrath of Winfrey too. In 2006, after Winfrey learned Frey's so-called memoir, "A Million Little Pieces" was largely fictional, she invited him on her show for a dose of no-holds-barred backlash. In 2009, she had him back again to take back a bit of the bad blood.

Little Rock Nine
Winfrey proved just how powerful the talk show format could be when she invited the Little Rock Nine — a group who, in 1957, were greeted with anger and hostility on their first day at the newly integrated Little Rock Central High School in Arkansas — to come face-to-face with some of the white students who'd opposed them. Regrets and forgiveness were expressed on Winfrey's stage that day.
A few of her favorite things
Oprah's Favorite Things is an annual tradition that's continued beyond "The Oprah Winfrey Show." In fact, it's such a fan-favorite event, Winfrey took the bit over to "30 Rock" for an out-of-character (after all, she wasn't playing the real O) list that included "salt-water taffy from Rhode Island," "sweater capes," and "high-heel flip-flops."
From film star to media mogul, Oprah Winfrey has built an empire and secured a legion of devoted fans.