/ Source: The Associated Press
Sure, we're glad that Britney Spears isn't in danger of being forcibly committed anymore and that Samantha Ronson has persuaded Lindsay Lohan to sober up and stop showing her firecrotch.
Yet we have to acknowledge we felt a little cheated when two of last year's biggest sideshows cleaned up their acts (for the most part) this year. Who would we shake our fingers at with disdain? Who would we mock? Who would we write about on our blogs during work hours?
But that's the good thing about Hollywood. Just when one celebrity gets on the straight and narrow, there are plenty of others who act the fool.
On the bright side, we get more 'Trapped' episodes
R. Kelly has made a career based on getting off. So it should really be no surprise that he got off in epic fashion after a jury acquitted him of child pornography charges, despite a video featuring a man looking strikingly like Kelly getting freaky with a young girl. While it's debatable whether justice was served, we do feel robbed of the chance to use all those R. Kelly jail remixes we had been working so hard on ("Trapped in a Jail Cell," "Step in the Cell of Love" — though surprisingly, "Feeling on Yo Booty" needed little reworking).
Until low ratings do we partGiven that the so-called reality show "The Hills" is choreographed, right down to Audrina Patridge's blank stares, should anyone be surprised that the Mexican "wedding" between the show's two villains, Heidi and Spencer, was actually a glorified photo shoot? They said they planned to have it legalized in their home state of California later. We'll know the union is real when they do like other stars and confirm it with a People magazine wedding spread — or their divorce papers are filed.
Speaking of reality 'relationships'
Michael Jackson and Lisa Marie Presley's marriage had more validity than 82-year-old Hugh Hefner's purported relationship with his three Playboy Bunnies, Holly Madison, Kendra Wilkinson and Bridget Marquardt. But even fake relationships have an expiration date, and the union (can a foursome still be called that?) came to an end when Holly dumped him for Criss Angel and Wilkinson finally satiated her athlete fetish by getting engaged to an NFL player. Hefner enlisted a pair of twins to fill the void, saying there were "girls lined up at the gate" to be by his side: No one had the heart to tell him they were actually nurses' aides.
Biggest shocker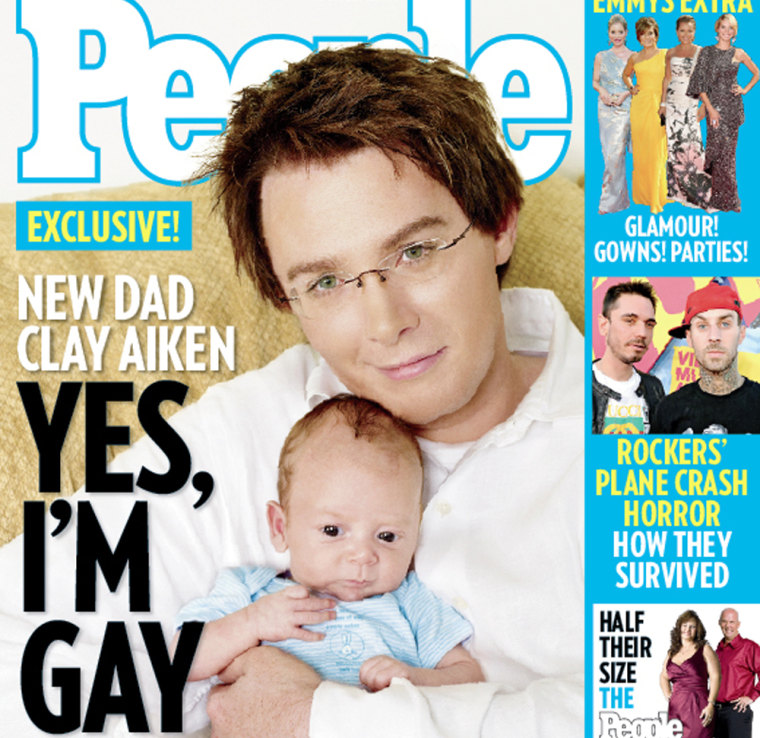 We fell off our collective chairs when Clay Aiken revealed his stunning news — no, not THAT disclosure (we knew he was gay before he did). The real surprise of the year was that Aiken had become a baby daddy with his good friend Jaymes Foster — and that Jaymes was a woman.
We waited three years for this? Really uncool
Jennifer Aniston finally hit back at saintly homewrecker Angelina Jolie, saying Jolie's comments about being transfixed by Brad Pitt while he was still married to Aniston were "really uncool" — which is the kind of comment you make after someone steals your place in line, not your husband. We guess the much-sought-after catfight between Aniston and Jolie will have to wait until at least 2011 — or after Jolie has her quads. Jolie's lucky she decided to tangle with a mellow Aniston — one can only imagine the carnage had she poached the spouse of Nene from "The Real Housewives of Atlanta."
No really, we're just friendsWhere have we heard that one before? From just about every celeb caught hooking up with the person who would later become their significant other (including Jolie and Pitt). That latest denial came from Alex Rodriguez, as the baseball star denied a romance with Madonna — who spent all year denying an impending split from hubby Guy Ritchie, only to break up with him and reach a tentative divorce settlement in less time than she recorded her album. It only takes four minutes to dump a spouse, we guess.
Star Jones loses more weight ...
At least 150 pounds worth, in the form of her husband, Al Reynolds. And it came without plastic surgery scars — unlike her last pound-shedding. Jones ditched Reynolds despite a lavish, over-the-top wedding three years earlier, an extravaganza that drew scorn because she got celebrity freebies instead of footing the bill. So it is true — you do get what you pay for.
Dysfunction junctionIf "Hogan Knows Best," then the world is in serious, serious trouble. The formerly tight-knit reality clan further imploded this year, as Hulk and Linda Hogan traded nasty accusations in their divorce battle, their son Nick spent several months behind bars for a crash that seriously injured his friend, Hulk started dating a woman who could be his daughter's twin, and Linda sealed her status as "Cougar of the Year" by dating a 19-year-old. It makes you long for a time when decency and family values mattered — bring back the Osbournes!
Comeback/Trainwreck of the yearWe should have known Amy Winehouse's Grammy triumph was too good to be true — after all, she celebrated her five wins while on a brief furlough from rehab. Still, she took the accelerated path to destruction with arrests, hospitalizations, fights and more rehab: It got so bad her father told the media that she had damaged her lungs so much from smoking crack, she only had 70 percent lung capacity. An alarmed Winehouse then cut back her toking by 30 percent.
That's what happens when you take career advice from TitoThe once A-list Janet Jackson went from C-list to F-list thanks to her poor-selling "Discipline" CD and her tour to nowhere, "Rock Witchu," which had so many canceled dates it was officially given wallflower status. Jackson declined to reschedule many of those concerts, saying it interfered with her schedule. Ummm.... Last time we checked, she had no hit, no concerts to perform and a career in embers. What does it interfere with exactly — her side career as LaToya's assistant?
Equal opportunity at lastIt is fitting that in the year that Barack Obama made history by becoming our nation's first black president that "The Real Housewives of Atlanta" broke reality television show expectations by making the trashiest, most uncultured member of its cast Kim, its token white chick. After watching shows like "I Love New York" and "Flavor of Love" provide a regular forum for the denigration of black people, it was downright refreshing to watch Kim — whose weave seemed like it was made from the heads of cast-off Barbie dolls — embarrass herself on the show.
The Hollywood equivalent of moving back homeBoth Britney Spears and Usher relied on parental guidance when their careers went south: Spears' dad Jamie took control of her affairs when she reached her nadir, and lo and behold, now she's on top of the pop charts and planning a nationwide tour. Meanwhile, Usher — who had fired mom Jonetta Patton — had to come crawling back after his latest album sold an eighth of his previous CD. At least she didn't put him on punishment — at least, not that we know of, anyway.
Where's Steve the Bouncer when you need him?The only thing separating "The View" from its sleazy daytime counterparts these days is a paternity test and a good fist-fight — and the way Joy Behar and Elisabeth Hasselbeck have been at it lately, the later seems like it could happen any day now. We're just waiting for one of them to run off the set crying after an altercation, only to be coaxed back by a sensitive and probing Maury Povich.
Kanye outbust of the yearThe temperamental rapper was put in handcuffs after getting into a scuffle with paparazzi at the Los Angeles airport. Actually, they were just former fans who targeted him after he did one-too-many blog posts in all capital letters.