Audiences may be slavering for details about the Blake Shelton/Gwen Stefani (aka "Sheltani") romance, but that doesn't mean "The Voice" coaches, or host Carson Daly, are going to spill any time soon.
In fact, as an "Access Hollywood" reporter recently discovered, trying to pry out any comments at all elicits a lot of adorable dancing — both literal and figurative — around the subject.
MORE: Gwen Stefani, Blake Shelton flirt in first 'Voice' appearance since dating news
In a video, the reporter first asked about how Pharrell Williams found out about Shelton and Stefani, but instead got an answer about the bromance between Shelton and Adam Levine.
As for Shelton, earlier this week he rooted pretty hard for Stefani's team on the show — should he expect parity?
"Absolutely I expect her to," he grinned. "I laid it out there for her last night; I was trying to help her out. She needs to help me tonight, dammit!"
Things only got more dodgy when Levine and Stefani stepped up on the red carpet. After swaying to unheard music and snapping their fingers, Levine noted, "Our bromance is stronger than ever."
That's not what we want to know!
He then added, "I just had sex with Blake, 30 minutes ago in his trailer. So as far as I'm concerned, we're good."
Also not what we wanted to know! But Stefani's hilariously scandalized expression when he said it was priceless. Note, however, that she says absolutely nothing at all.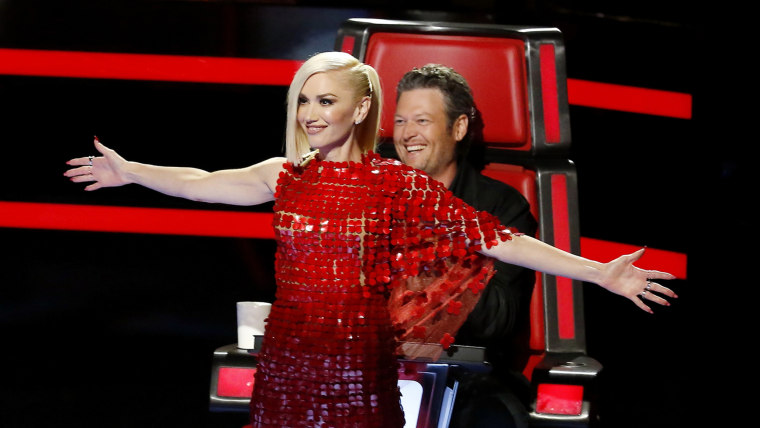 Daly at least noted the show had a new first: A first coaching couple.
"We had Blake and Adam first," he added, then got all professional. "It's fun fodder now for people to talk about our coaches, but really we're here for the artists."
Thus concludes "Dancing with the Coaches"! But stay tuned ... they can't keep bobbing and weaving forever, can they?