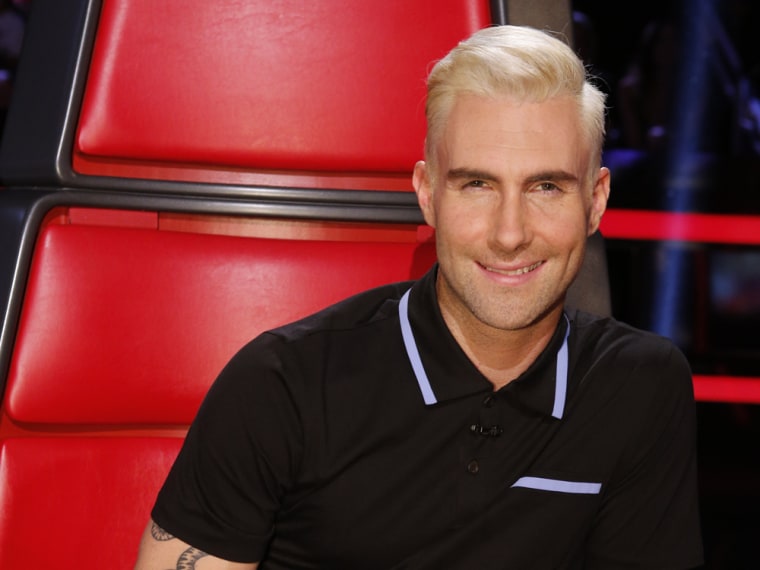 The star power on "The Voice" stage Monday night was so blinding, it was like staring at the sun.
Or Adam Levine's platinum hair.
Not only did the Top 8 contestants deliver knockout performances, but zeitgeist surfer Pharrell joined his fellow season-seven rookie coach Gwen Stefani on stage for her 2005 hit "Hollaback Girl."
That was just one of the show's many buzz-worthy moments, but Levine's transformation was the mane event — and it was one he felt he had to defend.
"I don't have an explanation," the Maroon 5 frontman said of his new blond locks during the show. "I woke up. I had the day off, and I thought I'd look like Shakira. My mom hates it."
Naturally, Blake Shelton couldn't resist ribbing his best frenemy. "That's Adam?" he mocked. "I thought Meg Ryan was sitting in with us tonight." The country star also compared the rocker's new 'do to Miley Cyrus' and Susan Powter's, among others.
"Regardless of what Blake said, my motto is just do what you want," Christina Grimmie of Team Adam told TODAY after practically cementing a spot in the Top 5 with Lil Wayne's "How to Love," her second variation on a hip-hop hit. "If people hate it, they hate it, and I'm sure Adam knows that. He was very prepared to hear what Blake had to say. I dig it. I dig anything that is a little rebellious and a little off the beaten path."
"I don't need people to like my (expletive) hair," Levine insisted backstage. "I honestly don't care. I would love all those people who talk (expletive) online to walk up to me on the street and say the same thing and see if they can actually do it. That's real courage."
Shelton even stopped to give buddy Levine a big hug and some support.
"As much as I rip on this guy, what he did with Christina Grimmie, following what she did last week, I'm not going to be surprised, and in fact I'll be disappointed, if she's not in the top 10 again this week in iTunes. That was a good move," he said.

"Thanks, buddy," Levine responded. "It's so refreshing to hear you not talk crap."
Turning back to the reporters, Shelton said, "Will you ask me about his hair now so I can start badgering him again?"
During the show, the country star's teasing also included a comparison between Levine's new style and contestant Kristen Merlin's.   
"You know what, high-five to him for rocking that hairdo," Kristen told TODAY backstage after her stirring rendition of Lee Brice's "I Drive Your Truck."
"It was tough when I went platinum," she said. "It's such a shock to everybody, so I applaud him for rocking that."
"You know, when the Sexiest Man Alive steals your hairstyle you can only feel honored," the other platinum-haired contestant, Sisaundra Lewis — who opened the show with an electrifying rendition of Tina Turner's "River Deep, Mountain High" — joked to TODAY. "He's in the blond club now, so he makes us all even more sexy!"
Kat Perkins might be joining the club.  
After performing her daring take on Daft Punk's hit "Get Lucky," Kat told TODAY that she promised her coach that if she advances to next week, "I'll make mine platinum blonde, and we can see if blonds have more fun for reals."
The male contestants, however, aren't interested in finding out for themselves.
"He looks like he took a bath in peroxide in the sun," country crooner Jake Worthington joked to TODAY, comparing Levine to Billy Idol. Delvin Choice, on the other hand, likened the coach's look to Slim Shady, Eminem.
Josh Kaufman — who turned in another standout, soulful performance with Bon Iver's "I Can't Make You Love Me" — told TODAY he had reservations at first about Levine's makeover. 
"I heard about it and I thought, 'I'm not sure that that's going to be OK,'" Josh said. "But then when I actually saw it, I actually think he looks pretty cool with it. But he's Adam so he can do whatever he wants and get away with it."
Still, Shelton advised his friend, "You'll have to pick a hair color and stick to it."
"Blue," Levine said decisively. "I'll be a Smurf next week!"
"The Voice" airs Mondays and Tuesdays at 8 p.m. on NBC.