Whether in prime time, on the big screen or right here in our own Studio 1A, when Viola Davis speaks, we listen.
That's because whatever the Emmy and Tony winner has to say, she always entertains us or informs us — and either way, we don't want to miss a thing.
That was the case once again Wednesday, when the star stopped by TODAY to talk about the secret to her success and the secret to really appreciating it.
RELATED: Viola Davis inspires us all: See the 9 powerful things she said on TODAY
There's no denying that Davis is riding a career high right now, both with her acclaimed performance in the series "How to Get Away With Murder" and the Oscar buzz already stirring for her part in "Fences" alongside Denzel Washington. And she believes she knows what's behind it all.
"It's probably because I feel more confident in my own skin at 51," she told Hoda Kotb. "And I didn't expect that to happen. I was bracing for impact at 50. At 51, I was bracing for the fall — those free-fall rides, the Tower of Terror."
But instead of a fall, she found strength.
"I've been blissfully comfortable in my own skin," she explained. "I think what's happened is probably just so many years of not feeling comfortable, that maybe I just got tired. Maybe all of the experiences I've had have just marinated into this beautiful pot of me."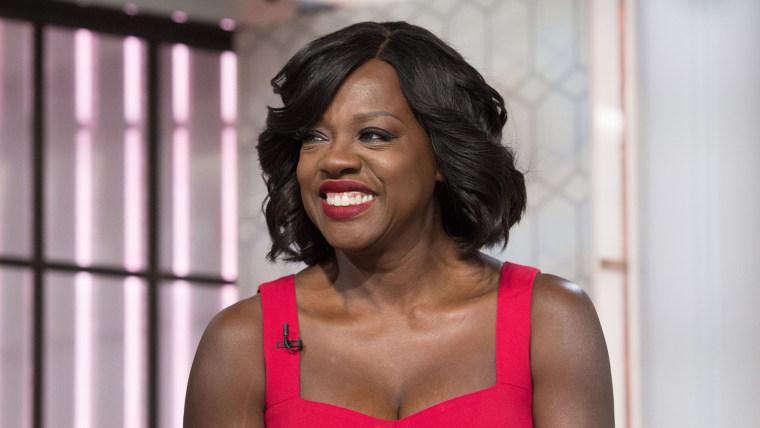 RELATED: Viola Davis shares heartbreaking story of sister's sexual assault
Davis had some help along the way — both in the form of her "6-going-on-35" daughter, Genesis, who's given her a new perspective on life, and from having had a past that makes her even more grateful for every success that comes her way.
"I appreciate it because I've had nothing," she stated plainly. "You know, when you're poor, you're invisible. ... What I have now is because I've had to work so hard to get everything that I've gotten in life. It's like the saying, 'The happily ever after comes after you've done the work.'"
And so it's not just the big things she celebrates now — it's everything.
"Like food, like a well-stocked cabinet, like having my daughter have a nice coat, like having a husband that loves me and is there for me, or being able to reach in my pocket and give," Davis noted. "I don't have to have Alexander McQueen dresses. I don't have to have a big house — although I do have a big house. But it's the small things that just make me bask in the glory."
Follow Ree Hines on Twitter.