No question: Viola Davis has long been one of our finest American actresses. She's got nearly 20 years of credits under her belt, and two Oscar nominations.
But on Sunday night, she made history with that talent, becoming the first African-American woman to take home the outstanding lead actress in a drama series Emmy, for "How to Get Away With Murder."
MORE: Emmy Awards recap: memorable moments and big winners
And as she noted, it was a long time coming — not necessarily just for her, but for fellow black actresses.
MORE: Watch Andy Samberg's rousing opening Emmys number
Quoting Harriet Tubman, she began, "In my mind, I see a line. And over that line I see green fields and lovely flowers and beautiful white women with their arms stretched out to me over that line. But I can't seem to get there no how. I can't seem to get over that line."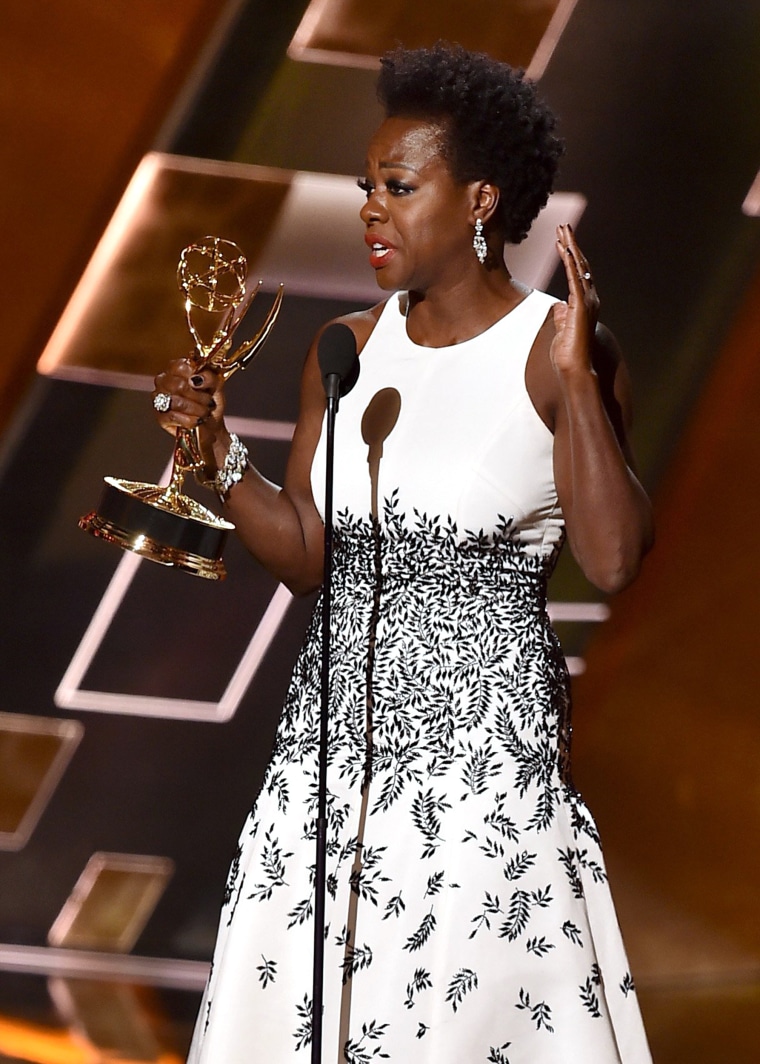 She added, "The only thing that separates women of color from anyone else is opportunity. You cannot win an Emmy for roles that are simply not there. Here's to all the writers. ... People who have redefined what it means to be beautiful, to be sexy, to be a leading woman, to be black."
MORE: Emmy Awards complete list of winners
That said, Davis isn't interested in dwelling on the historic nature of her win. As Entertainment Weekly reported she said backstage, she'd like it to not always be mentioned when discussing her win. "Not just stop saying it, but also stop writing it," she said. "One of the things that I admire about Shondaland [Shonda Rhimes is the creator of "Murder"] is Annalise Keating was not written specifically for a black woman. I made her black because I'm black. But what needs to happen in the writing is when you put pen to paper, you've got to let your imagination fly."
Celebs immediately began tweeting out enthusiastic responses:
Congratulations to Viola, and all the winners!
MORE: Best celeb tweets and behind the scenes pics from the Emmys