The year looks promising for actor Vince Vaughn, who's appearing in a new movie comedy and a critically acclaimed TV drama — but probably not at a fetish convention anytime soon.
In the new movie "Unfinished Business," Vaughn's character travels to Germany with the goal of closing a deal with a major client, but in one scene finds himself hanging out with fetish fanatics.
While chatting with TODAY's Matt Lauer in Los Angeles, the real-life Vaughn didn't appear to have much interest in unorthodox aphrodisiacs — at least as a married man.
"If the government required you to have a fetish, what would it be?" Lauer asked.
"Well, my fetish would be — let's see — well, now that I'm married, I don't know," the "Wedding Crashers" star replied. "But if I was single, I think attractive girls is a good fetish."
Lauer questioned the legitimacy of that answer, citing foot fetishes as a better categorical example. But the actor wondered if something else was, er, afoot.
"I wouldn't say that I'm a foot-driven person," Vaughn said, leading up to a laugh. "Is that a fetish that you that you have?"
Replied Lauer, "I don't know why that's the first one that came outta my mind. No."
"It's OK if you are," added Vaughn. "This is a comfortable place."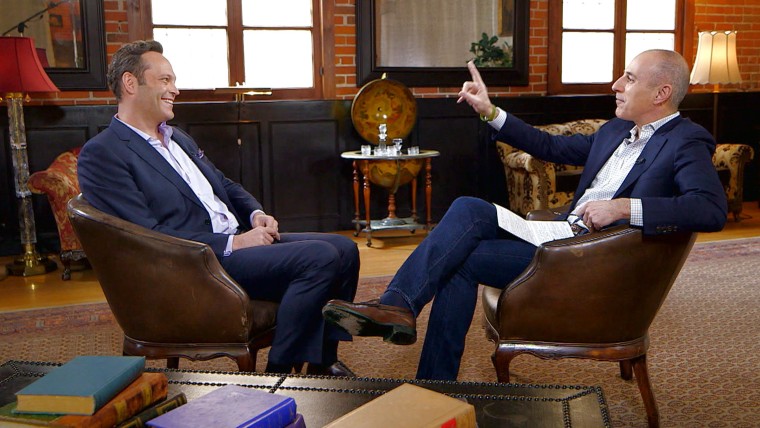 In theaters Friday, the R-rated "Unfinished Business" has its share of adult content, but that's one of the reasons Vaughn is excited about it.
"Starting with, you know, 'Swingers' and then obviously 'Old School' and 'Wedding Crashers,' I think part of the fun of those movies were you were dealing with adult things and allowing yourself to have the language to complement that," he said. "And we're doing that again here."
While promoting "Unfinished Business," Vaughn has focused on the laughs — including posing for goofy stock photos that went viral Wednesday — but he's expected to showcase a more serious side when he stars in the highly-anticipated second season of HBO's "True Detective." After the Matthew McConaughey/Woody Harrelson series impressed critics and fans with its first season, Vaughn joined Colin Farrell, Rachel McAdams and Taylor Kitsch as cast members for the second one, slated to premiere this summer.
"It's allowing me to sort of bring a different range and a different set of tools to the table," Vaughn told TODAY. "But as far as the work that goes in, it's always the same. Take my word. Very seriously, there's always a big process so that when you get there, it looks like you're not acting."
The actor said the writing and vision of "True Detective" creator Nic Pizzolatto made him want to sign on.
"I thought that the first season was just incredible dialogue and story, and turns and kind of a rich subculture to kind of get into," Vaughn added. "For me, it's a chance to go and play a very unique character, something that's dramatic, and be a part of something that I think is really exceptional."
"Unfinished Business" opens in theaters March 6.
Follow TODAY.com writer Chris Serico on Twitter.