Vin Diesel capped an emotional People's Choice Awards acceptance speech Wednesday night with an a cappella tribute to his "Furious 7" co-star Paul Walker.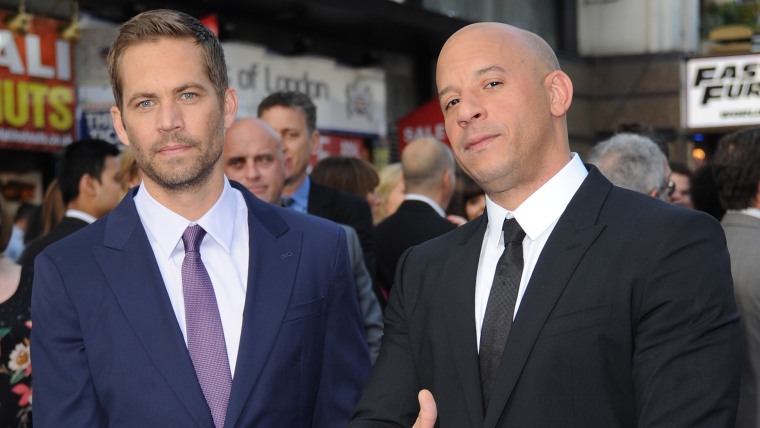 Citing the chorus of Wiz Khalifa and Charlie Puth's hit, "See You Again," Diesel sang, "It's been a long day / without you, my friend, and I'll tell you all about it / when I see you again."
Also nominated for a Golden Globe Award, "See You Again" played in "Furious 7" while the movie honored the life and memory of Walker, who died in a November 2013 car crash.
Earlier in his speech, Diesel made a more specific reference to his frequent co-star from the "Fast and the Furious" film franchise.
"I say I'm not gonna get emotional about winning these awards, and I was cool while I was sitting in my seat," he said. "And then they handed me two awards: one for Favorite Action Movie and one for Favorite Film. You all thought that this was your favorite film. So, I think of [Diesel and Walker's 'Furious 7' characters] Dom and Brian, and I start to think of Paul."
RELATED: Vin Diesel reveals his new baby's very special name, a tribute to Paul Walker
Diesel said love helped his "Furious 7" co-stars complete the film after Walker passed away.
"You'd be amazed what you can do with love," he added. "You'd be amazed how powerful a force that is. When we didn't want to come back to filming, when the tragedy was too heavy, it was the love of everyone combined that saw us through to the end."
Last March, Diesel announced that his newborn daughter Pauline was named after Walker.
"[Walker] was in the [delivery] room," Diesel told TODAY's Savannah Guthrie a week later. "There's no other person that I was thinking about as I was cutting this umbilical cord. I just … knew he was there."
Follow TODAY.com writer Chris Serico on Twitter.