"Fast and Furious" fans, start your engines! And ... awww ...
Vin Diesel, who has appeared in all but one of the first seven entries in the "Fast and Furious" saga, added a serious dose of cute to the announcement that there would be three more coming up.
On Wednesday, the actor posted two relevant Instagram photos, the first of which was clearly set on stun:
That's Diesel with his 7-year-old daughter, Hani, in a turbocharged silver vehicle. The actor noted he was still in a "Xander state of mind," referring to his reprising the title role of the upcoming "xXx: The Return of Xander Cage."
But then came the news, laid out in simple black and white:
Three more films, which will roll out every two years starting in 2017. "Straight Outta Compton" director F. Gary Gray is set to direct, and Dwayne "The Rock" Johnson has also confirmed he's on board.
It's not a total surprise; Diesel posted an image two weeks ago that featured New York City's Empire State Building with the tag line "new roads ahead."
A pall was cast over the franchise, which to date has earned nearly $4 billion in worldwide box office, when star Paul Walker tragically died in a car accident unrelated to the films in 2013. Shooting on "Furious 7" was suspended while the filmmakers and stars reeled and tried to figure out how to finish the film without Walker.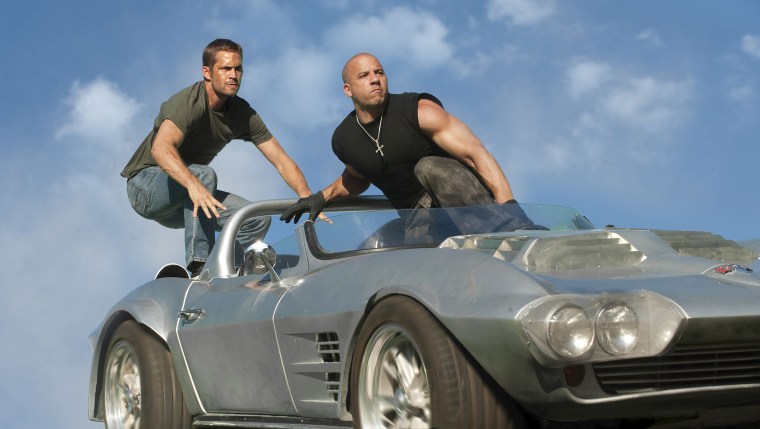 MORE: Vin Diesel sings sweet Paul Walker tribute at People's Choice Awards
But Diesel has kept the "Furious" torch lit, and it's no surprise that he and Universal Pictures would like to see it continue to burn: When "Furious 7" pulled in the biggest numbers of the entire series ($1.5 billion worldwide), a continuation seemed all but assured.
And so it will be. "Furious" fans, you have a year or so to get geared up. The wild ride will continue!
Follow Randee Dawn on Twitter.