Victoria Beckham may have vowed to never wear her famous Spice Girls catsuit again, but luckily for fans, she's gone back on her word in a big way.
In a hilarious new video for British Vogue, the fashion designer resurrects her slinky feline look from the Spice Girls' 1996 "Say You'll Be There" video — and has a grand time poking fun at her girl group past.
In the documentary-style video, called "Victoria Beckham: A Decade of Elegance," the magazine's editors prepare a photo shoot to celebrate 10 years of Beckham's cutting-edge designs.
But just as the Vogue teams start gushing over the simplicity of Beckham's minimalist designs, the former Posh Spice hauls to the set a few surprise looks from yesteryear — namely, her black latex catsuit — now with new cat-eared headpiece — her iconic strapless black minidress, the Vivienne Westwood wedding gown she married soccer star David Beckham in, even the famous thrones from their gala wedding ceremony!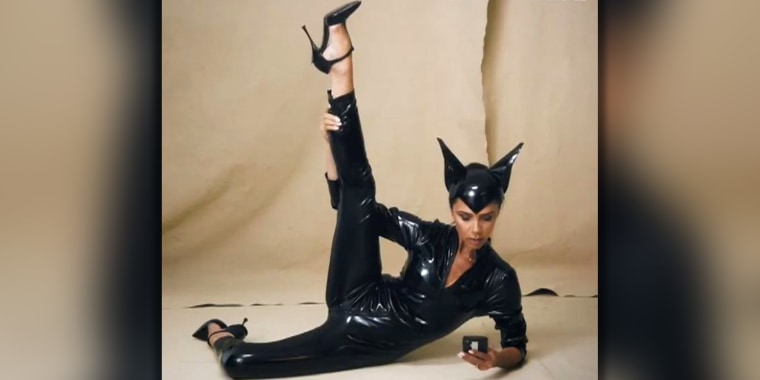 Soon, Beckham is sharing her over-the-top vision for the shoot with British Vogue's baffled editor-in-chief, Edward Enninful.
"What I want, what I really, really want," she tells him, "is me, four other women — one, sporty, bit of an athleisure direction, another one that's younger, pink, pigtails. One that's very glamorous, full-on leopard print, and then another one that's super, super sexy: big boobs, red hair, that kind of thing."
And the ideas keep coming. "What about me dancing inside a space pyramid?" Beckham asks. "Followed by a chain-mail bikini?"
When a confused Enninful acts startled by the designer's new direction, Beckham puts up her hand to shush him.
"I'm giving you everything. All that joy can bring. This I swear. And all I want from you is the promise that... you will at least give it a shot," she tells him.
"Spice up your life, Edward," Beckham adds. "Just spice up your life."