Just how devoted is Madonna to Kabbalah? So devoted, says a source, that the former Material Girl bought a new house for Eitan Yardeni, the man who teaches her the ancient form of Jewish study.
"It's in L.A., it must have cost at least $300,000, probably a lot more, and my understanding is that she paid cash for it," says the insider. "Madonna is very, very deep into this."
Madonna's spokeswoman denies the story. "This is not true but someone seems to want to keep it going in the media," she says.
But the source insists it is true. "Madonna wanted Eitan to have a nice place to live," says the insider. "She sees him whenever she's in L.A. When she's in England, she visits his brother, Eliyahu, who teaches Kabbalah in London, so she always has a Yardeni on hand."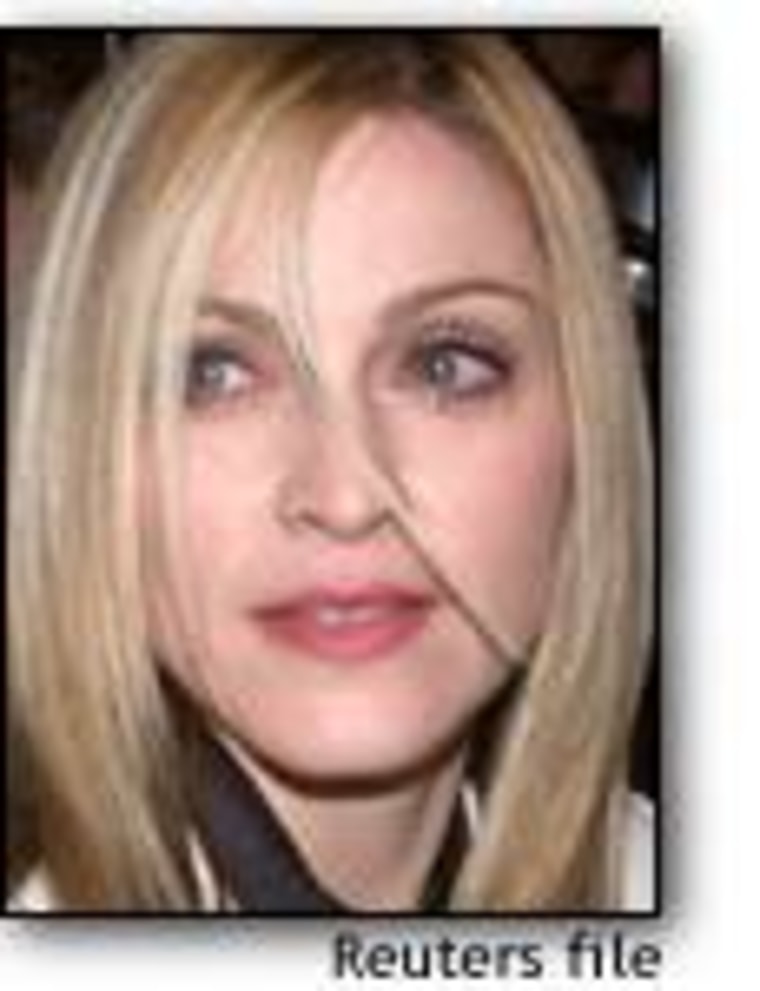 Madonna is so devoted to Eitan Yardeni that she reportedly consulted with him as to when she should give birth by cesarean. She also is said to have paid $5 million to help get a Kabbalah center built near her home in London.
Although Kabbalah is all the rage among celebs right now — Yardeni also teaches Roseanne, Marla Maples, and Kenny G. — the study, as taught by the center where Madonna goes, has come under attack by traditional Jewish scholars.
Rabbi Itzhak Kaduri, Israel's top Kabbalistic expert has said whoever supports that group, "financially or otherwise. . . .is endangering his soul."
Schwarzenegger site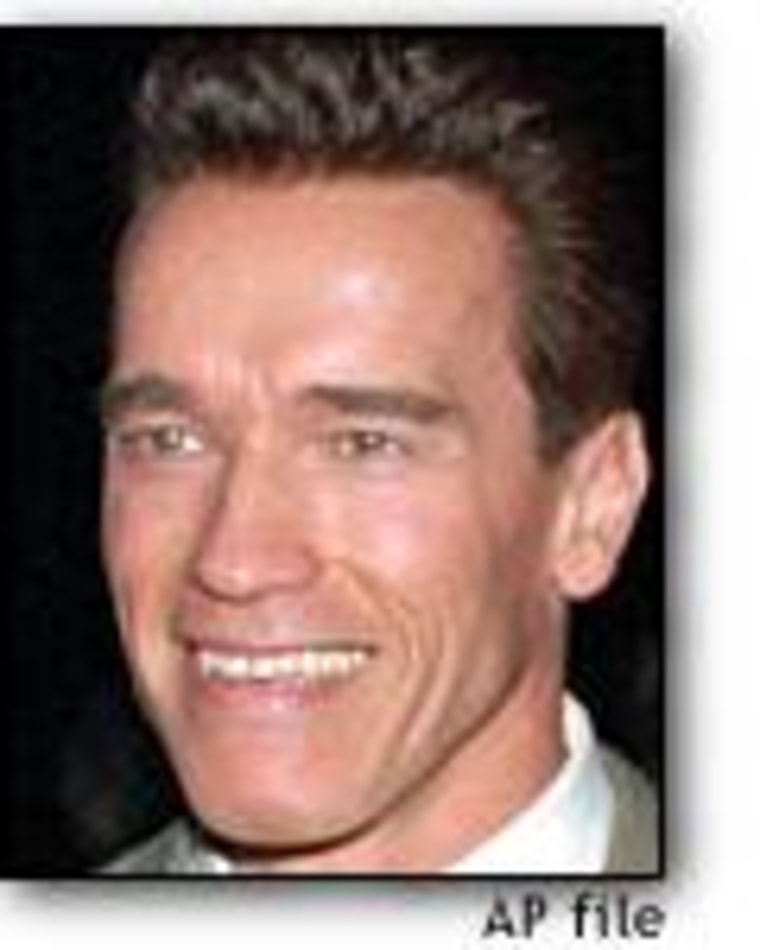 Those fun folks who brought us the "We Love the Iraqi Minister of Information" Web site have found a new hero: Arnold Schwarzenegger.
"This site emerges from a cease-fire between two camps of Arnold-lovers: those who believe that his candidacy symbolizes the Death of the Republic and those who believe it is Really Cool," note the founders of WeLoveArnold.com.
Included on the site are daily updates, Arnold merchandise, a chart comparing him to Ronald Reagan, and nifty quotes, such as his comment on his decision to run: "It's the most difficult (decision) I've made in my entire life except the one I made in 1978 when I decided to get a bikini wax."
Notes from all over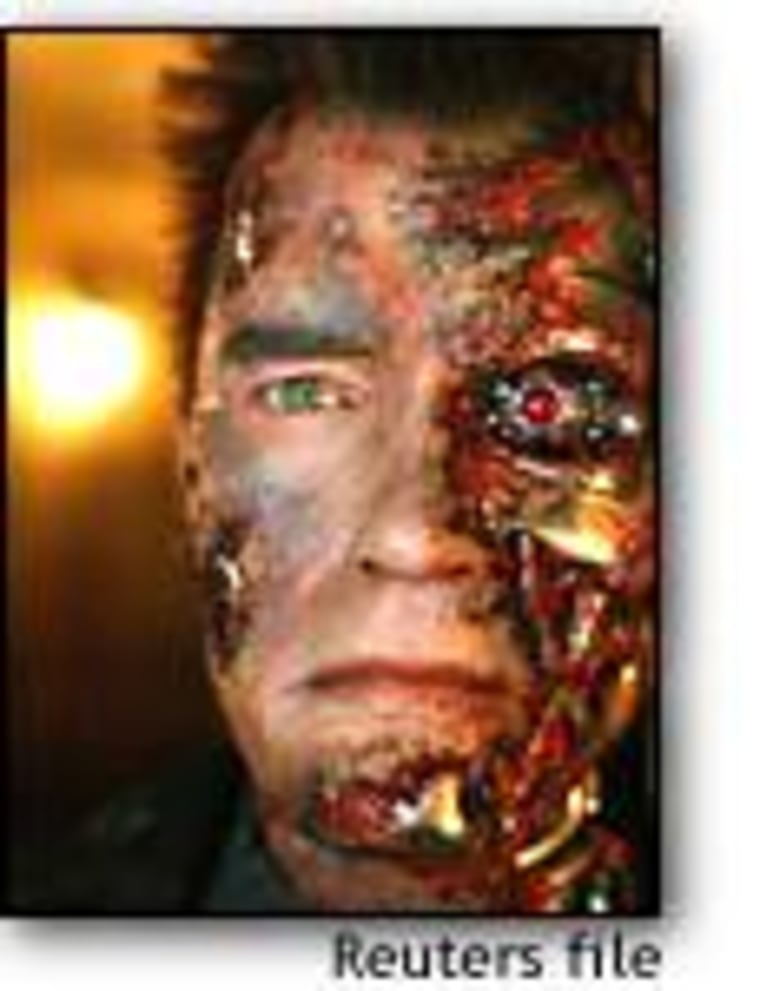 Speaking of Arnold, the compulsive types at Movie-Mistakes.com have been studying the action hero's "Terminator 3" and have found a whopping 37 bloopers. Sample mistake: "When Arnold is slamming his fists against the truck trying to fight his new programming, the damage to the truck changes between each camera angle." . . . Some irate Michael Jackson fans fail to see the humor in "Scary Movie 3." They're petitioning Dimension, demanding that the film company remove a scene that makes light of the child molestation charges against the nose-impaired singer. . . .
A planned duet between Russell Crowe and Kylie Minogue is hitting some hitches. Organizers of this year's Rugby World Cup in Australia want the antipodean twosome to take to the stage together at the opening ceremony, according to IMDB.com, which reports that "the pair are struggling to find the best way to combine their very different sounds." Newlywed Crowe reportedly suggested they resurrect the love ballad, "Especially For You," that made Minogue famous when she sang it in 1988 with her former sweetie, Jason Donovan, "but the diminutive diva wasn't keen" on the idea.
Jeannette Walls Delivers the Scoop appears Monday through Thursday in MSNBC Entertainment.