Whether you watch "Vanderpump Rules" or not, your social media feed has likely been flooded with headlines about cheating allegations involving three of the show's stars.
On Friday, March 3, longtime partners Tom Sandoval and Ariana Madix confirmed they broke up after nine years together. The announcement came amid rumors that Sandoval allegedly cheated on Madix with their "Vanderpump" co-star Raquel Leviss.
Not sure what the heck is going on? We're breaking down everything you need to know to help digest all the news as it develops — and before it makes an episode of "Vanderpump Rules" on Bravo.
TODAY has reached out to Ariana Madix, Tom Sandoval and Raquel Leviss for comment.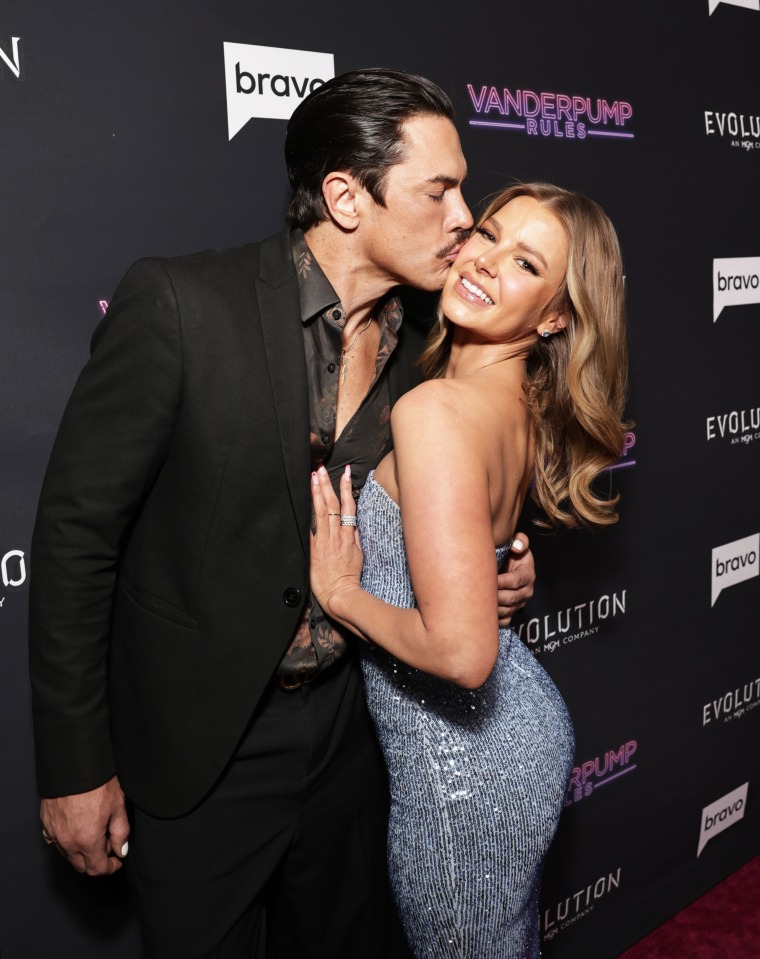 Hold on: What is 'Vanderpump Rules'?
We hear you! Let's put the brakes on the whole relationship timeline for a moment.
"Vanderpump Rules" is a Bravo reality show initially centered around the staff of Sur, a restaurant in Los Angeles owned by former "Real Housewives of Beverly Hills" star Lisa Vanderpump. Ten years into the show, the original cast members are full-fledged reality stars and most have moved on from Sur or the show or both. Now staff from Vanderpump's other restaurants (including Pump and TomTom, both also in LA) are also in the mix.
On the air since 2013, this marked the first spinoff for "Real Housewives of Beverly Hills." Season 10 is unfolding now.
(Bravo is owned by NBCUniversal, TODAY's parent company.)
Below is a complete timeline of the 'Vanderpump Rules' alleged cheating scandal
2013: Tom Sandoval and Ariana Madix begin dating
Tom Sandoval is an original "Vanderpump Rules" cast member, joining at the very beginning of the Bravo series in January 2012. Later that year, Madix signed on to the show. She started appearing in the series' second season, which aired in November 2013.
The couple confirmed that they were dating during the Season Two reunion special.
Interestingly, their relationship began amid cheating allegations, as "Vanderpump Rules Party Podcast" hosts Hollie Bohorquez and Sarah Cee point out to TODAY.com. This part of the saga begins at the show's inception, when Sandoval was dating a different cast member, Kristen Doute.
"The twist here is that Sandoval was cheated on himself. In his relationship with co-star Kristen Doute (before Ariana), Kristen cheated on Sandoval ... with Jax (Taylor, Sandoval's best friend), in the living room of the apartment Sandoval and Kristen shared together while Sandoval was asleep in the bedroom," podcast the hosts told TODAY.com over email.
After they split, Sandoval and Madix started dating. During the Season Two "VPR" reunion, Sandoval confirmed that he kissed Madix before he and Doute broke up.
2016: Raquel Leviss joins 'Vanderpump Rules'
In Season Five, Leviss, a formal pageant queen, made her first appearance on "Vanderpump Rules" as the girlfriend of cast member James Kennedy. They announced their engagement in May 2021 but broke up a few months later. Kennedy also used to date Kristen Doute, Sandoval's ex.
2019: Sandoval reveals that Madix hooked up with a fellow co-star
In a steady relationship for years, Sandoval and Madix weren't the locus of drama on the show (well, until now). As "Vanderpump Rules" went on, though, more about their intimate life together emerged.
In a 2019 episode of "VPR," Sandoval tells his friends that Madix hooked up with co-star Lala Kent while the three were in his car together.
Per a People recap of the episode, Madix isn't thrilled that her boyfriend was discussing her sexuality without her permission.
"I'm not embarrassed or ashamed of what happened between Lala and I, but I do feel like Tom betrayed my trust by telling this story to his guy friends. My sexuality is not something that is meant to sound cool to a bunch of dudes," she says in a confessional interview.
2021: Madix shares her thoughts on the idea of marrying Sandoval
During a 2021 appearance "Watch What Happens Live," Madix had a lukewarm response when host Andy Cohen asked if she would ever marry her longtime beau.
"The big thing for me is that I'm not really into the whole fanfare of it. It's really more about the two people," she said. "So if it was just about us, I honestly think I would be more open to it. I just don't want it to be like a big thing about having a giant wedding and a bachelorette party and all that bulls---," she said.
Summer 2022: Raquel Leviss is involved with other 'VPR' co-stars, reportedly including Tom Schwartz
After her breakup from Kennedy, Leviss goes on dates with Sur manager Peter Madrigal, as depicted in Season 10.
Leviss and Tom Schwartz, Sandoval's business partner (they own TomTom together with Lisa Vanderpump), are rumored to have ties. Schwartz and Leviss reportedly kissed at fellow "VPR" star Scheana Shay's wedding in August 2022. This allegedly happened just as Schwartz and ex-wife Katie Maloney finalized their divorce. Schwartz and Maloney announced their split in March 2022 and divorced in the fall of that year.
January 2023: Sandoval and Madix dodge rumors of an open relationship
In January 2023, Bravo released a trailer for Season 10 of "Vanderpump Rules" which foreshadowed rumors of an open relationship for Sandoval and Madix.
Per People, Madix took to Twitter to squash the idea, writing, "We dont have an open relationship. i'm really not that cool. thought that was obvious." Her Twitter account has since been deleted.
March 2023: Sandoval and Madix announce their split
As rumors swirled about his alleged infidelity, Sandoval addressed his breakup with Madix on March 5 on Instagram. He asked his followers to be respectful to the staff at his restaurants, TomTom and his new venture Schwartz & Sandy's.
"Hey, I fully understand and deserve ur anger & disappointment towards me, but please leave Schwartz my friends and family out of this situation," he wrote. "Schwartz specifically only found out about this very recently, and most definitely did not condone my actions. This was a very personal thing."
March 2023: Bravo addressed the rumors on social media, confirming the story would unfold on the show
Season 10 of "Vanderpump Rules" began filming in the summer of 2022 and is airing now.
Following the news about the Sandoval and Madix's breakup, Bravo said the story would continue in future episodes in tweet that read, "We have resumed filming on #PumpRules and this story will be unfolding on camera."
So, what does it all mean? 'Vanderpump Rules' experts weigh in
The hosts of "Vanderpump Rules Party Podcast" call the cheating scandal "shocking." In fact, after hearing the news, their first reaction was to think it was "fake."
"This not the person Sandoval has portrayed himself to be for all of these years. That 'cheater villain role' was always for other male cast members. Sandoval pretended to be the moral compass of the show," hosts Bohorquez and Cee say.
Further, Leviss and Madix were friends on the show. "The fans feel betrayed by both Tom and Raquel," the hosts say.
The sense of betrayal also stems from Madix being a "universally loved" cast member, the podcasts hosts say: "Every other cast member has an army of fans and an army of haters, but Ariana seems to only have fans."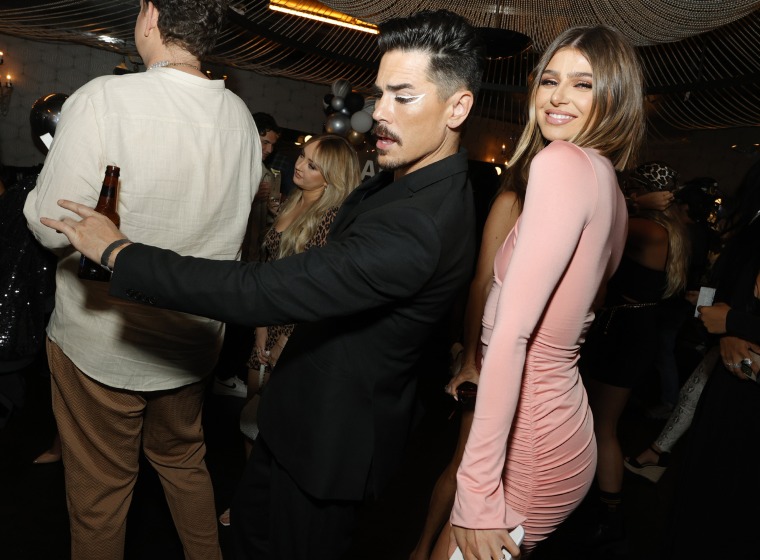 LA-based writer Jeroslyn Johnson was also taken aback by the bombshell news, but for different reasons.
"(I was) completely shocked by how far Raquel was taking her bad girl era and the irony in Sandoval getting caught cheating similar to how he was cheated on by Kristen Doute seasons before," Johnson writes to TODAY.com over email.
So how will the scandal affect the upcoming season of 'Vanderpump Rules'?  
According to "Vanderpump Rules Party Podcast" hosts, more people will likely tune in to the upcoming season of "Vanderpump Rules" just to catch a glimpse of the drama.
"Everyone will want to see the dynamic between Tom and Ariana, and will want to see if Raquel is fired or renewed," they say.
Johnson predicts drama will breathe new life into the show.
"This will impact Season 10 tremendously. They've already started filming again just because of how huge this scandal is. All of the breakups and Raquel hookups just reignited 'VPR' back to its glory days," she says.
CORRECTION (March 8, 2023, 8:50 a.m.): An earlier version of this article misstated that Raquel Leviss and Tom Schwartz were in a relationship. It has been updated.